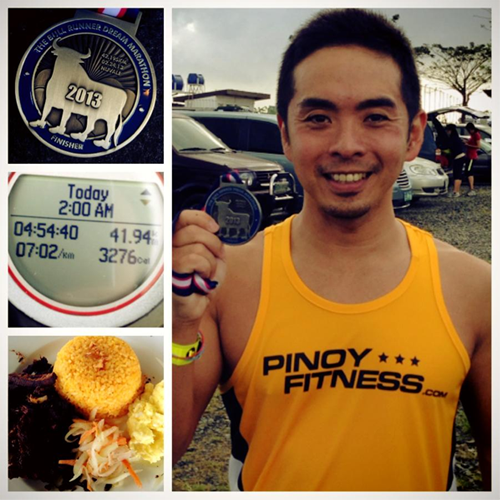 Are you training for a marathon? I just conquered my first marathon at the recently concluded TBR Dream Marathon 2013, happily clocked in at 4:54, it was painful but a happy experience knowing that all the hours spent in training paid off in the end, just to be able to hear the words "You are now a Marathoner" makes the journey all worth it.
Here, I just want to share some of the things I learned during the course of my training.
Training for a marathon is no joke, it's insane for someone just to wake up one day and decide to run a 42.195KM, its crazy! You need to prepare for it, train for it and be disciplined enough to stick to a training plan.
YES, a training plan, meaning stick-to-one, get a good coach, adviser or friend, who has the experience to guide you and create a concrete training plan then stick with it, don't change in the middle, if you do, in the end changing the plan might lead to wasted training efforts.
Get enough sleep! 8 hours if you can, specially 2 days before the race.
Vitamins, are essential to help our body recover after a long training day, what I learned is to select with a good set of vitamins, I chose a good Multivitamin, Vitamin C and Omega-3 combo it can be any brand as long as you feel it's working for you, then just I stick with it, if it works why change right?
Even if you're training for your first 5KM or for your first 160KM it's still recommended to have a solid training plan, sleep, vitamins and nutrition. Once you get the perfect formula, stick to it na.