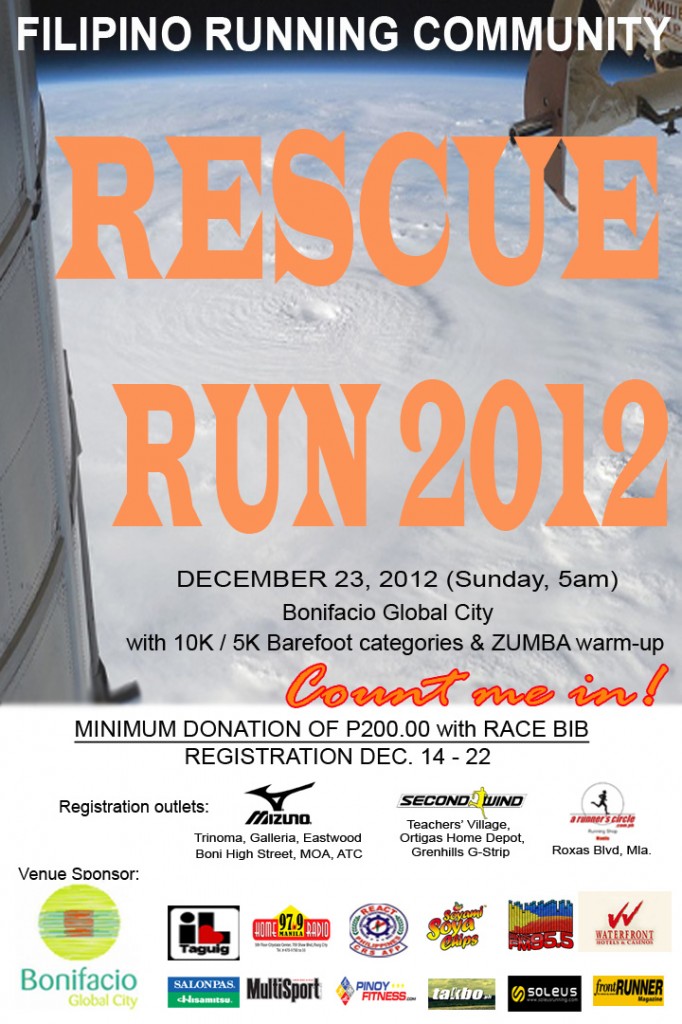 Congratulations to everyone that participated and supported theRescue Run 2012 at Bonifacio Global City! Together we have made a difference in helping the people who where victims of the recent Typhoon Pablo! Time to share your feedback and experiences about this event here!
Rescue Run 2012
December 23, 2012
Bonifacio Global City
Photo links will be updated here as they become available! Feel free to share your comments and feedback about the event below.
Photo Links:
Rescue Run 2012 by RFA – [ SET 1 | SET 2 | SET 3 | SET 4]
Rescue Run 2012 by RJM – [ SET 1]
Rescue Run 2012 by Wheng Ison – [ SET 1 | SET 2 | SET 3]
Rescue Run 2012 by RAD Photography – [ SET 1 | SET 2]
Rescue Run 2012 by John D – [ SET 1 | SET 2]
Rescue Run 2012 by Saragate – [ SET 1 | SET 2]
Rescue Run 2012 by manghusi – [ SET 1 | SET 2 | SET 3 | SET 4]
RESCUE RUN by "Tsinelas" runner – [ SET 1 | SET 2 | SET 3 | SET 4]
Rescue Run 2012 by Vampire Runner of Sigue Correr – [ SET 1 | SET 2 | SET 3 | SET 4]
Rescue Run 2012 by Justin Josef Gomez – [ SET 1 | SET 2 | SET 3]
Rescue Run 2012 by Monkey Saladeer – [ SET 1]
Rescue Run 2012 by RunReal – The Running Popoy – [ SET 1]
(Submit Your Album)
Are you a Photographer? Submit your Photo Links here -> Click Here
Visit -> https://shop.pinoyfitness.com
For Instant Updates – Follow US!
https://www.facebook.com/pinoyfitness
https://www.twitter.com/pinoyfitness