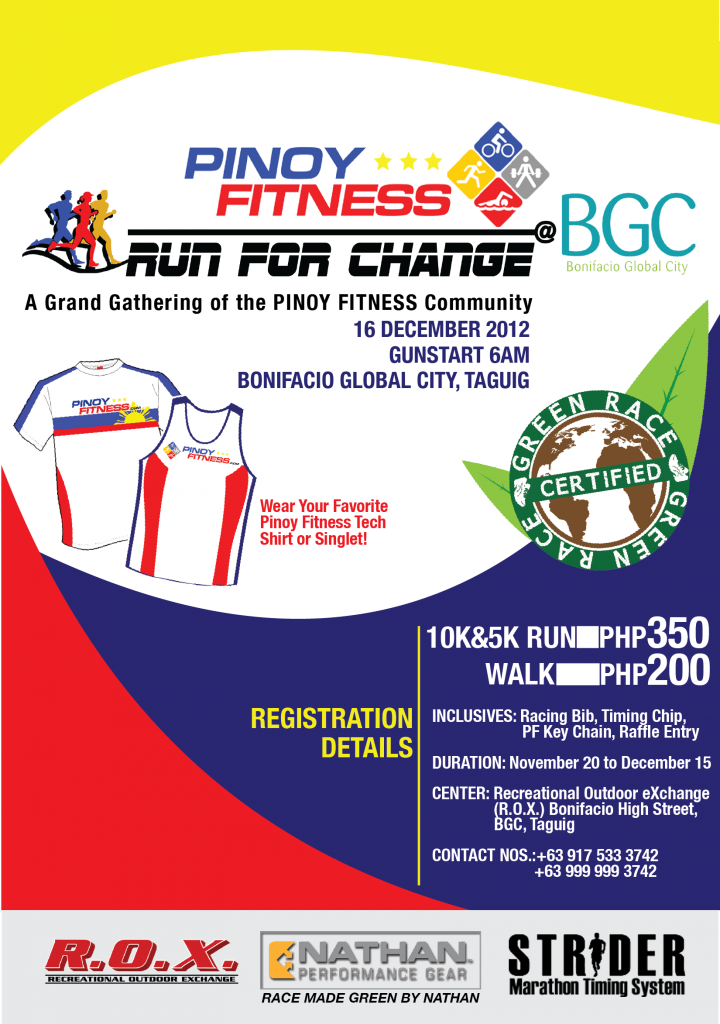 Congratulations to everyone that participated the Pinoy Fitness Run for Change 2012 at Bonifacio Global City! Thank you for visiting our booth and supporting this run and our website.Time to share your feedback and experiences about this event here!
Pinoy Fitness Run for Change @ BGC 2012
December 16, 2012
Bonifacio Global City
Race Results:
Pinoy Fitness Run for Change 2012 – Race Results (Partial) – Powered by Strider.ph
Note: We're still updating the names of the participants, if you have any questions or inquiries about the results kindly email [email protected]. Thanks for the support guys!
Photo links will be updated here as they become available! Feel free to share your comments and feedback about the event below.
Photo Links:
Pinoy Fitness Run for Change 2012 by Pinoy Fitness – [ SET 1 | SET 2 | SET 3 | SET 4 | SET 5]
Pinoy Fitness Run for Change 2012 by Puyat Tuason – [ SET 1 | SET 2]
Pinoy Fitness Run for Change 2012 by RAD Photography – [ SET 1]
Pinoy Fitness Run for Change 2012 by Manghusi – [SET 1]
Pinoy Fitness Run for Change 2012 by Jojo Pauly – [SET 1 | SET 2 ]
Pinoy Fitness Run for Change 2012 by R4C – [ SET 1 | SET 2 | SET 3]
Visit -> https://shop.pinoyfitness.com
For Instant Updates – Follow US!
https://www.facebook.com/pinoyfitness
https://www.twitter.com/pinoyfitness