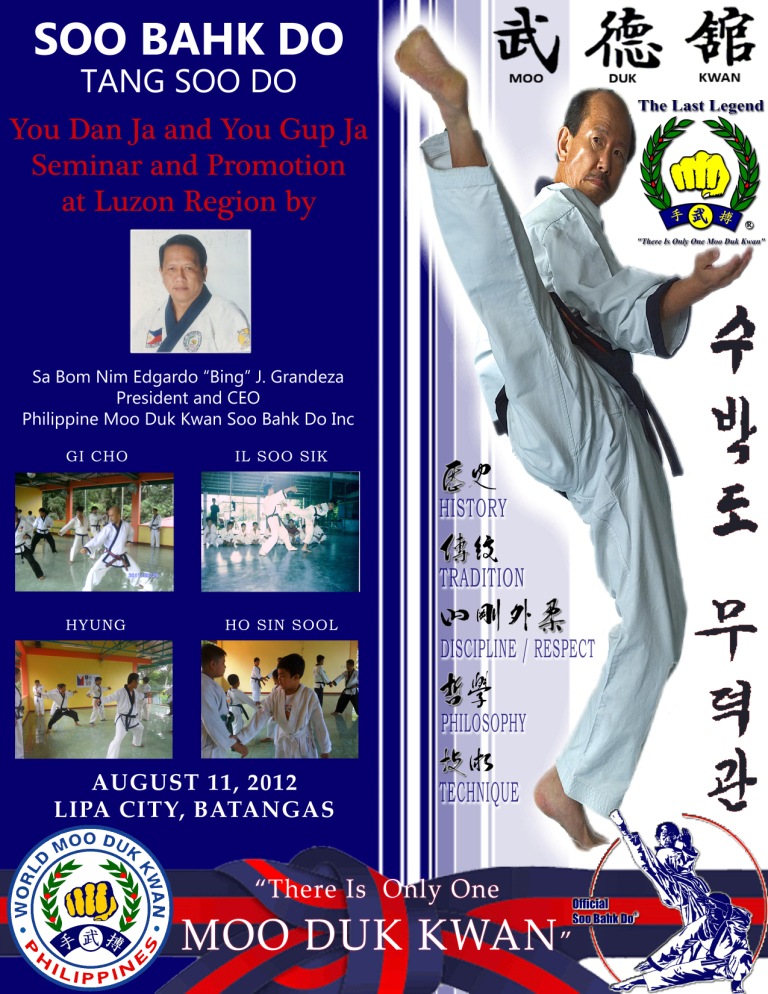 Master Edgardo 'Bing" Grandeza from Philippine MooDukKwan SooBahkDo, 5th Dan Master from Davao City, will be leading a Seminar, Training and Promotions in Lipa City, Batangas, Saturday 11 August 2012.
Master 'Bing" is the President & CEO of Philippine MooDukKwan SooBahkDo, Inc. The Grandeza Family has been propagating Martial Arts in the City and the Country since 1950's. Producing blackbelts of Champions not only in local region but as well as Asian and World champions. Moo Duk Kwan system in the 50's -90's focused mainly on street fighting techniques to include combat judo, jujitsu, aikido and boxing which was the style made famous by Grandmaster Casimiro "Chingi" Grandeza and his group called the White Kimono Club and this was the reason why Grandmaster "Chingi" was invited by the late Grandmaster Hwang Kee in Korea. He learned from different Top Japanese, Chinese and Korean masters during his time. With this foundation, the flexibility to adapt to other types of competition would not to be too hard but I can say that the preparation would be and should be a notch higher to physically, internally, mentally and spiritually prepare oneself. https://philippinemoodukkwansbd.com/index.htm
Inviting you and other Martial Art disciplines to this Seminar in order to share his Martial Arts knowledge. It is not designed to compare styles or encourage people to change styles; rather it is a humble invitation from a Master visiting Luzon Region.
There is no charge for joining. you may contact me in this number 09183438312/ 09064367172
Martial Arts Clinic
AUGUST 11, 2012 @ 1pm to 5pm
At Tambo Gym Lipa City
Organizer: WildCat TangSooDo Club
Registration Fees:
Free Martial Arts Training
Registration Venues:
At Tambo Gym Lipa City,
Contact Details:
Dennis Arriola
09183438312
For Instant Updates – Follow US!
https://www.facebook.com/pinoyfitness
https://www.twitter.com/pinoyfitness
Like this Post? Share it to your Friends!