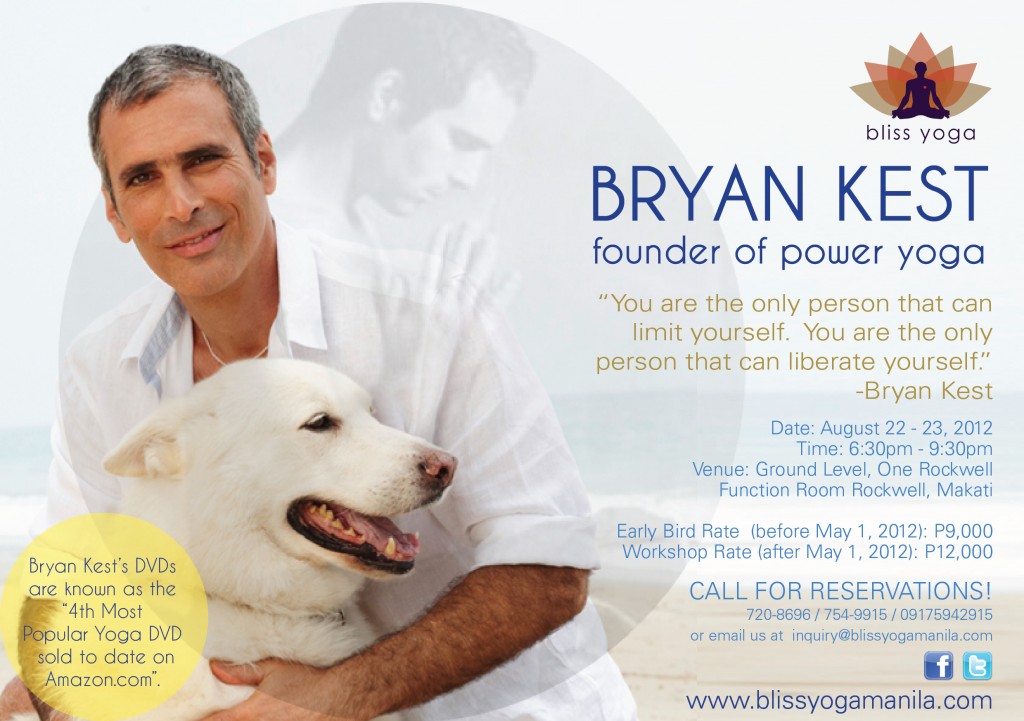 It's time to heal, discover, and ultimately empower yourself.
Committed to deepening your understanding and appreciation of yourself, one of the country's leading yoga studios, Bliss Yoga, brings you BLISS Workshops & Intensives – a series of classes launched by Roland dela Cruz, Glenn Biscoe and Monique Borja, studio directors and owners of Bliss Yoga, which are aimed to help you focus your mind and body, and ultimately find the balance you have been searching for all this time.
Strengthening not just the body but also the mind which has the biggest influence in your social behavior and physical being, the class series intends to train you to be at peace in whatever situation, through dynamic and flowing routines.
This August, world-renowned Yoga Instructor and Power Yoga founder Mr. Bryan Kest will conduct a two-day workshop at the Rockwell Center, Makati for all yoga enthusiasts. Bryan Kest's workshop will be a well-rounded flowing asana practice, which integrates mental practices that enhances everyday living.
Bryan Kest has been practicing yoga since 1979, and has been teaching since 1985. He has developed his own unique yoga style, Power Yoga, in 1979. Over the years, Power Yoga has made him the much-respected guru by different yoga devotees.
The Bliss Workshop and Intensives spotlighting Bryan Kest, which will happen on August 22 and 23 from 6:30 to 9:30 in the evening at Rockwell Makati, includes a 1-hour lecture about the basic philosophies and fundamentals of yoga, and a 2-hour physical practice.
Without doubt, it's time you let yourself discover that the best journey you can take is the journey towards self-discovery.
The Power Yoga Master Class is on August 22 and 23; 6:30 P.M. onwards at the Ground Level, One Rockwell Function Room, Rockwell Makati City. For reservations, please call 720-8696, 754-9915 or 09175942915 or e-mail [email protected]
Power Yoga Master Class
August 22, 2012 @ 6:30PM
Ground Level, One Rockwell Function Room
About Bliss Yoga Manila
Bliss Yoga has been in Manila since June 2009, building a yoga community with hundreds of participants throughout Metro Manila. It offers different and styles of yoga that will resonate with each and every one, which includes, Vinyasa Flow, Ashtanga, Gentle Flow, Power Yoga and more. Please visit www.blissyogamanila.com for more information.
For Instant Updates – Follow US!
https://www.facebook.com/pinoyfitness
https://www.twitter.com/pinoyfitness
Like this Post!? Share it to your friends!