Run for life: A race towards seeing the blinding success of life
By Marie Ville R. Torrijos
Not all times God grants what we wanted. Sometimes, the things you think you can't live without are the ones that could mould you in chasing the real spirit of happiness.
The life of an individual merely revolves around facing an unexpected storm that may wash out our strength of character in a flinch. Deeply falling into grief is the signal of exhaustion in the sprint you need to be successful of. Granting the weight of every problem varies, the heart's determination to accomplish is our mutual goal.
Having a disability pushes you to give up on everything you have work for. But then again, Mark Joseph Casidsid proves that he could be a man who sincerely opens his eyes to another opportunity in continuing living his life to the fullest. He rather uses his misfortune to strive harder in achieving his life-long dream.
A translucent beginning
Among the four children of his parents, Casidsid was born as a premature baby. The nerves of his both eye lacks oxygen wherein this condition is commonly known as retina failure. Belonging to a family with an average way of living, his father retired from an electric company while his mother put up a sari-sari store, he never blames anyone for his frailty.
"Siguro mga 1994 or 1995 nabulag yung left eye tapos yung right eye ko nung ano lang 2003, [March]. Hindi talaga [s'ya] kinaya [nung] kumbaga na-incubator ako nung seven months old (I assume that my left eye went blind during the year 1994 – 1995. Eventually, my right eye went after it by March 2003. I was incubated when I was seven months old.)," he eagerly shared.
He genuinely admits that he got depressed at first. At least with his one eye still working, he could do what a typical child does. In the long run, all of his outdoor activities such as basketball were forced to end.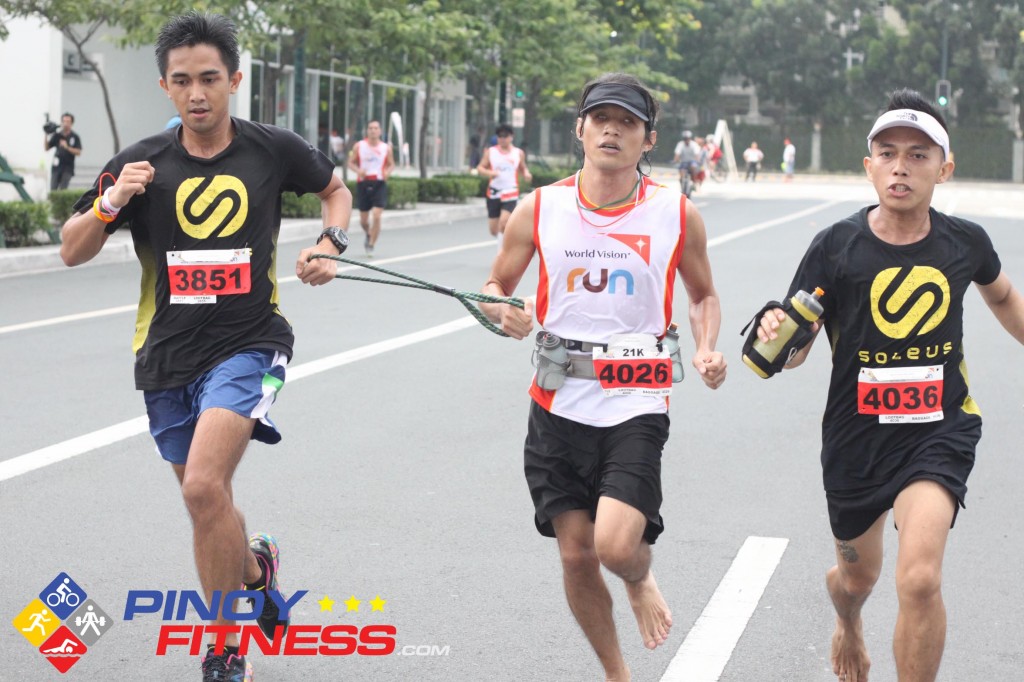 Fantasizing dreams
By no means, Casidsid doesn't want his God-given talents may be put to waste; one of these is drawing. As he define it in his younger years, he could stroke some fine lines and shapes. Because of this, he then envisions to establish a simple clothing line wherein his obra maestra may be imported and exported all over the fashion industry.
Pleased with the soundness music brings to him; he also gained passion for playing drums. His devotion urges him to learn the braille. Through the pattern of raised dots, he may now continue on reading notes to finally perform his most-awaited musical piece.
Struggling through the hardship of what he has experiencing, Casidsid certainly did not stop on dreaming for success. A childhood vision to become an employee abroad was then impossible for him to pursue on fulfilling.
"Ngayon ang pangarap ko na lang para sa mga kapatid ko saka sa mga magulang ko na yun maging stable pa rin ang pamumuhay namin, [at] masayang family (Having a stable lifestyle and continue being one happy family is my only dream now for my siblings as well as for my parents.)," he determinedly describe.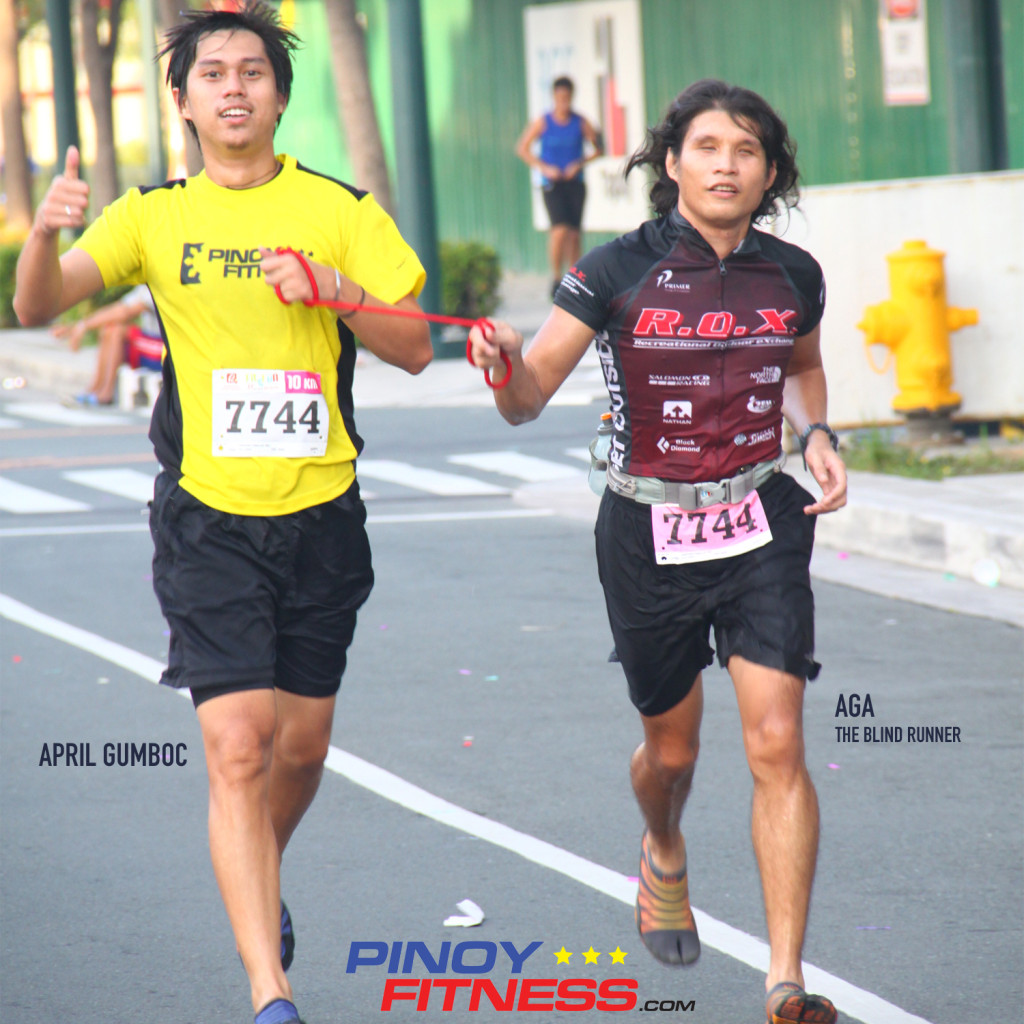 Dashing through right path
Because of the permanent change Casidsid is enduring, he finally decided to regain his usual strength in an altered approach – running. The unending encouragement of his friend who trains from a certain Milo marathon last year made him face the difficulty this may bring. Challenging himself to a new perspective of life, he enjoys the test given by his newly-known sport.
It never crosses his mind that from a common friend of his elder brother, Edgardo Pelingo Jr., will serve as his own trainer and navigator for all the races he wishes to participate. The embedded trust taught by his mentor aid believing intensely in his capabilities. A goal of not initiating injury to himself and also to his co-runners could make him reach the finish line in no time.
"Yung positive side uy, blind runner at least nakakatakbo siya. Yung negative, nakakabunggo ka ng tao. Ah minsan hindi naman sinasadya na naiirita sila kasi kung baga nahaharangan mo yung daan nila (The positive side is he is a blind runner at least he could run. The negative side is I bump into people. Sometimes it didn't mean to exasperate them because you're blocking their way.)," he honestly confesses.
As farther and farther the distance he runs to, 5K, 10K, 15K and 12K trail run and road in Tagaytay, the closer and closer he is to the happiness he desires to grasp in completion of the race. And at the age of 28 where he still thirsts for his firming perseverance, he aspires to attempt the trial of Biking. But the continuous burning of flame in running and in the advocacies every fun run voice out will still be treasured deep in his heart.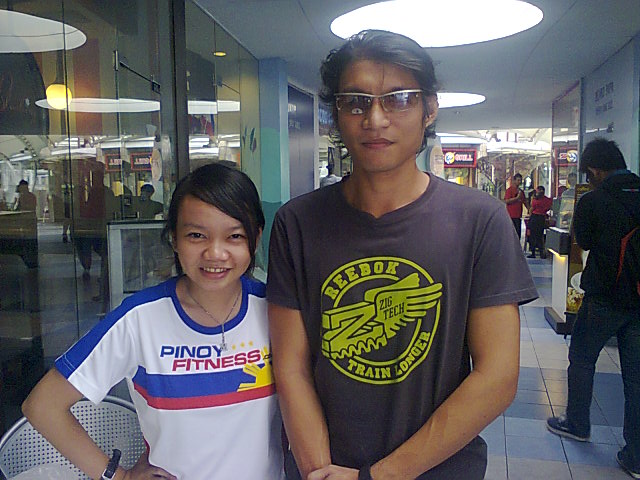 For Casidsid, the loss of sight is an instrument which stands to be an inspiration to those who have similar circumstance.
"Yung mga blind parang [nasa] isang room lang ang pwede mong puntahan. Wala kang guide, wala kang makakasama, dun ka lang. Siguro i-try niyo na lumabas ng box kung baga, magsearch o i-challenge nila ang sarili nila na kung baga reach the limit na magagawa nila yung unexpected nilang magagawa (The blind persons are like in only one room that they could go to. You have no guide, no one to be with, you're just there. I think they should try to go outside of the box, search or challenge their selves, reach the limit that they could do the unexpected things.)"
There's no harm in dwelling into pain when you least expected to be deprived of something you need to have. Digging deeper to the purpose of why this phenomenon had happen might help you realize to appreciate the simple things you even bear on noticing. The race of life doesn't end there. It just added up the exciting part on how to perceive true happiness falling into your hands.
For Instant Updates – Follow US!
https://www.facebook.com/pinoyfitness
https://www.twitter.com/pinoyfitness
Got a Story to tell? Email us @ [email protected]
Like this Story!? Share it to Inspire your friends!