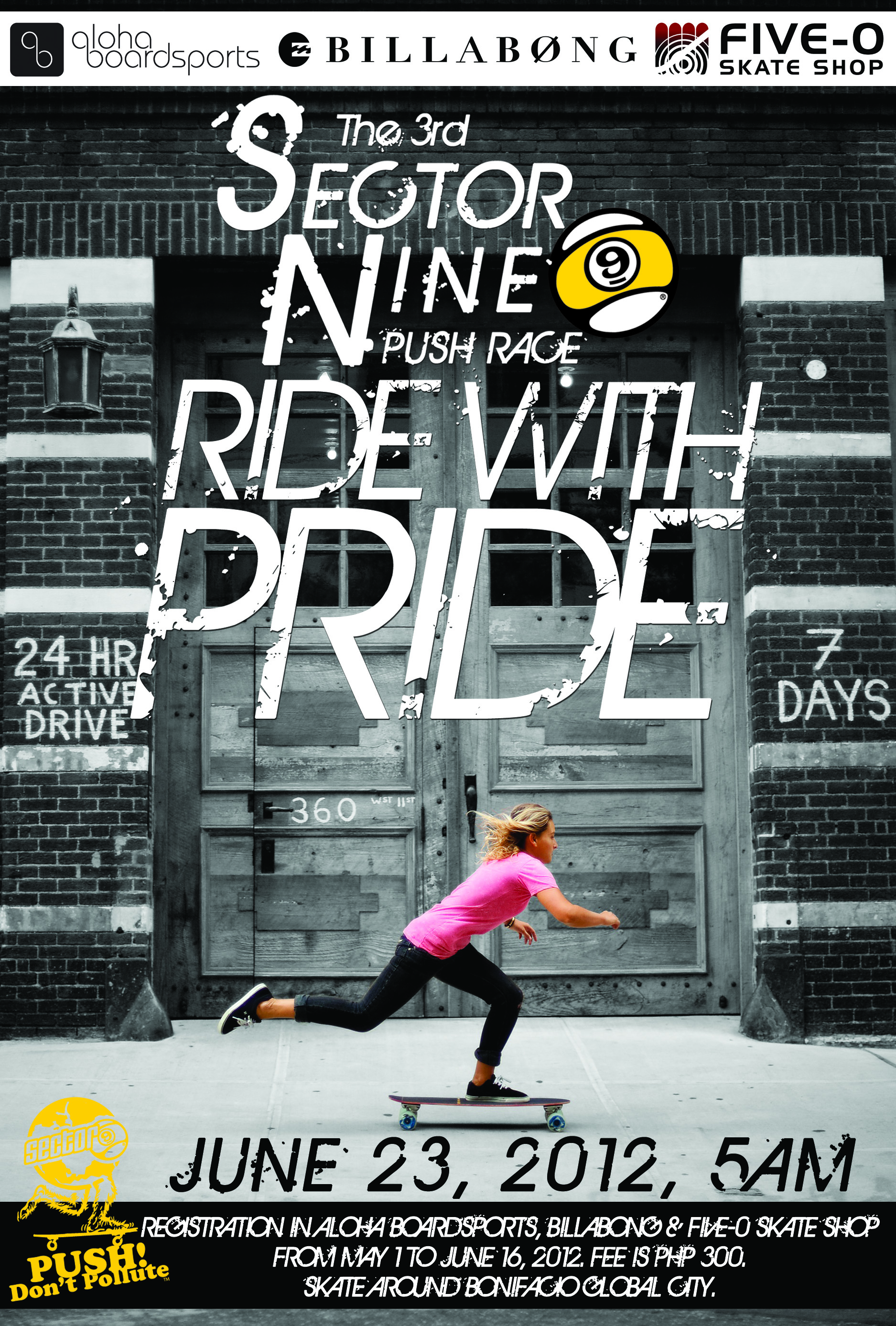 Sector 9 Invites Skateboarders to Ride with Pride on June 23
[PRESS RELEASE]
Do you have what it takes to beat the fastest skateboarders in Manila?
This year, find out what you're made of and be a part of the 3rd Sector 9 Push Don't Pollute Race: Ride with Pride. The 10-km race will be held at The Fort on June 23, 2012, and not only is it a way for you to skate your heart out, it's also a way for you to show your support for the growth of the skateboard community over the years.
Having started as a subculture of the surf scene in the 1950s when surfers were trying to find a way to bring surfing from the waves to the streets, skateboarding has since then taken a life of its own. Now considered as one of the world's most popular action sports, the creative and dynamic personalities of the people that form the skateboarding community have also influenced various works of art, fashion, and music.
Given its exponential growth and evolution, it wasn't long before skateboarding had its own holiday. Go Skateboarding Day started out the way skateboarding did—through a series of gatherings organized in Southern California by a community passionate for this subculture-turned-action sport. It was in 2004 that the holiday was made official by the International Association of Skateboard Companies (IASC), and Go Skateboarding Day became a cooperative of decentralized events organized by brands, organizations, and skateboarders that take place all over the world. With the rise of the appreciation for skateboarding in the Philippines, it wasn't long before Go Skateboarding Day was commemorated in the country via a series of events and competitions as well.
The theme for this year's Push Don't Pollute race, Ride with Pride, takes inspiration from the message that Go Skateboarding Day is trying to convey, which is promoting pride not just in the sport, but also in the community that helped build it.
Aside from being a part of the biggest convergence of skaters in the country and facing serious competition in the race, you also get a chance to win a cash prize of P10,000 plus awesome goodies from Sector 9 if you bag the top spot in each category in the push race. The categories include Men's, Women's, and Juniors, so every guy, gal, and young skater has the chance to participate. In addition to that, there's also a Best Trick competition for those of you who love landing tricks. Show us your best trick and you might just win prizes from Sector 9, so grab your friends and register at selected Aloha Boardsports, Five-0 Skate Shop, and Billabong stores.
If you're still on the fence about joining, keep in mind that the registration is only until June 16, 2012, so you definitely wouldn't want to miss out on the deadline. The registration fee of P300 also includes a race shirt and gifts from sponsors, but remember: You have to be 18 years old and above to join. If you're 12-17 years old and you still really want to participate, then you have to present a signed parental consent form in order to be eligible for your chosen competition.
So get your gear, start practicing at your local skate spots, and join the rest of the world in celebrating skateboarding's biggest holiday by riding with pride on June 23!
For more details, visit any Aloha Boardsports, Five-0 Skate Shop, or Billabong store, or you can also log on to www.alohaboardsports.com