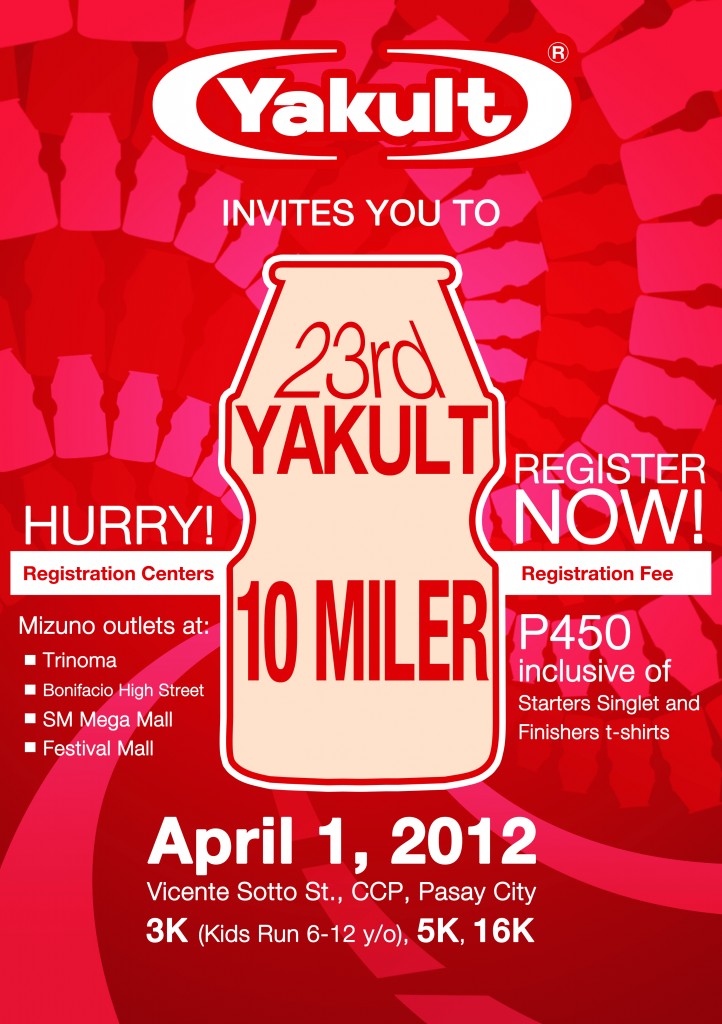 Congratulations to everyone who conquered the 23rd Yakult 10 Miler Run 2012! Time to share your personal feedback, results and comments about this race here!
YAKULT 10 Miler Run 2012
April 1, 2012
Roxas
Official Race Results and Photo Links will be updated here once it is released by the organizers!
Race Results:
YAKULT 10 Miler Run 2012 – 3K Race Results
YAKULT 10 Miler Run 2012 – 5K Race Results
YAKULT 10 Miler Run 2012 – 10 Miler Race Results
PRESS RELEASE:
KENYANS DOMINATE 23RD YAKULT 10 MILER RUN

Kenyans Benjamin Kipkazi won the men and Irine Kipchumba ruled the distaff side of the 23rd Yakulkt 10-Miler (16-kilometer) that started and ended yesterday at the Cultural Center Complex in Pasay City.

Kipkzi clocked 49 minutes and 35 seconds and Kipchumba clocked 1:02.27.

Kipkazi and Kipchumba, both professional runners, each won P7,000 each plus trophies.

The Kenyans made a 1-2-3 finished in the men's divison with Willy Rotich and Samson Tuwie came in second and third, respectively, in 49:39 and 49:43.

Veteran Eduardo Buenavista came in fourth in 50:09, ahead of another Kenyan Eliud Kering, who came in 50:59. He pocketed P1,000.

Kipkazi ran smoothly and didn't suffer legs nor stomach cramps throughout the 16 kilometers.

"It was a perfect run and the weather condition was ideal," said Kipkazi

Irine Kipchumba and compatriot Susan Jemutai made a 1-2 finished for Kenyan in the female divison, clocking 1:02.27 and 1:04. 39, respectively. Former marathon queen Christabel Martes came in third in 1:05.18, edging Miscelle Gilbuena at 1:06.30.

The Kenyans also dominated the 5k with Philip Rono winning in 13 minutes and 31 seconds, beating Joycer Lacno and Junrel Bendoy, who checked in 15:15 and 15:29, respectively.

Lovely Moreno won the distaff side in 20:08, followed by Angelica David in 22:39. Edina Villanueva placed third in 24:01.

Yakult plant manager Mitsuo Taniguchi awarded the prizes and trophies to the top three placers of the 16k and 5k races. He was assisted by sales manager Michael Ong.

More than 3,000 runners competed in the annual race supervised by Rudy Biscocho.
Visit -> https://shop.pinoyfitness.com
For Instant Updates – Follow US!
https://www.facebook.com/pinoyfitness
https://www.twitter.com/pinoyfitness