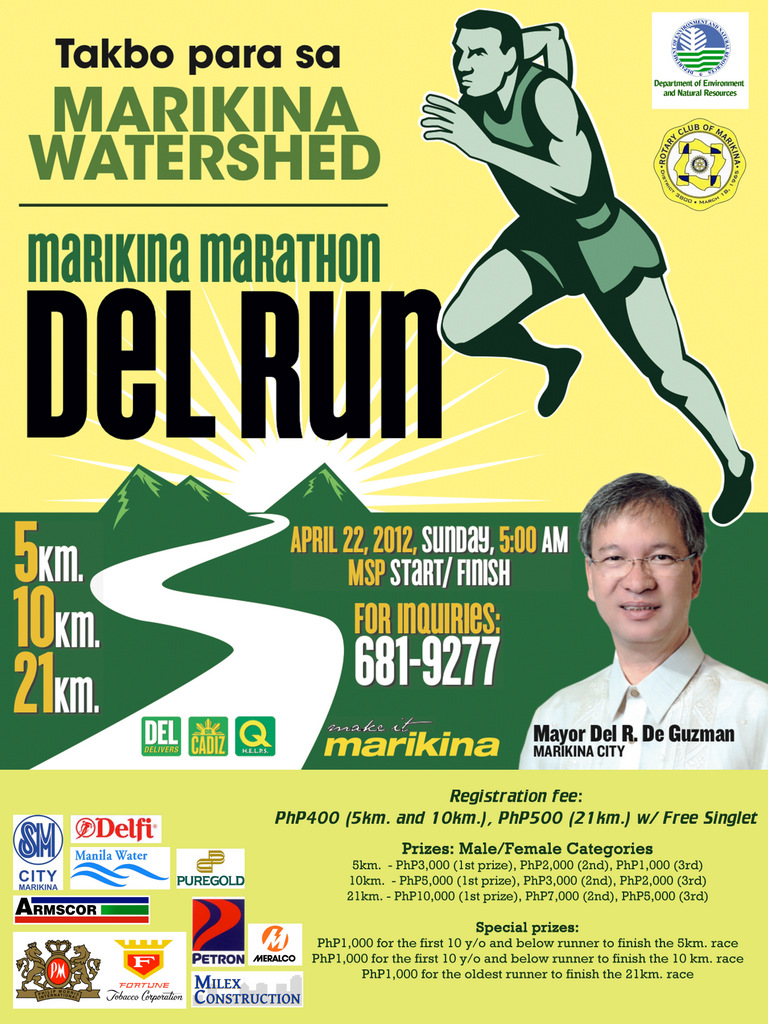 A Fun run who's objective is to be able to save the Marikina watershed from further degradation and save the Metropolis from another Ondoy happening in Marikina Sports Center on April 22, 2012! Check it out
Save the Marikina Watershed (Del Run)
April 22, 2012
Marikina City
5K/10K/21K
Organizer: Rotary Club of Marikina Zone/ Marikina City Govt.
Registration Fees:
5K and 10k – P400.00
21k – P500.00
If payment check payable to Rotary Club of Marikina Dist. 1800
Registration Venues:
Marikina Sports Center, SM Marikina,Marikina City Hall, Marikina Rotary Club, Graceland Marikina
Save the Marikina Watershed (Del Run) – Singlet Design:
Rationale:
The Marikina Watershed is now on its sorry state. But its not too late to save it from further degradation.
President Benigno Aquino III, declared September 26 as "Save Sierra Madre Day" the anniversary of Typhoon Ondoy which brought heavy rains resulting flooding in major cities in Metro Manila and took the lives of many of our countrymen. Most of the flooding can be attributed to the continuous deforestation of the Sierra Madre mountains.
Two years after Tropical Storm "Ondoy", the victims of its most devastating wrath, remained inundated with promises and that never again would they ever be placed at such horrific risk.
Marikina cannot do it alone. It should be a concerted effort of all stakeholders to restore the green forest of Sierra Madre. Sec. Ramon Paje promised to plant 5 million seedlings over 10,000 hectares up to 2016, the end of President Benigno Aquino III's term.
In a "Statement of Commitment" he signed with other stakeholders, the agency will plant five million trees to rehabilitate the Marikina watershed to enhance its water-holding capacity to reduce siltation and flash flooding.
The watershed was also seen as a potential source of water supply for Metro Manila, and plays a vital role in regulating flooding in the low-lying areas of Rizal and the Metropolis.
Among the endangered wildlife species found in the Marikina watershed include forest trees like narra, red and white lauan, bagtikan, kamagong, and molave.
Another Ondoy Feared
Congressman Miro Quimbo said that to make the watershed effective in preventing floods, at least 25 million trees had to be replanted. He said that almost 80 percent of the 28,000-hectare watershed had been denuded. He also added that it would take at least 10 years to replant the area.
With global warming taking its toll, we continue to worry that more rains will be forthcoming in the next two years, and we cannot wait that long. We fear another Ondoy happening unless immediate and comprehensive flood mitigation programs are implemented along the river."
Quimbo also explored the possibility of putting up a dam in the town of Rodriguez (formerly Montalban) as the quickest solution.
Owing to the siltation of the Marikina River, further aggravated by upstream Ondoy two years ago, the river's containment capacity is down by 60 percent from eight years years ago.
Water Impounding
Quimbo also stressed out that a dam located upriver would contain the rain water for a few hours instead of immediately bringing it down to the Marikina River system.
The dam can also be a source of energy which the country needs in the next three years. Based on the reports of the Department of Energy (DOE), the country will have critical levels of power by 2014.
Other intermediate steps that need to be immediately funded are water impounding areas in Antipolo City, slope and embankment protection along the Marikina River. He called for a more comprehensive plan to address flooding in Marikina that will also involve its surrounding cities and municipalities, especially Antipolo, Pasig, San Mateo and Rodriguez. Ninety percent of the floodwater that Marikina catches comes from Antipolo and Rodriguez.
"Whatever due diligence Mariqueños do in terms of waste segregation, cleanup and rehabilatation of our drainage and creek system, if our neighbors do not cooperate, we will continue to suffer,"
"Water rises so fast and with less rain than it used to. Now, heavy rains that last two hours already swell the river. It used to take at least six to seven hours of continuous rain for that to happen," he said.
First Line of Defense
Marikina Mayor Del de Guzman vowed to make the watershed reforestation his priority. "It is called Marikina watershed because it is ours. And the responsibilities to take care of it and protect it lie with us," De Guzman stressed.
"This is our first line of defense. When this is gone, all the floodwater will go toward Marikina,"
A Marathon to Save Marikina Watershed
Marikina Marathon (Del Run) aims to stimulate awareness and intensify campaign on "Saving the Marikina Watershed". Dubbed DEL RUN, the event will cover 5, 10, 21 kilometers of roads within the city. For every registration 10 trees will be planted. The proceeds of the project will be used for a more massive tree planting at the watershed.
Del Run is an opportunity for people who care for a green environment to converge to have fun and to support a noble cause. Ondoy's stigma lingers, but something can be done to prevent it from happening again. The time is now.
For Instant Updates – Follow US!
https://www.facebook.com/pinoyfitness
https://www.twitter.com/pinoyfitness