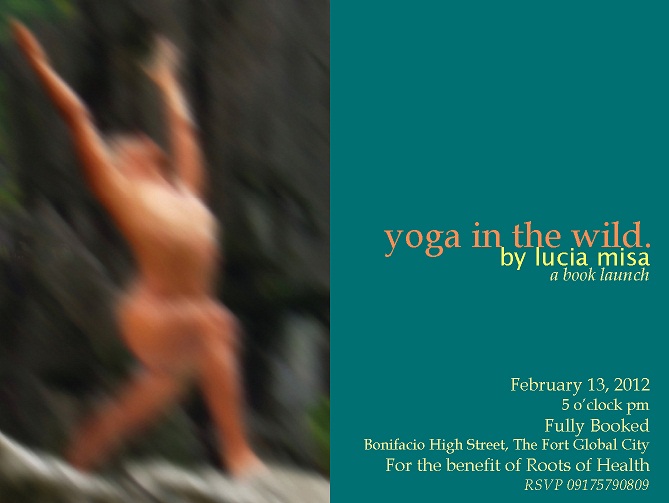 Today, Filipinos are becoming more interested in health and wellness with yoga as the top activity of choice. This search and dedication to a new lifestyle is something we would like to inspire in others through the re-launch of Lucia Misa's book, Yoga in the Wild. The author's free spirit, fascinating stories of her adventures around the world, and her passion for yoga as a healing process will surely entice both the young and old readers in the metro today.
"Talikwas, an unfolding from within, from inside-out. An intimate exploration into primordial energy that underlies all of creation… Once the source is tapped, the body can move naturally, fluid and graceful, yet powerful and balanced."
Everyone is invited on February 13, 2012 at Fully Booked Bonifacio High Street at 5 in the afternoon. Reading by the author and a yoga demonstration will also commence.
This is a non-profit project, with the book's proceeds going to Roots of Health, an organization that advocates to improve the reproductive health and overall well-being of women and girls, and to decrease malnutrition in babies and young children within community groups in Palawan. Through this partnership, we will be able to reach our intended market together in order to provide a new education about wellness and most importantly, to help out our less fortunate sisters.
Yoga In The Wild Book Launch
February 13, 2012 @ 5pm
Fully Booked, Bonifacio High Street, Fort Global City
Registration Fees:
For inquiries and RSVPs, you may contact +63917 579 0809 or [email protected]