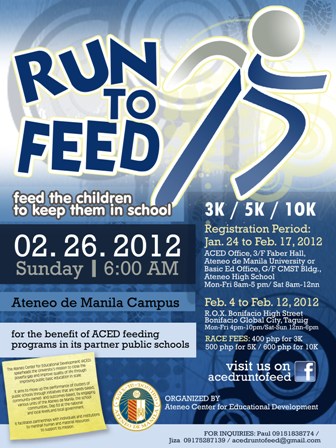 The Ateneo de Manila University through the Ateneo Center for Educational Development (ACED), spearheads efforts to help uplift public basic education in the country.
As ACED celebrates its 15th anniversary in February 2012, a fun run will be held at the Ateneo de Manila campus on February 26. The fun run aims to raise money, support and awareness of the university's work toward public school development, particularly its feeding programs for public elementary school pupils.
NOTE: This is an ECO-FRIENDLY RUN. The organizers are requesting runners to bring their own water bottles.
ACED Run to Feed – Quezon City
February 26, 2012 @ 6:00 AM
Ateneo de Manila University
3K/ 5K/ 10K
Organizer: Ateneo Center for Educational Development
Registration Fees:
10K – Php600 with singlet, bib, timing chip and map
5K – Php500 with singlet, bib, timing chip and map
3K – Php400 with singlet, bib and map
Registration Venues:
ACED Office, 3/F Faber Hall, Ateneo de Manila University
January 24-February 17
Mon. to Fri. 8AM – 5PM / Sat. 8AM – 12NN
Basic Education Unit (BEU)office, 1/F CMST Building, Ateneo High School
January 24-February 17
Mon. to Fri. 8AM – 5PM / Sat. 8AM – 12NN
R.O.X. Bonifacio High Street, Taguig City
February 4-12
Mon. to Fri. 4PM – 10PM / Sat. to Sun. 12NN – 6PM
ONLINE REGISTRATION -> Click Here
Contact Details:
PAUL 09151838774 or JIZA 09175287139
ACED Office: 4266001 local 4026 or 4028
BEU Office: 4266001 local 6012
Email: [email protected]