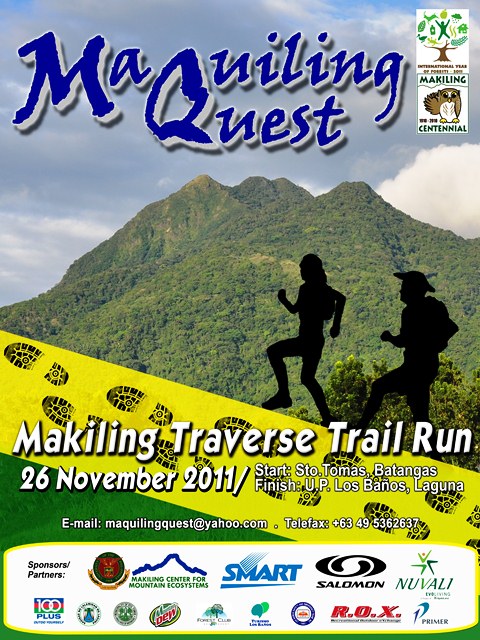 The Makiling Center for Mountain Ecosystems, University of the Philippines Los Baños (UPLB) is organizing its annual Maquiling Quest on 26 November 2011. This year's race will take the form of forest trail running in celebration of the United Nations' International Year of Forests 2011.
Maquiling Quest 2011
November 26, 2011 Postponed to February 26, 2012
Sto. Tomas, Batangas -> Makiling Botanic Gardens, U.P. Los Baños, Laguna.
25KM (2-person Team)
Registration Fees:
PHP 2,000 per team (before 20 November 2011)
PHP 2,200 per team (21-25 November 2011)
Registration Venues:
Download Registration Form -> [download id="568″]
Send it to:
LEILANI A. CASTILLO
Makiling Botanic Gardens
University of the Philippines Los Baños, Laguna
Telefax: (049) 536-2637 or 536-3572
E-mail: [email protected]
Now on its 10th year, Maquiling Quest aims to develop and promote adventure sports and ecotourism while enhancing public awareness and conservation stewardship of the legendary mountain. It expects to attract trail runners and mountaineers from all over the country.
Maquiling Quest 2011 Guidelines:
[download id="569″]
For More Information:
Call: 049-536-2637
Email: [email protected]