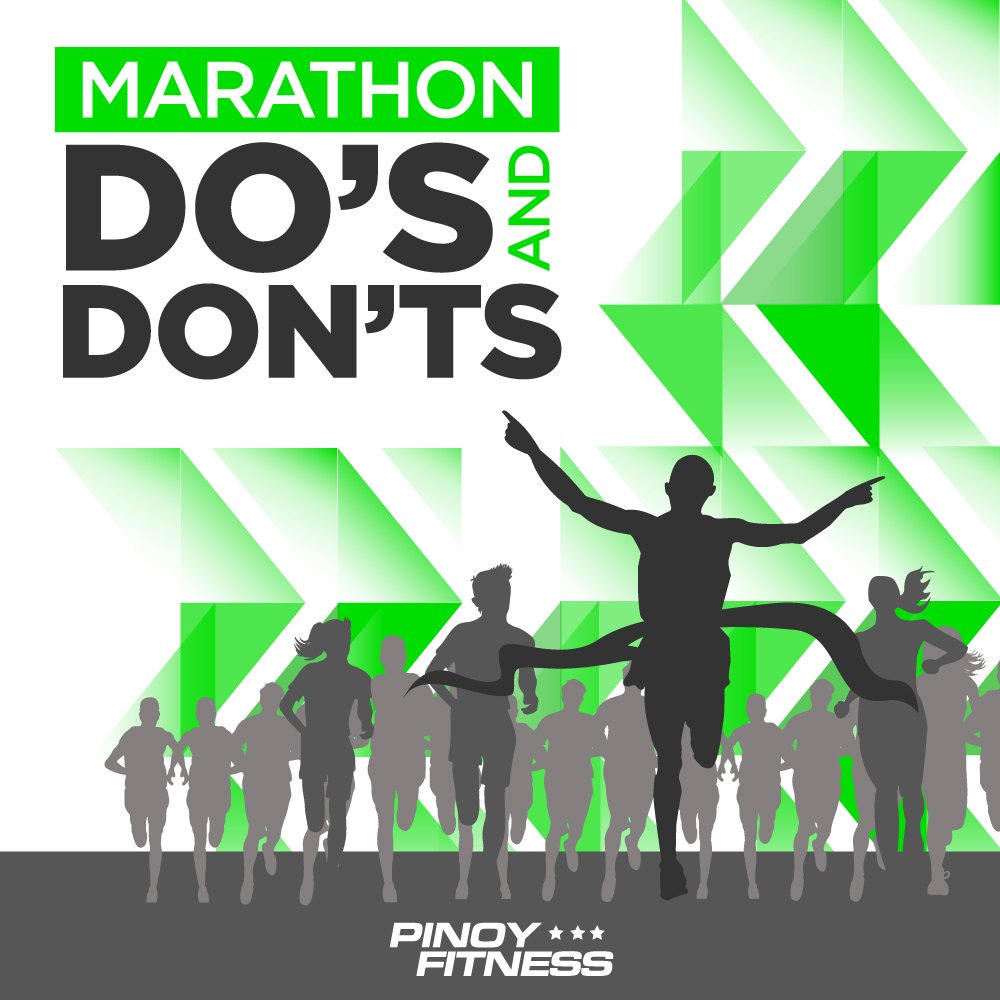 Running a marathon is a challenging and rewarding experience, but it's important to approach it with the right mindset and preparation. In this article, we will discuss some key do's and don'ts for running your first marathon. By following these guidelines, you can ensure that you are physically and mentally prepared for the race, and that you are able to complete it safely and successfully.
42K Do's:
TRAIN TRAIN TRAIN! – a marathon is not easy, this requires time and dedication in training.
Not worry about the time. Enjoy your race, and believe you can finish this.
This is the most expensive race you'll ever pay, so enjoy the experience!
You must have at least finished a 32k run in your training runs.
Wake up 3 hours before the race.
Eat breakfast 2 hours before the race. Take in one energy gel 15 mins before gun start.
Train with your nutrition system. Your body must get used to the energy gels you plan to bring. Tip: go with same brand, use different flavors. On race day, schedule the times you take in your nutrition.
Rest 1 week before the race. This is the best part.
Make sure you have at least 7 – 9 hours of sleep during your rest week. Crucial is the last 2 nights before race day.
Apply Bodyglide or petroleum jelly in areas where chaffing occurs.
Maintain your pace. If you must walk, then walk! There's no shame in walking in a marathon.
Smile in front of the camera and raise your hand when you cross the finish line! Tip: practice your finish line pose.
Wear comfortable racing gear, sunglasses, visors etc.,
42K Don'ts:
Procrastinate training. Follow your training plan.
Drink alcohol during your rest week.
Overeat breakfast on race day.
Eat spicy food 2 days before the race.
Eat oily foods the night before race.
Think you can wear the extra shoes and the extra singlet
Try anything new on race day (shoes, socks, singlet, shorts, etc..) make sure you have road tested what you are wearing.
Overhydrate. You don't want to be bloated for the next 30 kms! Take in your hydration systematically. Balance your energy gel, sports drink, water intake.
Race the first 32k. Race the last 10k! This is where the runners and the marathoners are separated.
Additional post Marathon tips:
After crossing the finish line, it is a MUST that you take in at least 500 calories of food. Your body will start to recover, and it needs the calories to start repairing. Best recovery drink: CHOCOLATE MILK or a Protein Shake! Do this also after your long training runs, even after your 15-21k races. There is a 30 minute window to do this, otherwise if you don't you won't recover faster. A good recovery is a good training/race.
Try to do a short recovery run a day or two after the race. This is to flush out the lactic acid that has accumulated.
The best benefit of finishing a marathon? Is eating so much and not gain a single weight! But be careful of what you eat.
You can start training again after 2 weeks of recovery period. If you still find it hard to run, don't just stop being active. I highly recommend doing low impact training. Swimming, biking, boxing, kayaking, etc… one that does not involve pressure on the knees.
If you feel sluggish, and unmotivated. Do tip #4. Take a break from running and pick your next race. Take it slow. You can start enjoying the short races… 5k, 10k, 15k and 21k races. Try to beat your PR's.
Lastly, this is not a sport, it's a lifestyle.