[ad#square-middle]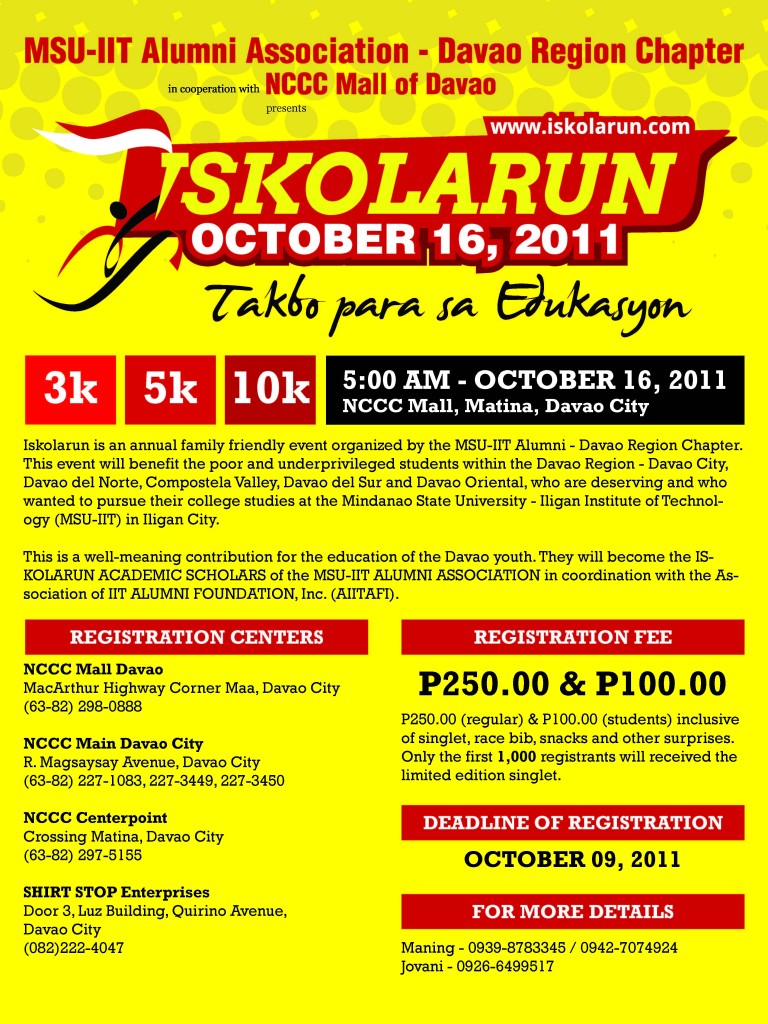 Iskolarun is an annual family friendly event organized by the MSU-IIT Alumni – Davao Region Chapter. This event will benefit the poor and underprivileged students within the Davao Region – Davao City, Davao del Norte, Davao del Sur, Compostela Valley and Davao Oriental, who are deserving and who wanted to pursue their college studies at the Mindanao State University – Iligan Institute of Technology (MSU-IIT) in Iligan City.
This is a well-meaning contribution for the education of the Davao youth. They will become the ISKOLARUN ACADEMIC SCHOLARS of the MSU-IIT ALUMNI ASSOCIATION in coordination with the Association of the IIT ALUMNI FOUNDATION, Inc. (AIITAFI).
Iskolarun 2011 – Takbo para sa Edukasyon
October 16, 2011 @ 5:00AM
NCCC Mall, Matina, Davao City
3k / 5k / 10k
Organizer: MSU-IIT Davao Region Chapter
Registration Fees:
Regular: P250.00
Students: P100.00
Note: P250.00 (regular) & P100.00 (students) inclusive of singlet, race bib, snacks and other surprises. Only the first 1,000 registrants will received the limited edition singlet.
Registration Venues:
NCCC Mall Davao
===
MacArthur Highway Corner Maa, Davao City
(082) 298-0888
NCCC Main Davao City
===
R. Magsaysay Avenue, Davao City
(082) 227-1083, 227-3449, 227-3450
NCCC Centerpoint
===
Crossing Matina, Davao City
(082) 297-5155
SHIRT STOP Enterprises
Door 3, Luz Building, Quirino Avenue, Davao City
===
(082)222-4047
Contact Details:
Contact Person: Manny
Contact Numbers: 0939-8783345 / (082) 304-5431
Email: [email protected]