[ad#square-middle]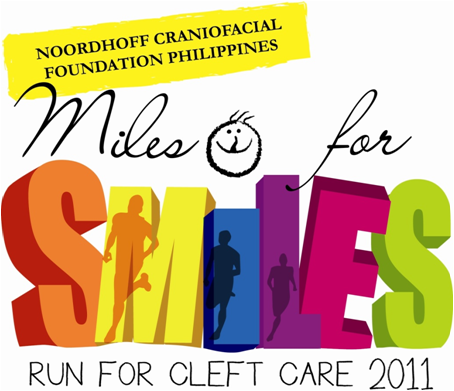 Everyone runs for a different reason, and if you are still undecided on which run to join on September 18, 2011, then here is a run to consider that can put Smiles to a lot of children with Cleft conditions.

Miles for Smiles 2011 'Run for Cleft Care'
September 18, 2011
Fort Bonifacio Global City, Taguig
400m/3K/5K/10K/16K with 10K and 16K (Group)
Registration is still ongoing! – Click Here
Official Press Release:
Going the Extra Miles for Smiles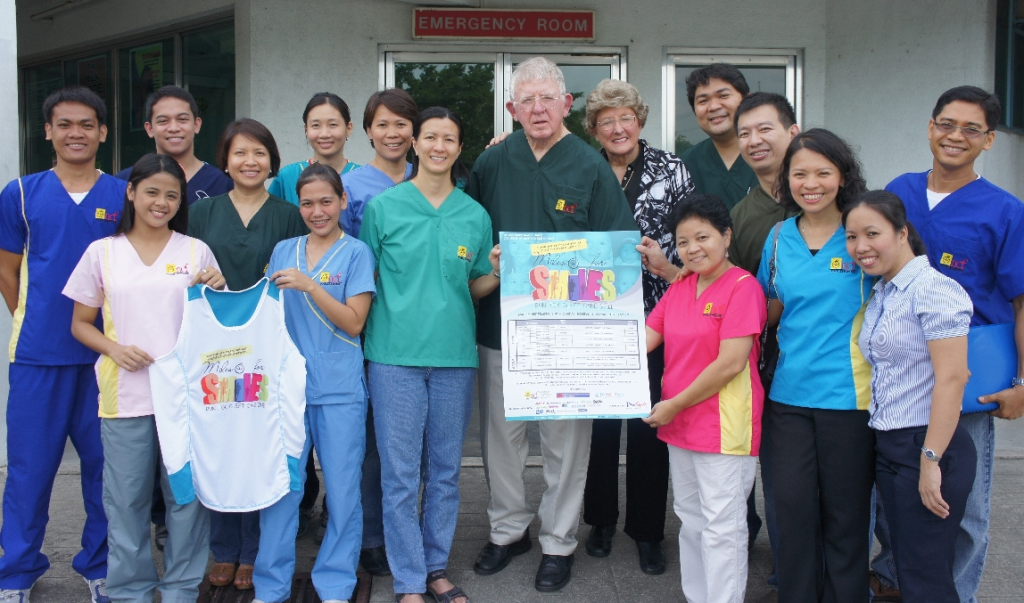 It was just another manic Monday as parents and their children with varying cleft conditions milled in the Emergency Clinic annexed to Our Lady of Peace Hospital in Paranaque. In a corner sat a man who stood out not just because of his snow-white hair and large built, but also for the immense calm he radiated amidst the chaos… he is the one who started it after all.
Shortly after graduating with a medical degree from the University of Iowa, Dr. M. Samuel Noordhoff and his wife, Lucy, made the long journey across the ocean to Taiwan in 1959 as medical missionaries. The very next day Dr. Sam started learning to speak Taiwanese. The following year he became the superintendent of Mackay Memorial Hospital where he stayed for the next 16 years. In 1976, he became the first superintendent of the Chang Gung Memorial Hospital where he founded the polio rehabilitation center, cleft lip and palate treatment center, burn treatment center, suicide prevention center, lifeline and maxillofacial center. Upon retirement in 1989, Dr. Sam used USD 100,000 of his own money to form the Noordhoff Craniofacial Foundation (NCF) and has since then expanded operations from Taiwan to Cambodia, China, Vietnam, Philippines and Mongolia.
Clefting is a congenital deformity caused by abnormal facial development during early fetal development. It commonly manifests on the lips and palate but can also affect other parts of the face, such as the eyes, ears, nose, cheeks, and forehead. The exact cause for clefting has yet to be determined but it is recognized that hereditary and environmental factors (nutritional imbalance, exposure to x-ray etc.) contribute to the condition.
NCF Philippines, Inc. (NCFPI) sets itself apart from the numerous "stitch-and-go" missions by providing "comprehensive cleft care" from pre-surgery preparation through post surgery speech therapy conducted by respected professionals. Clinics and surgeries are held on weekly schedules in equipped medical facilities. For treatment of patients, the Foundation's main collaborators are the Smile Train, World Craniofacial Foundation, and HELP-Wir helfen in 2009 and (TECO). It has started to get support from private companies and other foundations like Tahanang Walang Hagdanan Foundation and PAL Foundation in order to extend reach of its treatment to many patients in need.
In 2010, NCFPI launched "Miles for Smiles: Run for Cleft Care" in Bonifacio Global City to raise public awareness that cleft is treatable and world-class comprehensive care is available. The event drew more participants than expected for the 400M Dash for Kids (ages 7 and below), 3k, 5k, 10k, 16k and "10 for a Smile" group categories that the Foundation decided to continue the campaign this year.
"Miles for Smiles: Run for Cleft Care 2011" happens on September 18 2011 – Sunday, at Bonifacio Global City, Taguig. For more information, please visit www.ncfphil.org or contact the Event Secretariat through 5197010 or 5198980.