[ad#square-middle]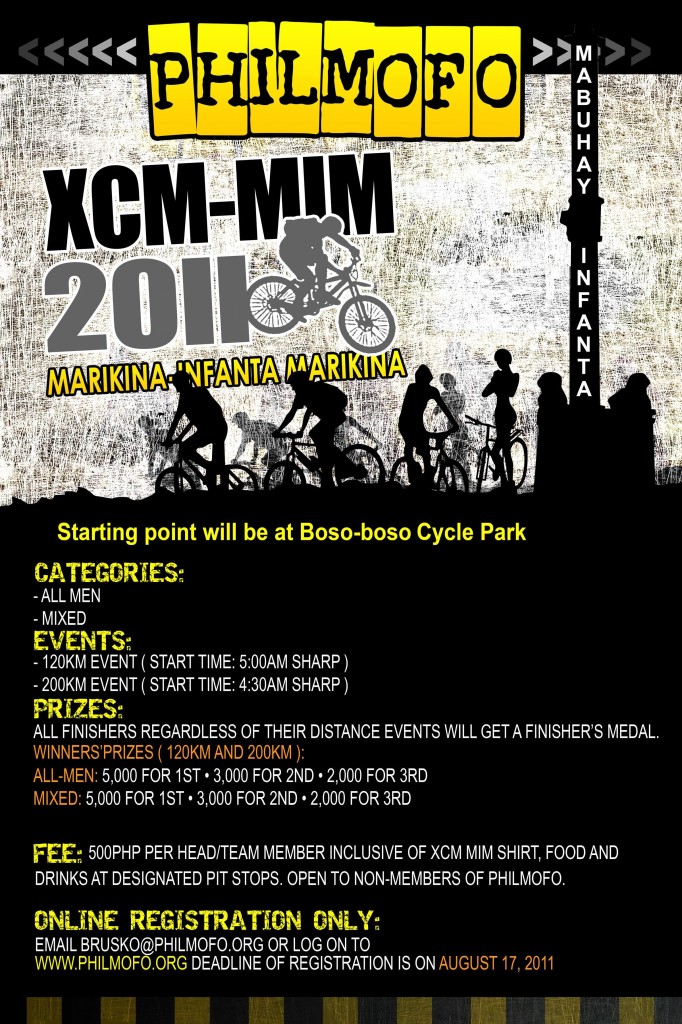 Join the Philmofo XCM : MIM happening on August 21, 2011, you can choose from 2 distances 120km and 200km. Both distances have categories of all-men and mixed. Check out details here.
Philmofo XCM: MIM
August 21, 2011 4:00AM
Boso Boso Cycle Park
120 and 200 km
Organizer: Philmofo.org
Registration Fees:
Fee: 500php per head/team member
The fee is inclusive of an XCM MIM shirt, food and drinks at designated pit stops. The race is open to non-members of the forum.
– Starting point will be at Boso-boso where Cycle Park is.
Bank Deposits may be made to:
BPI Congressional Ave, QC
2815 0073 98
Meyrick Amadeo Foronda
BDO Savings: 5370114375
Alan David B. Sotelo
Branch is at Rada cor. Dela Rosa st., Makati.
– Scan your deposit slips and send to [email protected] as proof of payment
Registration Venues:
Registration forms and waivers will soon be posted online for each member to fill-out, sign and give to us at the race day itself. We can also accept your filled-out scanned documents.
Email: [email protected]
Contact Details:
[email protected]
Other Information:
Rules and requirements:
-3 to 5-person team
-all men
-mixed
-each must have a bike
-each team must have a first aid kit
-for those in the 200km event, each member must have lights and a REAR blinker
-all members can only be supported by their own teammates
-no outside support
-no SAG will bring any of the participants' food, tools, supplies and equipment
-stores are available along the route. You can get refreshments there but no (moving) vehicle must bring or hand over refreshments to any participant
-only these types of bikes are allowed due to the nature of the course:
-MTB- whether 29'er or not
-Cyclocross
-For everyone's safety, wheelsize limit is set to 1.5 inches for MTB; 32mm for CX
-For everyone's safety, full slicks and skinnies not allowed; semi slicks minimum
For the 120km event:
Start time: 5am sharp.
Cut-off time to finish: 2pm sharp
Food and drinks will be distributed at the 60km point.
For the 200km event:
Start time: 430am sharp.
Cut-off time at 60km point: 8am
Cut-off time at finish: 8pm
Food and drinks will be distributed at the 60km point.
All finishers, regardless of their distance events will get a finisher's medal.
Winners' prizes (120km and 200km):
All-men: 5,000 for 1st; 3,000 for 2nd; 2,000 for 3rd
Mixed: 5,000 for 1st; 3,000 for 2nd; 2,000 for 3rd
On or before the 17th of August, all teams are requested to pay the whole fee as one for better tracking. We'll list the bank account details shortly.
Source: Meyrick via Email