[ad#square-middle]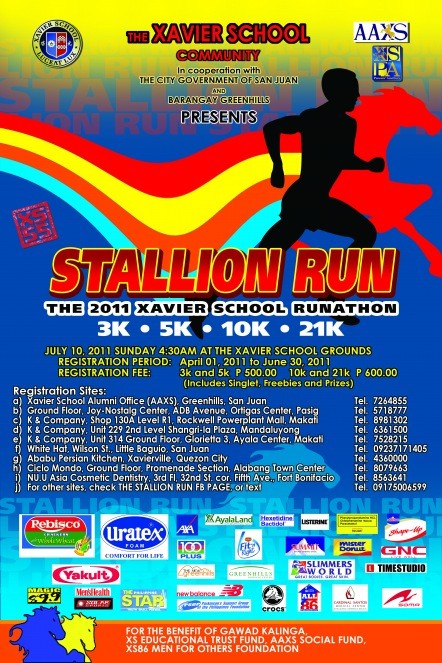 A community based Fun Run and Marathon (Runathon) organized by the Xavier School Community in Greenhills, San Juan, in commemoration of the 55th anniversary of the School and the 25th Anniversary of XS Batch 1986.
The Xavier Stallion Run
July 10, 2011
Xavier School Grounds
3K / 5K / 10K / 21K
Registration Fees:
3K and 5K – PHP 500.00
10K and 21K – PHP 600.00
(includes singlet and freebies)
Download Registration Form Here:
[download id="493″]
Registration Sites:
Stallion Run walk-in registration is available at the Runners' Runner @ ROX registration booth
2nd flr ROX, Bonifacio High Street. 4-9pm daily except Mondays.
Runners' Runner Hotline: 507-8348 (4-9pm daily except Mondays)
Online Registration via RunnersRunner:
Xavier Stallion Run 2011 Registration
Xavier Stallion Run 2011 Group Registration
a. Xavier School Alumni Office (AAXS), Greenhills, San Juan 727-3329 or 726-4855
b. Information Booth, Ground Floor, V-Mall, Greenhills Shopping Center 0917-8330315
c. Ground Floor, Joy-Nostalg Center, ADB Avenue, Ortigas Center, Pasig Frances Anne 571-8777
d. K & Company, Shop 130A Level R1, Rockwell Powerplant Mall, Makati 898-1302
e. K & Company, Unit 229 2nd Level Shangri-la Plaza, Mandaluyong 636-1500
f. K & Company, Unit 314 Ground Floor, Glorietta 3, Ayala Center, Makati 752-8215
g. White Hat, Wilson St., Little Baguio, San Juan 0923-7171405
h. Ababu Persian Kitchen, Xavierville, Quezon City 436-0000
i. Ciclo Mondo, Ground Floor, Promenade Section, Alabang Town Center 807-9663
Stallion Run 2011 – Singlet Design: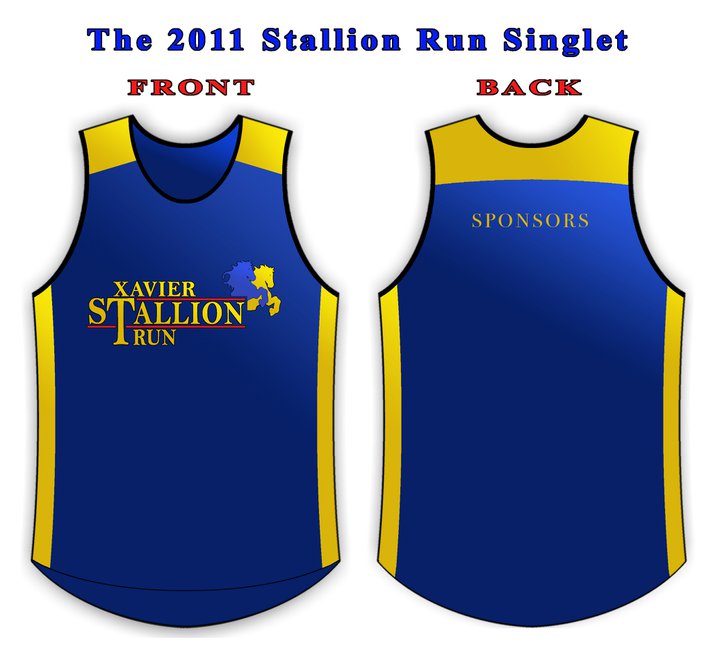 Race Details:
– Event is on 10 July 2011 Sunday, 4:30 am.
– Event is open to the Public. Male and Female, all ages. Categories are 3K, 5K, 10K, and 21K. Participants can only join one event.
– For the safety of the participants, a maximum of 2,000 runners shall be allowed to participate in the event. Drinking stations will be provided along the routes. Medical and First-Aid Teams will be on stand by.
– Performance of all runners shall be timed. Curfew is at 9am for all events, meaning runners who have not finished their respective routes by 9am shall no longer be considered finishers.
– Route Map: Route maps for 3k, 5k, 10k, and 21k shall be provided. Runners must pick up necessary markers at designated stations in the route and wear them to ensure completion of required distance in his or her corresponding event. Partial road closures will be provided with traffic marshals accompanying the runners. The route is in a highly urbanized location, hence runners are advised to exercise extra precautions to avoid accidents involving potholes, uneven ground, tight sidewalks, oncoming vehicles and the like.
Registration Rules and Details:
– Registration Period: April 1, 2011 to June 30, 2011.
– Registration Fee: P500 for 3k and 5k categories. P600 for 10k and 21k categories.
– The following shall be provided upon registration: (1) Race Rules, and (2) Registration. Participant is considered registered only upon payment of the registration fee and submission of completed registration form.
– After registering, participants will not be allowed to switch events, unless they register again, in which case the previous registration is cancelled, but no refunds shall be given. Registration is non-transferable.
– The following shall be provided after Registration: (1) Singlet, (2) Race Bib, and (3) Route Map. Registrants shall be advised of availability for pick up.
Assembly Rules and Details:
– Assembly is at HS Football Field, Xavier School, Greenhills. Entrance is at Gate 8, Xavier St., across Monteverde Mansions and Avalon Condominium. Participants must wear their singlets and race bibs at assembly.
– Participants are advised to arrive 15 minutes before Assembly Time. Assembly Time and Gun start Times are as follows:
Category: Assembly Time / Gun Start Time
21K: 4:45 AM / 5:00 AM
10K: 5:00 AM / 5:15 AM
5K: 5:15 AM / 5:30 AM
3K: 5:30 AM / 5:45 AM
– Awarding ceremonies and raffle of prizes shall be at 9:00 a.m. after curfew time. Winners of raffle prizes must be personally present to be entitled to their prizes. The following awards will be given:
a. Top 3 Male Finishers for all categories- medals
b. Top 3 Female Finishers for all categories- medals
Overall Rules and Details:
– The decision of the Stallion Run 2011 Committee on any matter shall be deemed final.
– The organizers shall have the right to use any photograph, video or other media recording of the event for any legitimate purpose without monetary consideration to any participant
– Organizers reserve the right to make changes to the route as required, and to postpone or cancel the event for the safety of the runners and volunteers in case of extreme weather conditions. There will be no refunds in case the event is postponed or cancelled.
Other Notes and Details:
– Bags and personal belongings can be deposited at designated baggage deposit area. This is only for the convenience of the participants, and the organizers assume no responsibility or liability for loss or damage of any personal belonging.
– Parking may be difficult around the Xavier School grounds on account of the event. Please make necessary arrangements. Parking at a distance and walking to the event is strongly encouraged.
– For more details, please call or text 0917-5006599, 0917-8330315, or 0917-8905824, or visit our Facebook Page THE STALLION RUN.
After registering, participants will not be allowed to switch events, unless they register again, in which case the previous registration is cancelled, but no refunds shall be given. Registration is non-transferable.
Contact Persons:
Henry Ching – 09175006599
Edson Eufenio – 09178330315