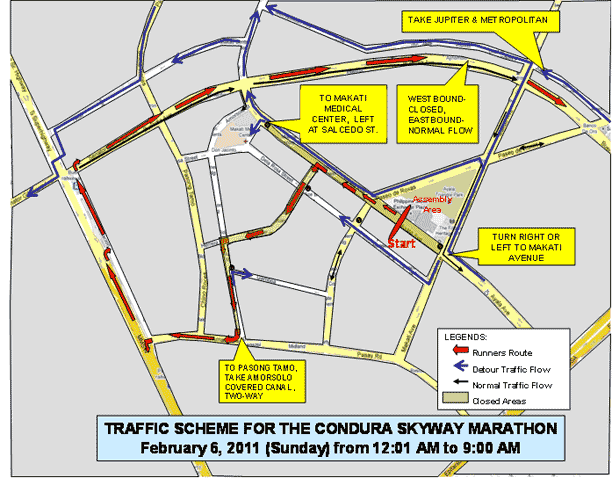 For those joining the Condura Skyway Marathon this Sunday February 6, 2011, kindly share this traffic advisory to your friends and relatives to make sure they are aware of the closed and alternative roads to take when they travel at these times to avoid giving them the hassle.
The Condura Skyway Marathon 2011, dubbed as RUN FOR THE DOLPHINS, will be held on Sunday, February 6, 2011. The 21K, 16K and 10K with more or less 8,500 participants, will start at Ayala Avenue in front of TOEP at 4:30 a.m., 5:00 a.m. and 5:30 a.m., respectively, and end at the Bonifacio Global City while the 42K with more or less 12,000 participants will start and end at the BGC but will be passing Makati area thru the westbound lanes of Gil Puyat Avenue. The following roads will be closed to traffic:

At 12:01 a.m. – westbound lanes of Ayala Avenue from Makati Avenue to Paseo de Roxas to give way for the setting up of the assembly area. Westbound vehicles should turn right at Makati Avenue, left to Paseo de Roxas and right at Ayala Avenue;

At 3:00 a.m. – eastbound lanes of Ayala Avenue from Salcedo Street to Makati Avenue to be used as assembly area and likewise, the westbound lanes of Gil Puyat Avenue for use of the 42K runners.

The stretch of V.A. Rufino Street from Ayala Avenue to Amorsolo Street and Amorsolo Street from Arnaiz Avenue to Gamboa Street will be closed at 4:00 a.m. to be used as route of the 21K, 16K and 10K runners in going to Skyway thru its off-ramp at Amorsolo Street. Motorists are advised to take alternative routes. Please see the advisory map.

It is expected that traffic along VA Rufino and Amorsolo Sts. will restore to its normal flow at 6:30 a.m., Ayala Avenue at 7:00 a.m. and Gil Puyat Avenue at 9:00 a.m.
I. BONIFACIO GLOBAL CITY AFFECTED AREAS ON 06 FEB 2011, 2:00AM TO 10:00AM
* 7th Avenue
* 9th Avenue
* 3rd Avenue
* 5th Avenue
* 28th Street
* 26th Street
* 11th Avenue
* 30th Avenue
* 32nd avenue
* University Parkway
* 10th Avenue
* 34th Avenue
* 8th Avenue
* Kalayaan Flyover
II. ROADS CLOSED ON 06 FEB 2011, 2:00AM TO 10:00AM
* Ayala Ave. going to Sen. Gil Puyat Ave.
* Rufino St. going to Amorsolo St.
* Amorsolo St. going to Makati Skyway Offramp
* Sen. Gil Puyat Ave. going to Osmena Highway
* Skyway Southbound Lane
* Skyway Northbound Lane
III. ALTERNATIVE ROUTES
* For vehicles going to Ayala Avenue/EDSA : Take Malugay St.
* For vehicles going to Makati / NAIA / EDSA : Take McKinley Road
* For vehicles going to Osmena Highway and Laguna : Take Edison St. / Pasay Road
* For vehicles going to Pasay/Manila : Take EDSA /Osmena Flyover
Source: Condura Skyway Marathon