[ad#square-middle]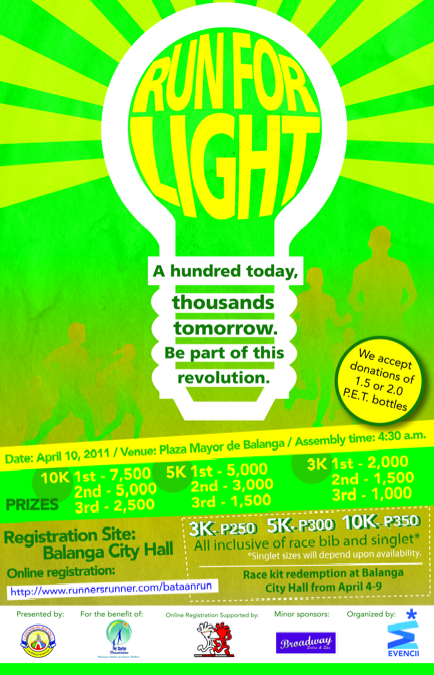 After the success of the Bottle School Run, MyShelter Foundation continues to pursue its mission to create a system of sustainability and replicability through its capability-building and employment generating projects.
My Shelter foundation will soon be launching a new project on Feb, 23, 2011 (details will be disclosed after the launching). In line with this, we are organizing a benefit run dubbed, "Bataan Run for Light: A hundred today, thousands tomorrow." This would be a pioneering project of My Shelter Foundation headed by Mr. Illac Diaz. The run will be included as one of the highlights in the celebration of Bataan Day.
Bataan "Run for Light"
April 10, 2011
Plaza Mayor de Balanga @ 4:30 am
3K / 5K / 10K
Registration Fees:
3K – P250.00
5K – P300.00
10K – P350.00
Registration fee is inclusive of race bib and singlet. Singlet sizes will depend upon availability. Only early registrants can be assured of right size.
Race kits to be claimed at Balanga City Hall on April 4-9, 2011
Registration Venues:
Registration sites: Balanga City Hall (date TBA)
Outside Bataan registration will soon be posted.
You can register online through https://www.runnersrunner.com/bataanrun
Cash Prizes:
COMPETITIVE CATEGORY
10K Category*
1st place- P 7,500.00
2nd place- P 5,000.00
3rd place- P 2,500.00
5K Category*
1st place- P 5,000.00
2nd place- P 3,500.00
3rd place- P 1,500.00
3K Category*
1st place- P 2,000.00
2nd place- P 1,500.00
3rd place- P 1,000.00