[ad#square-middle]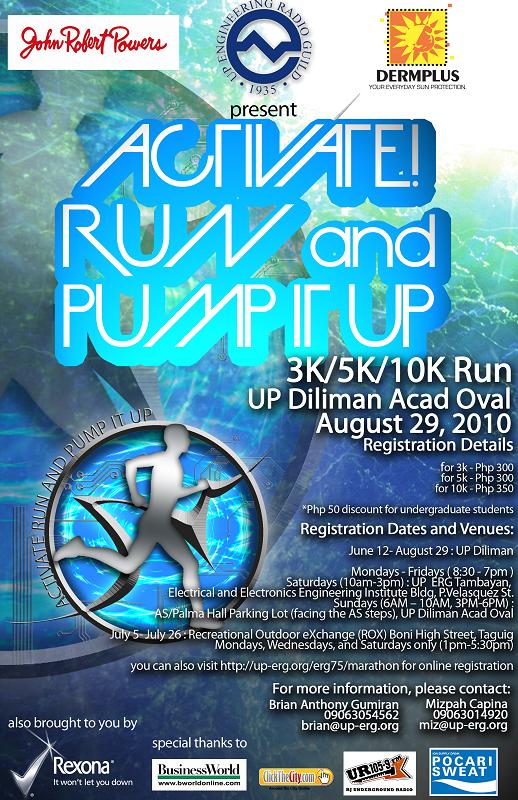 I was just recently informed that the promo for the free singlet has been modified that instead of it being FREE for the 1st 150 paid registered runners, now all runners who will pay on or before August 8, 2010 will be entitled for the FREE singlet.
For those who have already pay for the singlets, you can have a refund on the claiming of the race kits. It will be held from August 24-27, 2010.
Click Here for more information about ACTIVATE! RUN and PUMP it UP 2010
Registration Dates and Venues:
June 12- August 29 : UP Diliman
Mondays – Fridays ( 8:30 – 7pm ), Saturdays (11am-3pm) : UP ERG Tambayan, Electrical and Electronics Engineering Institute Bldg, P.Velasquez St.
Sundays (6AM – 10AM, 3PM-6PM) : AS/Palma Hall Parking Lot (facing the AS steps), UP Diliman Acad Oval
July 5- Aug 18 : Recreational Outdoor eXchange (ROX) Boni High Street, Taguig
Mondays, Wednesdays, and Saturdays only (1pm-5:30pm)
Online registration links: https://up-erg.org/erg75/marathon
Bank Deposits:
Philippine National Bank (PNB)
Account Name: UP Engineering Radio Guild
Account Number: 275-601852-6
Please keep the deposit slip. Present it upon claiming of the race kit or on the event proper.
Singlet Sizes:
X-Small:
length: 22.5 inches
braso: 19.2 inches
chest: 35.5 inches
waist: 35.7 inches
Small:
length: 23.5 inches
braso: 20.2 inches
chest: 36.5 inches
waist: 36.7 inches
Medium:
length: 24.5 inches
braso: 21.2 inches
chest: 37.5 inches
waist: 37.7 inches
Large:
length: 25.5 inches
braso: 22.2 inches
chest: 38.5 inches
waist: 38.7 inches
X-Large:
length: 26.5 inches
braso: 23.2 inches
chest: 39.5 inches
waist: 39.7 inches
XX-Large:
length: 27.5 inches
braso: 24.2 inches
chest: 40 inches
waist: 40.7 inches