[ad#square-middle]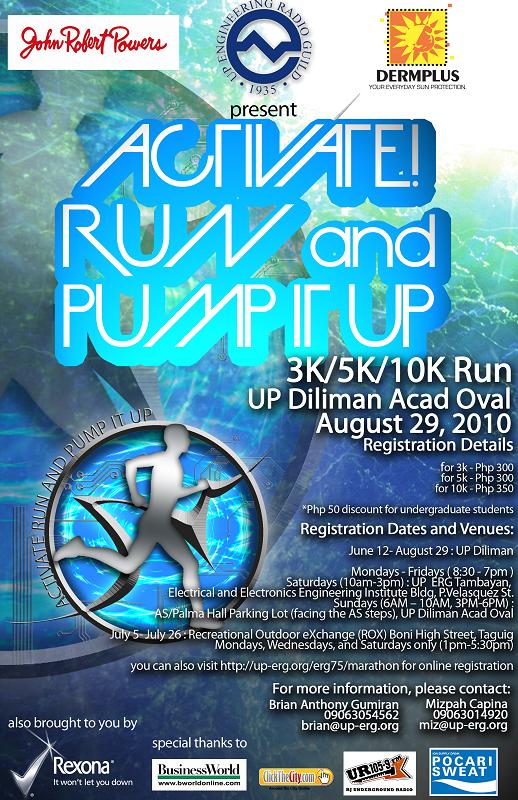 Run! Boost up! On its 75th year, the UP Engineering Radio Guild (UP ERG) will launch ACTIVATE! RUN and PUMP it UP on August 29, 2010 at the UP Diliman Academic Oval grounds. The run calls out for everyone to participate to join the movement towards a great advocacy.
In cooperation with SIBAT (SIBol ng Agham at Teknolohiya), through the Paanang Bundok project, this event will be able to help striving coffee farmers in Batangas to have a solar-powered water pumping system.
ACTIVATE! RUN and PUMP it UP
August 29, 2010
UP Diliman Academic Oval grounds
3K / 5K / 10K
Registration Fees:
3k – Php 300
5k – Php 300
10k – Php 350
*Php 50 discount for undergard students
Registration Dates and Venues:
June 12- August 29 : UP Diliman
Mondays – Fridays ( 8:30 – 7pm ), Saturdays (10am-3pm) : UP ERG Tambayan, Electrical and Electronics Engineering Institute Bldg, P.Velasquez St.
Sundays (6AM – 10AM, 3PM-6PM) : AS/Palma Hall Parking Lot (facing the AS steps), UP Diliman Acad Oval
July 5- July 26 : Recreational Outdoor eXchange (ROX) Boni High Street, Taguig
Mondays, Wednesdays, and Saturdays only (1pm-5:30pm)
• Online registration links: https://up-erg.org/erg75/marathon/

Download Waiver of Liability and Registration Form Here:
[download id="152″]

Prizes:
Prizes are
– PhP 2000 – 10-K champ
– PhP 1500 – 5-K winner
– PhP 1000 – 3-K victor
Aside from cash prizes, gift certificates and gift packs are to be given away.
For more information, please contact:
Mizpah Capina
09063014920
[email protected]
Brian Anthony Gumiran
09063054562
[email protected]
Also e-mail [email protected] or visit https://up-erg.org/erg75/marathon/