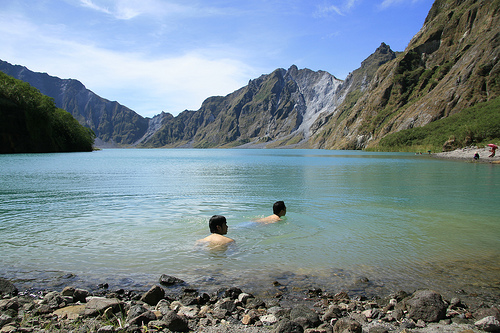 Those that have nothing to-do or is looking for a day trip adventure on June 12, 2010, you can join TF for a Day Trip Hike to Mt. Pinatubo.
CONQUER Mt. Pinatubo [Day Trip]
June 12, 2010
Tarlac, Philippines
Travel Factor's trekking adventure to the crater of Mt. Pinatubo
PACKAGE RATE
Php 2,275.00 (Filipino Citizen)
Php 3,475.00 (Non-Filipino Citizen)
PACKAGE INCLUSIONS
* Roundtrip Private Van Transfers
* 4×4 Vehicle to hiking trail (via skyway)
* Local Guide
* Conservation Fee
* Skyway toll fee
* Usage of Shower Area
* Sidetrip to Capas Shrine (if time permits)
* Travel Insurance
* Free Travel Factor ID and Lace
DAY TRIP ITINERARY
June 12, Saturday
02:30am – Assembly at McDO El Pueblo, Ortigas
03:00am – Departure to Capas, Tarlac
06:00am – ETA Tourism Office; registration
06:30am – 4 x 4 ride to jump off point via Skyway
07:30am – Start of 30mins trek (might be shorter depending on the speed of participants)
08:15am – ETA crater; free-time, swim, explore
11:00nn – Brunch
01:00pm – ETD to jump off point (30-mins trek)
02:30pm – ETA jump off point; 4 x 4 ride back to Tourism Office
03:15pm – ETA Tourism Office; wash-up
04:15pm – ETD to Capas Shrine
04:30pm – Side trip to Capas Shrine (if time permits)
06:00pm – ETD to Manila.
08:00pm – ETA Manila
*** arrival time in manila may vary.
BOOKING AND RESERVATION GUIDELINES
* Book & Buy Policy. First come, first serve basis.
* No reg form, No reservation. To reserve, please fill-out registration form then send to [email protected] Subject: Pinatubo – Registration (June 12, 2010)
* Then you will receive thru email account details where to deposit payment (BPI). For group reservations, please send your registration forms in one file & email.
* Everyone is required to download and submit registration form
* Please register only if you are 100% sure you are joining. And if after registering you need to back-out, please have the courtesy to notify us properly thru email.
* Full payment must be settled within the agreed time frame. Should you need extension, please coordinate with Travel Factor
* Non-refundable but transferable to other person. Travel Factor must be notified asap or at least 5 days before the trip. In this case, the "proxy" must fill-out and submit registration form.
* The payments made to us are only refundable if we cancel due to weather issues or fortuitous events.
* Upon payment, you will receive a copy of complete guidelines, including things to bring, itinerary, reminders, etc…
FOR INQUIRIES/COMMENTS/SUGGESTIONS
email your concerns to [email protected] with your name and contact number
Subject: Pinatubo – Inquiries (June 12, 2010)
or contact TEAM TF +632-35924341, +63917-8475341
DOWNLOAD REGISTRATION FORM
https://travelfactor.org/TF2010-REGFORM.xls
AVAILABLE SLOTS: www.travelfactor.org
DISCLAIMER
Recommended for fun-loving & adventurous people who would like to meet new friends while travelling. All participants must be of good health condition.