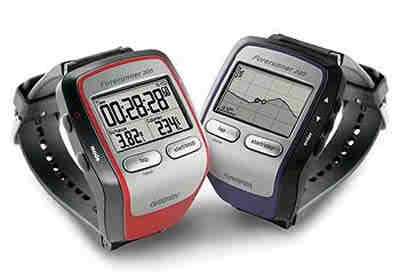 Whether you're into marathon, cycling, jogging, surfing, hiking or simply loves to walk and travel, it always fun to know where you at the same time monitor your heart rate, calories burned, distance traveled. And the new Garmin Forerunner 305 GPS Receiver and Heart Rate Monitor can do all that for you.
According to Amazon:
Just when you thought Garmin had cornered the market on powerful, affordable, and effective wrist-mounted GPS devices, here comes the Forerunner 305. The release of this device is a major achievement from a design and technology perspective. This isn't just marketing-speak; the Forerunner 305 is the most accurate, most reliable wrist-mounted performance and GPS tracking tool we've ever tested. Yes, it's that good. While no device this compact can do everything (yet), the 305 pushes the boundaries of what is possible from something strapped around your wrist. The 305 model includes wireless heartrate monitoring and it can also be connected to Garmin's wireless bicycle speed and cadence sensor. If you don't need these features, consider the lower-priced Forerunner 205.
Putting this one on my Christmas list. Priced at $265, I wonder if there is anyone selling this here in the Philippines…