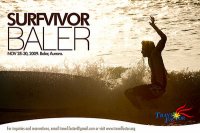 Travel Factor Once again Presents:
SURFVIVOR BALER
Surfing Adventure for beginners
Nov 27-29, 2009
Baler, Philippines
Travel Factor's 3 Days Surfing Adventure for beginners in Baler. Highly recommended to all SURFERS (zero to any skill level), PHOTOGRAPHERS, and BEACH BUMMERS.
SURFVIVOR SERIES is open also to all who just want to hang out with us and explore the beauty of the Philippines.
PACKAGE RATE
Php 4,400.00 (Surfer package)
Php 3,800.00 (Spectator package)
PACKAGE INCLUSIONS
* 3D/2N aircon accommodation (group sharing only; twin sharing upon request and room availability)
* Round trip private van/bus transfers
* 2 hours surf lessons w/ instructor
* Meal/s: Day 1 lunch upon arrival
Day 2 breakfast and dinner
Day 3 breakfast
* Participation in frisbee games
* chance to win Qito t-shirts during games
* Travel Insurance, and Travel Factor Limited Edition Event ID
* FREE: Golden Breed Stickers, Qito Clothing Stickers
not included:
* extra surf lessons with surfboard rental and instructor
* other meals
For those who will be bringing their boards or not surfing, kindly send email to [email protected] for re-quotation.
ITINERARY
Day 1, Nov 27 (Holiday)
02:30AM Meet-up and Registration at McDo El Pueblo
03:00AM ETD Manila
05:00AM Stop over Cabanatuan for pee break
10:30AM ETA Baler Resort, Brunch (c/o TF)
03:00PM Free Time: Swim, Surf Lesson
07:30PM Dinner
Day 2, Nov 28
08:30AM Breakfast (c/o TF)
10:00AM Free Time: Swim, Surf Lesson
12:00NN Lunch (on pax account)
01:00PM Free Time: Tours
07:30PM Dinner (c/o TF)
09:00PM Socials
Day 3, Nov 29
08:00PM Breakfast (c/o TF)
12:00NN Lunch (on pax account)
01:30PM ETD Baler
09:30PM ETA Manila
BOOKING AND RESERVATION GUIDELINES
* Book & Buy Policy. First come, first serve basis.
* No regform, No reservation. To reserve, please fill-out registration form then send to [email protected]
Subject: SURFVIVOR BALER – REGISTRATION (Nov 27-29, 2009)
* Then you will receive thru email account details where to deposit payment (BPI). For group reservations, please send your registration forms in one file & email.
* Full payment must be settled within the agreed timeframe. Should you need extension, please coordinate with Travel Factor
* Non-refundable but transferable to other person. Travel Factor must be notified asap or at least 5 days before the trip. In this case, the "proxy" must fill-out and submit registration form.
* The payments made to us are only refundable if we cancel due to weather issues or fortuitous events.
* Upon payment, you will receive a copy of complete guidelines, including things to bring, itinerary, reminders, etc…
FOR INQUIRIES/COMMENTS/SUGGESTIONS
email your concerns to [email protected] with your name and contact number
SURFVIVOR BALER – INQUIRIES (Nov 28-30, 2009)
or contact Michelle "Tikoy" Tan(+639178864480)
DOWNLOAD REGISTRATION FORM
https://travelfactor.org/downloads/TF2009-RegForm.xls
AVAILABLE SLOTS https://www.travelfactor.org
DISCLAIMER
Recommended for fun-loving & adventurous people who would like to meet new friends while travelling. All participants must be of good health condition. Prior experience with surfing is not required. Non-swimmers can also join.