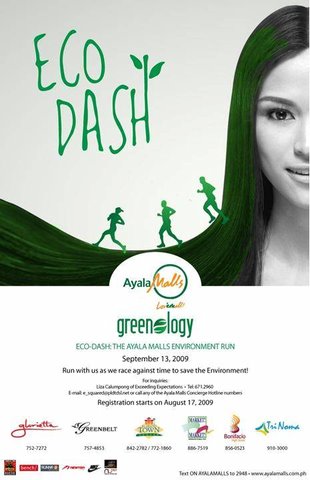 Registration Period & Venues
Aug. 17, 2009 to Sept. 12, 2009 – 10 to 9pm at the ECO DASH Registration booths in Glorietta Activity Center; near the Ground Floor Concierge booths of Greenbelt 3, Alabang Town Center and TriNoma; Central Plaza Entrance/Exit of Market! Market!; and Nike – Bonifacio High Street
Sept 13 – 4am to 5am at the Race Venue, open area behind NBC Tent
Registration Fee
P250 for 3KM/5KM
P300 for 10KM/21KM
P400 for on site, all categories

Registration Procedure
1. Fill up the registration form completely in legible and neat handwriting.
2. Submit accomplished registration forms and pay the registration fees at any of the following:
Eco Dash Registration Booths in Ayala Malls
Fax to 6710907
E-mail to [email protected]
* For faxed/emailed registration forms, registrant must pay the registration tee to finalize their registration
3. Minors must secure permission from their parent/guardian by getting their signature on the consent line in the registration form
4. Discounted registration fees;
Donate any of the following recyclable items with a minimum weight of 1 KG and get P5O off on the registration fee. Accepted recyclables are paper (white, colored or newspapers), aluminum cans, plastics, used ink cartridges and PET bottles Recyclables proceeds shall go to Bantay Kalikasan.
A flat fee of P150 for delegations with a minimum of 100 participants. Representative should present a valid ID, plus the list of all participants in the delegation.
5. Registration staff to provide a provisionary receipt (hat will be used to claim race packet & singlet. Race packet contents are race bib with official race number, safety pins & route map.
6. Race packet & singlets may be claimed starling Sept 1, 2009.
7. Only the first 2000 runners across all Ayala Walls who registered for the 3KM/5KM. 10KM/21 KM will receive singlets, with the exemption of the members of participating delegations.
8. For those who had registered in August, please present your provisionary receipt when claiming your race packet & singlet.
Claiming period for race packets is only until Sept 12, 2009. On-site claiming of race packets shall not be accommodated.
ECO DASH Race Rules & Regulations
1. All participants must wear their race bibs pinned on the front of their singlet/shirt at all times during the race.
2. Changing of race distance categories & assigned runners will only be from Aug. 17, 2009 to Sept. 12, 2009 only.
Fill out the cancelation slip.
Present original provisionary receipt ft race packet (with original race bib) to the registration staff.
Registration staff will replace the race packet, and/or the assigned runner for the particular race number.
Those who will make changes on the day of the event. Sept. 13, 2009 4am – 5am, will be required to pay an additional PI50 for the 3KM/5KM or PI00 for the 10KM/2IKM distance categories.
3. Race participants caught deviating from the race route/taking short cuts/exchanging their race bibs with another runner will automatically disqualified from the race.
4. Should a runner make a protest, s/he must put it in writing & submit the written protest to the Race Organizer within thirty (30) minutes of the announcement of the official race winners. A protester is also required to pay a P500 protest fee for every written protest submitted.
5. The decision of the Race Organizer is final.
6. Personalized runner's certificate, with the runner's name & finishing time will be available one (1) week after the event at the mall where the registration was made.
7. For inquiries, please contact Liza Calumpong of Exceeding Expectations at 671 2960 / 0917 6256517 or email: [email protected]
Race Schedule
4:00AM – Assembly & On-site Registration
5:00AM – 21KM Run Start
5:30AM – 10KM Run Star
5:40AM – 5KM Run Start
6:00AM – 3KM Run Start
Race Facilities
Water Stations – located every 2.5KM along the race route.
First Aid Stations – located at the Start & Finish line, midway along the longest route and ambulance.
Toilet and Parking Locations – surrounding race area.
Baggage Area – Beside the race assembly area; open from 4:00 – 9:00am.
Awarding of Medals & Claiming of Prizes
Upon announcement of race winners, the runner must present himself at the Race Secretariat booth.
Prizes
3KM Category (Male, and Female)
1st Place – P3,000 Ayala Electronic Gift Certificate
2nd Place – P2,000 Ayala Electronic Gift Certificate
3rd Place – P1,000 Ayala Electronic Gift Certificate
5KM Category (Male, and Female)
1st Place – P5,000 Ayala Electronic Gift Certificate
2nd Place – P3,000 Ayala Electronic Gift Certificate
3rd Place – P2,000 Ayala Electronic Gift Certificate
10KM Category (Male, and Female)
1st Place – P8,000 Ayala Electronic Gift Certificate
2nd Place – P6,000 Ayala Electronic Gift Certificate
3rd Place – P4,000 Ayala Electronic Gift Certificate

21KM Category (Male, and Female)
1st Place – P10,000 Ayala Electronic Gift Certificate
2nd Place – P7,000 Ayala Electronic Gift Certificate
3rd Place – P5,000 Ayala Electronic Gift Certificate
[polldaddy poll=1918122]