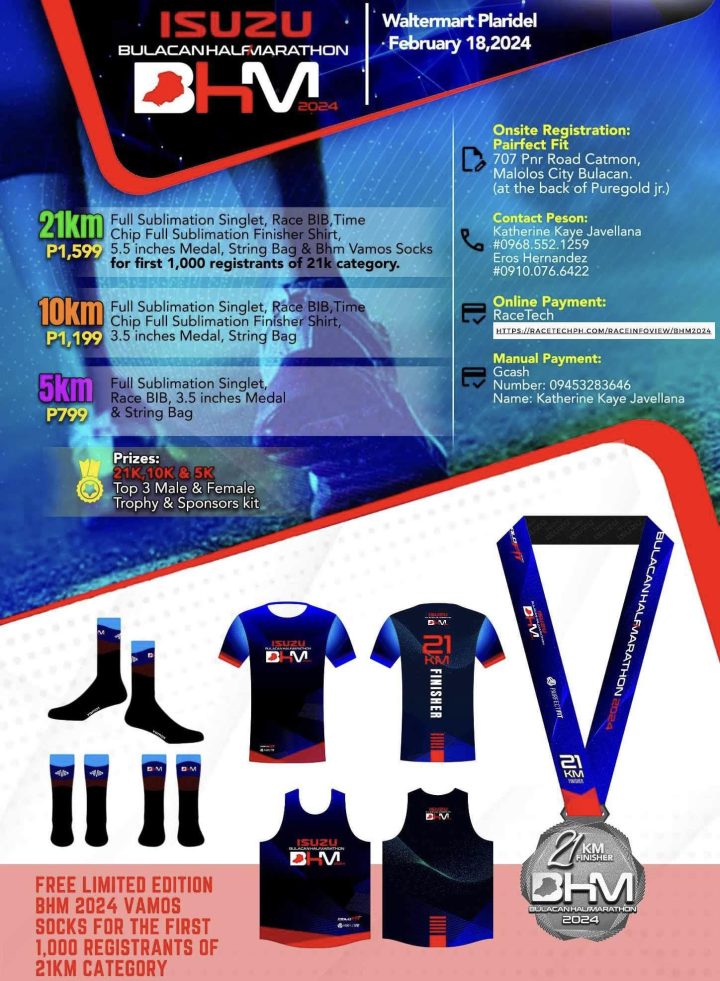 In collaboration with Pairfect Fit, Team Malofit proudly presents the Bulacan Half Marathon 2024, inviting all eager runners to join this exhilarating event. Scheduled for February 18, 2024, at Waltermart Plaridel in Bulacan, the race offers a variety of distances, including 21-kilometer, 10-kilometer, and 5-kilometer categories.
The Bulacan Half Marathon gained remarkable attention in 2020, selling out and rewarding participants with a stunning 5-inch medal. This year, the organizing team and their generous sponsors have elevated the event, offering enticing entitlements, exclusive giveaways, special promotions, and a meticulously planned course.
Runners in the 21-kilometer category will embark on a journey from Waltermart Plaridel, traverse the Plaridel-Bustos road, make a U-turn at San Pedro Bustos in Bulacan, and return to the starting point. While the course may appear straightforward, the Bulacan Half Marathon ensures a memorable experience for all, complete with hydration and food stations along the route. Additionally, over 20 photographers will be stationed to capture these unforgettable moments.
Don't miss out on this unparalleled racing experience in Bulacan. Register today and be among the first 1,000 participants in the 21km category to receive limited-edition BHM 2024 socks by Vamos!
Bulacan Half Marathon
February 18, 2024
Walter Mart Plaridel Bulacan
5K|10K|21K
Organizer: Team Malofit/Pairfect Fit
Registration Fees:
21K – P1,599
Inclusions: Full Sublimation Singlet, Race BIB,Time Chip Full Sublimation Finisher Shirt, 5.5 inches Medal, String Bag & Bhm Vamos Socks for first 1,000 registrant
10K – P1,199
Inclusions: Full Sublimation Singlet, Race BIB,Time Chip Full Sublimation Finisher Shirt, 3.5 inches Medal & String Bag
5K – P799
Inclusions: Full Sublimation Singlet, Race BIB, 3.5 inches Medal & String Bag
Registration Venues:

Online Registration via – https://racetechph.com/raceinfoview/bhm2024
2. In-Store Registration:
– Pairfect Fit –  707 Pnr Road Catmon Malolos City Bulacan (At the back of puregold jr.)
– Contact Person: Katherine Kaye Javellana 09685521259, Eros Hernandez 0910076 6422
3. Manual Registration
Gcash – 09453283646 via Katherine Kaye Javellana
Event Artworks:
For More Information:
Katherine Kaye Javellana 09685521259
Eros Hernandez 0910076 6422