Mark your calendars and prepare to lace up those running shoes! On August 26, Saturday, Central Park, Filinvest City will be alive with the spirit of unity and environmental consciousness for Run For the Future : Building an ECOmmunity Together. But this event is more than just a race; it's a celebration of community, sustainability, and the joy of coming together.
Guests will not only participate in a thrilling fun run but also revel in an outdoor concert featuring the musical talents of Sponge Cola and The Ridleys. The gastronomic delights of Eats by the Park will tantalize taste buds, ensuring that the day is filled with flavor and fun.
In a powerful collaboration with the Environmental Sanitation Center (ESC) – Muntinlupa, the event's proceeds will be channeled towards a noble cause. The funds raised will provide advanced learning resources for the bright young minds at Pedro E. Diaz High School – Main in Alabang, Muntinlupa City.
The clock is ticking, and registration is open only until August 18! So gather family, friends, and even furry companions, and join in a day that promises to be filled with excitement, entertainment, and a shared commitment to building a future-ready and eco-focused community. Let's run for a cause and make a difference together!
Run For the Future : Building an ECOmmunity Together
August 26, 2023 (Saturday) @ 4PM
Central Park, Filinvest City
5K | 2K Kiddie Run | 1K Pet Run
Organizer: Filinvest City
Registration Fees:
5KM Run
Gunstart: 5:00 pm, Saturday, August 26
Entry Fees: Php 1000.00
Inclusion: Finisher shirt, wristband, race bib, e-certificate, digital badge, and exclusive access to concert
Pet Run
Gunstart: 5:45 pm, Saturday, August 26
Entry Fees: Php 700.00
Inclusion: Wristband (for pet owner), bandana (for pet), race bib, e-certificate, digital badge, and exclusive access to concert
Kiddie Run
Gunstart: 6:00 pm, Saturday, August 26
Entry Fees: Php 700.00
Inclusion: Finisher shirt, 2 wristbands (for kid and guardian), race bib, e-certificate, digital badge, and exclusive access to concert
Registration Venue:
1. Register Online via – https://register.raceya.fit/event/filinvestcity-run-for-the-future
Finisher Shirt Design: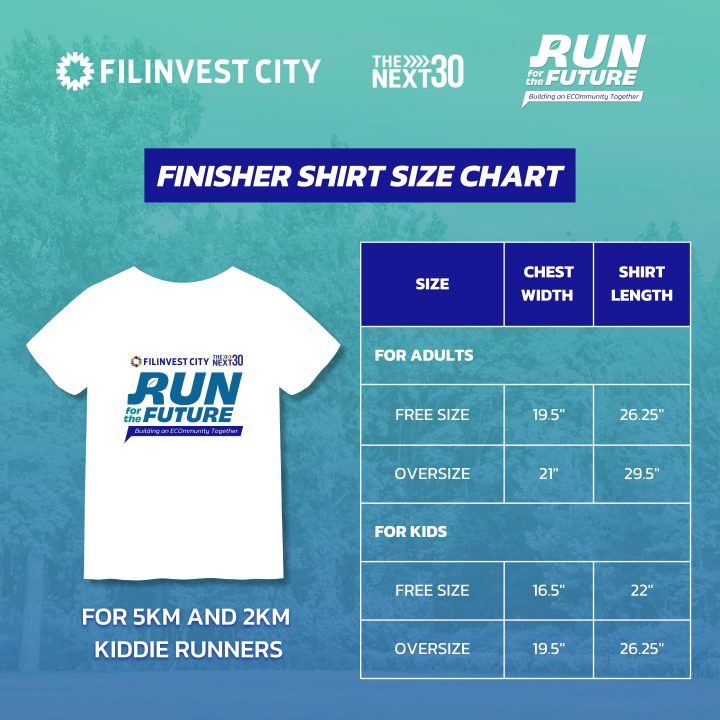 For More Information:
FB: https://www.facebook.com/FilinvestCityOFFICIAL