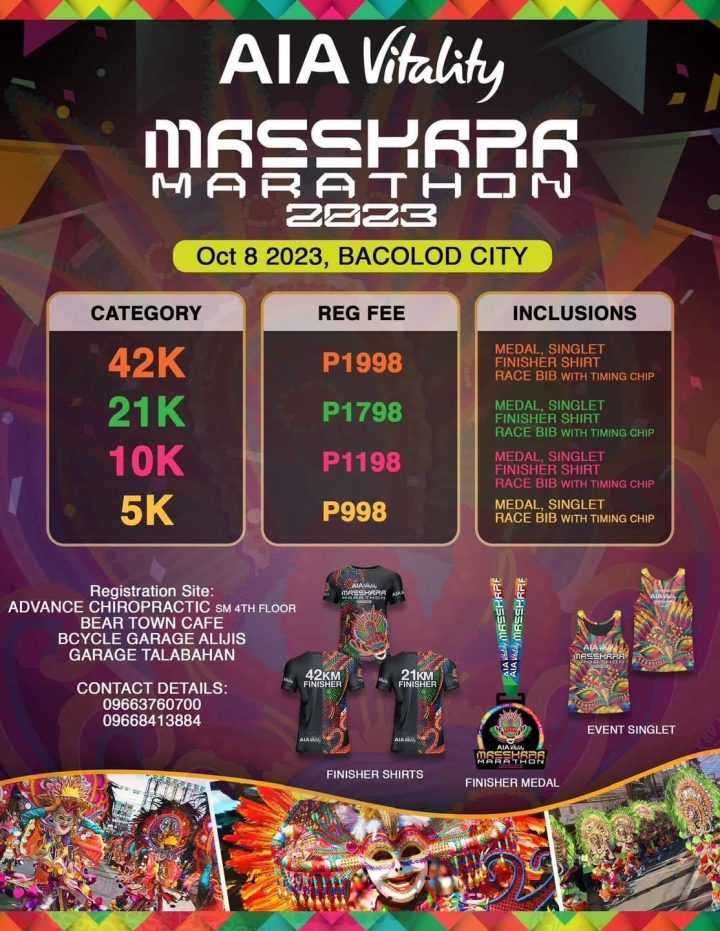 You are cordially invited to join us for an unforgettable experience at the AIA Vitality Masskara Marathon, brought to you by SMOKE 10 EVENTS MANAGEMENT. This year's event is set to be truly extraordinary with the prestigious partnership of AIA VITALITY.
We invite you to be a part of the City of Smiles' grand celebration, the Masskara Festival. Lace up your running shoes, gather your friends and family, and join us in embracing the festive spirit. Whether you are a seasoned runner or a beginner, there is a race for everyone.
Come and be a part of the excitement as we embark on a memorable journey together. The AIA Vitality Masskara Marathon promises exhilarating moments, vibrant displays of culture, and a true sense of community.
Mark your calendars and save the date for this extraordinary event. We look forward to welcoming you to the AIA Vitality Masskara Marathon, where fun, festivity, and fitness converge in the City of Smiles. Join us and make memories that will last a lifetime.
Masskara Marathon
October 8, 2023
Bacolod City New Government Center
5K|10K|21K|42K
Organizer: SMOKE 10 EVENTS MANAGEMENT
Registration Fees:
42K – P1998 – MEDAL , SINGLET , FINISHER SHIRT , RACE BIB WITH TIMING CHIP
21K – P1798 – MEDAL , SINGLET , FINISHER SHIRT , RACE BIB WITH TIMING CHIP
10K – P1198 – MEDAL , SINGLET , FINISHER SHIRT, RACE BIB WITH TIMING CHIP
5K – P998 – MEDAL , SINGLET , RACE BIB WITH TIMING CHIP
Registration Venues:
1. Register Online via – https://racetechph.com/raceinfoview/10172
2. ADVANCE CHIROPRACTOR SM BACOLOD
3. BEAR TOWN CAFE BACOLOD CITY
3. GARAGE TALABAHAN BACOLOD CITY
4. BCYCLE GARAGE ALIJIS BACOLOD CITY
Artworks:

For More Information:
Ariel Fantilanan – 09663760700
Mark Payas – 09668413884