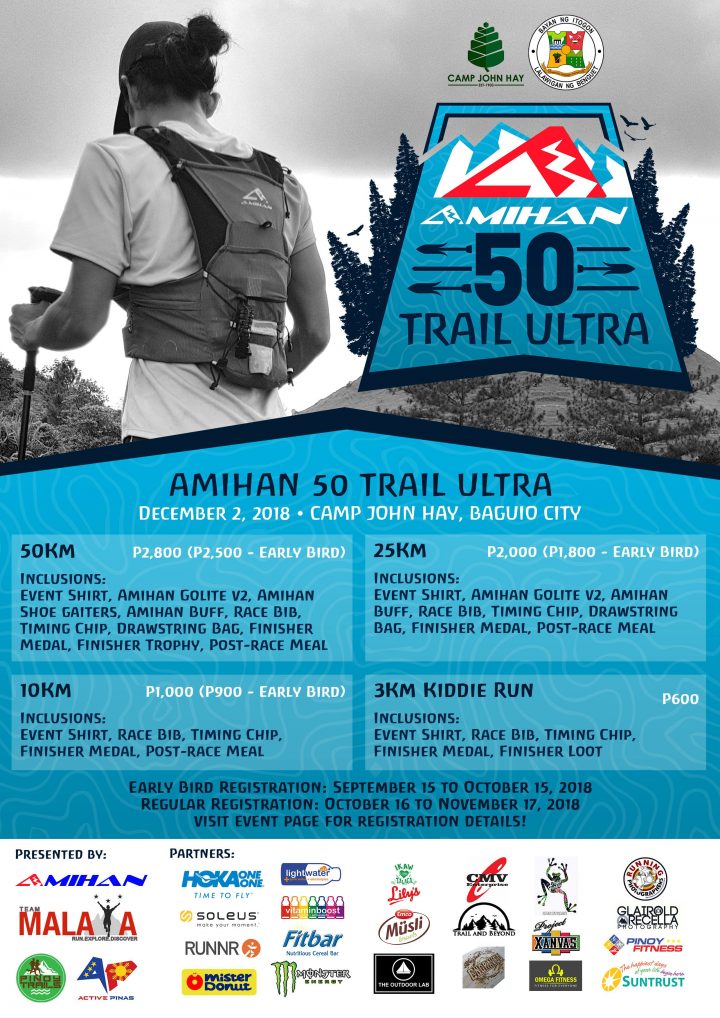 Amihan Sports Gear in collaboration with Active Pinas, Pinoy Trails and Team Malaya brings back Amihan 50 on December 2, 2018. Amihan 50 is now on its second year!!! From the cool Tagaytay Road Ultra experience last year, the 50 kilometer run-cation and ultra-party moves further north in the City of Pines.
Amihan also brings their patented feel-good ultra to the trail playground with the fresh scent of pine forest and the cool December Amihan breeze of Baguio City. It's going to be a fun and challenging race as the runners get to take on the high altitude mountain-terrain of Baguio and Itogon while enjoying the sights and attraction of the Cordillera Mountain Range.
Don Antonio Marcelo Santillan of Active Pinas and Stephen Lopez Bahaghari of Team Malaya will serve as race directors. Don is the race director of Itogonia Wild Country Trail Run while Stephen is the race director of Sagada Mountain Marathon and other Team Malaya events. Active Pinas and Team Malaya together with Pinoy Trails are also the key members of the Trail Academy, which is a series of trail running clinics in Manila and Baguio.
Amihan 50 Trail Ultra joins the cluster of events in Baguio that aims to establish and connect the different trails in Baguio and Itogon. We are inviting every runner to visit and explore the beautiful trails of the region. We believe that through this event, we can encourage, inspire and motivate people of all ages and backgrounds to live a healthy and balance lifestyle by engaging in running and other outdoor activities.
Amihan 50 Trail Ultra
December 2, 2018 @ 2AM
Camp John Hay Open Field, Baguio City
50K|25K|10K|3K kids
Get Updates – Click Here
Registration Fees:
50km – 2,800
25km – 2,000
10km – 1,000
3km – 600
Early Registration Fees:
50km – 2,500
25km – 1,800
10km – 900
3km – 600
Inclusions:
50k – Event Shirt, Amihan V2 Golite Waistpouch, Amihan50 Gaiters, Amihan String bag, Amihan Buff, Race Bib, Finisher Medal, Post Race Meal
25k – Event Shirt, Amihan V2 Golite Waistpouch, Amihan Buff, Amihan String Bag, Race Bib and Timing, Finisher Medal, Post Race Meal
10k – Event Shirt, Race Bib and Timing, Finisher Medal, Post Race Meal
3k kids – Kids Event shirt, Race Bib and Timing, Finisher Medal, Kiddie Lootbag
Registration period:
Early Reg: Sept 15- Oct 15
Regular Reg Oct 15 – Nov 16
Cut Off:
50km – 15hrs (with intermediate cutoff at km25 of 7hrs)
25km – 8hrs
10km – 4hrs
3km – 2hrs
Note: Medical Certificate is required for both 50km and 25km category. 50km runners must at least completed a 42km trail marathon or a 50km road ultra marathon, and 25km runners must at least completed a 21km trail/road run. All results must be verifiable online.
Gun Start: December 2, 2018
50K: 3am
25K: 5am
10K: 6am
3K kids : 8am
Registration Venues:
1. Online – Click Here
2. In-Store
– CMV Outdoors – G/F Chakas Bldg. Poblacion Bontoc, Mountain Province (0999-9954-154)
– Buklod Outdoor Shop – Sitio Wawa, San Rafael, Rodriguez, Rizal (0950-255-2525)
Note:
– Race Kit Claiming will be on December 1, 2018 (full details to follow)
– Baggage Deposit will be available on the race day.
Inclusions: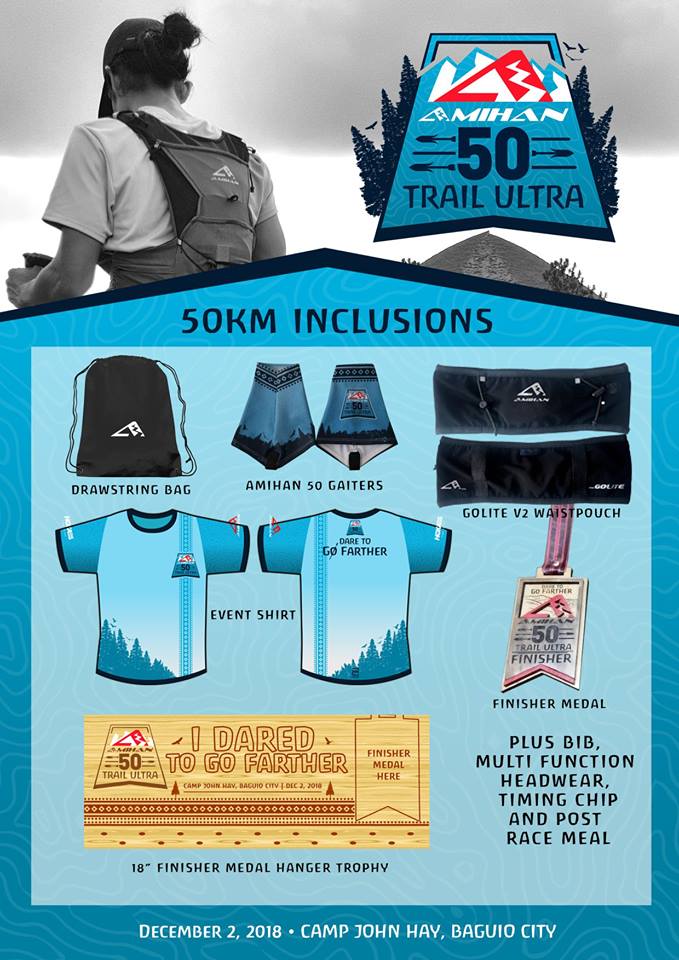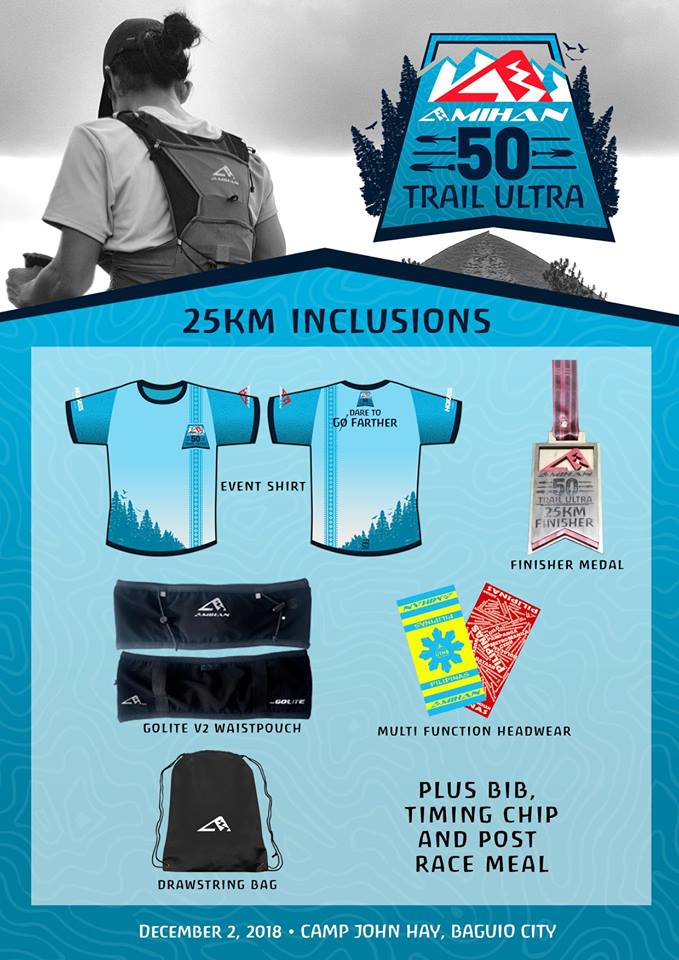 General Rules and Regulations:
1. There will NO DISPOSABLE CUPS on all Aid/ Water stations, please bring an extra cup/extra water bottle for AS supplies.
2. Strictly NO LITTERING. Violation of this rule is subject to outright disqualification.
3. Run on designated route only. No Shortcuts.
4. All runners must be on the starting line 5 minutes before gunstart. We will only give 10 minutes grace period after the gunstart for those who will arrive late.
5. Race Bibs are non-transferable and should be pinned and must be worn on the front of the body, unfolded and visible at all times.
6. In case a runner decided not to continue with the race, they must inform the nearest aid station or marshal.
7. The Race Director reserves the right to modify the course, rules and regulations under some circumstances for the safety of all runners.
8. Maintain the Integrity of the Race. Runners are "deputized" to report any suspicion of cheating during the race. The RD has the authority to declare disqualification to any runner before, during and after the race. Any infraction or violation of these guidelines/rules and regulations shall be dealt with accordingly and the RD shall immediately impose decision on such violation. The RD's decision is FINAL.
9. Written Protest should be made within 1 hour after the cut-off time in case there's complaint against cheating or violation of rules. A protest fee of P1000 will be collected to process the complaint.
10. The spirit of trail running where runners are disciplined, honest, and caring /supportive to one another is highly encouraged. Remember to treat the other runners as your FRIENDS and SUPPORT to Finish the Race.
For More Information:
Website: www.pinoytrails.com/amihan50