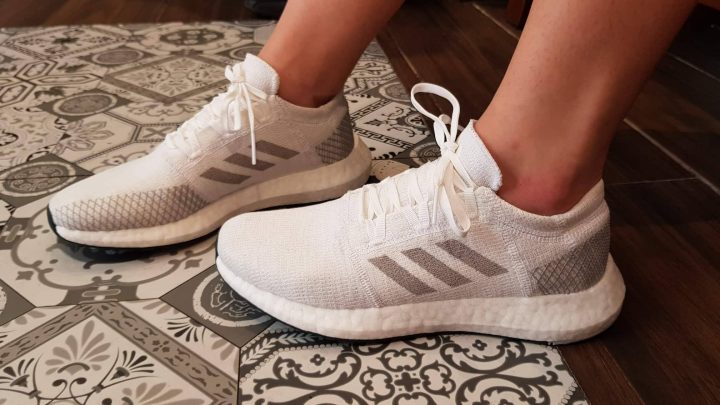 Nearly a month from its official launch in the Philippines last August 22, the adidas Pureboost Go—a new introduction in the line of the well-famed Pureboost—has been steadily gaining the favor of city runners all over the metro. With a minimalist design, that's easy on the eye, first impressions are heavily positive for the Pureboost Go.
Said to be designed for changing directions and adaptive city street running, this innovative shoe boasts the best features we saw incorporated in its predecessors, with a bit of a twist, like the circular knit uppers, tip-to-heal Boost cushioning and—unique to the Pureboost Go—the expanded landing platform. Given all these technical improvements incorporated in the Pureboost Go, the question remains: do they deliver what they promise when it comes to adaptive and responsive runs?
Upon testing them out during Adidas Philippines' Chase the City event last Monday, September 10, here are our first impressions on the adidas Pureboost Go:
Specs Summary
• Availability: in-store and online
• Men's color-ways: Core Black/Grey and Carbon/Red and White/Grey
View this post on Instagram
• Women's color-ways: Carbon/Maroon, White/Salmon Pink, Core Black/Grey, and White/Grey


Adaptability and Responsiveness
To be honest, the shoe scores fairly high on this for me. The expanded landing platform design for the forefoot of the shoe really lived up to our expectations in terms of stabilizing foot-form when rounding tight corners. And for a person with weak ankles, often over-extending them, that is definitely a plus for me. Though slowing down when approaching tight corners is still important for an injury-free run, it did allow me more to keep a faster pace when turning those tight lefts and rights during the Chase the City challenge.

Also, with the circular knit upper, the forefoot felt less constricted while at the same time providing the appropriate support so that my foot wasn't sliding around inside the shoe. Lastly, the full-Boost sole form outsole to the midsole made for a really bouncy run.
Now, opinions on bouncy runs may vary (some like it, others don't), but in my book, that's also a plus because it allows for less stress on the knees upon ground impact, as well as for better energy conservation as the bounce lets you ease up on the effort on strides.
Other Notes
Comfort-wise, it's also much like its predecessors in this aspect. It's light-weight and breathable enough for an easy run. Testing out its comfortability on longer runs is yet to be done, but for quick runs, it definitely serves to be sufficiently comfortable.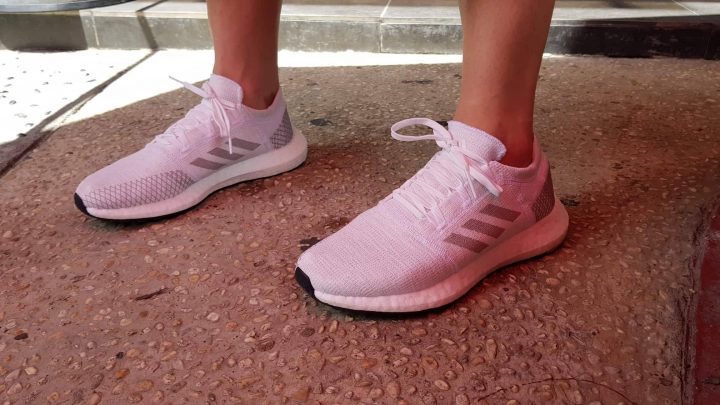 Now thankfully, it rained a little bit during Chase the City, so we got to test the Pureboost Go in that area. One minor concern to add on that would be the grip on wet pavements. I could've just had an error in my form and have yet to check this again, but it felt like it didn't have as firm of a grip as I would have preferred to help avoid slipping.
Lastly, as dressing tends to lean more towards functional for me, I don't mind me a shoe that I can wear both to training and on a casual day out, which—considering the color-ways available—the Pureboost Go is also on-point with in terms of aesthetic appeal.
The Verdict
All points above considered in terms of technicality of the features and design, we conclude that the adidas Pureboost Go definitely lives up to a city runner's expectations. Factor in the price-point of this shoe at only PHP 6,000, making it more accessible than other units that precede it, it might have even bumped up the benchmark for the Pureboost franchise.
If you're looking to cop a pair of the Pureboost Go, you can get them online at adidas.com or at Adidas stores nationwide.