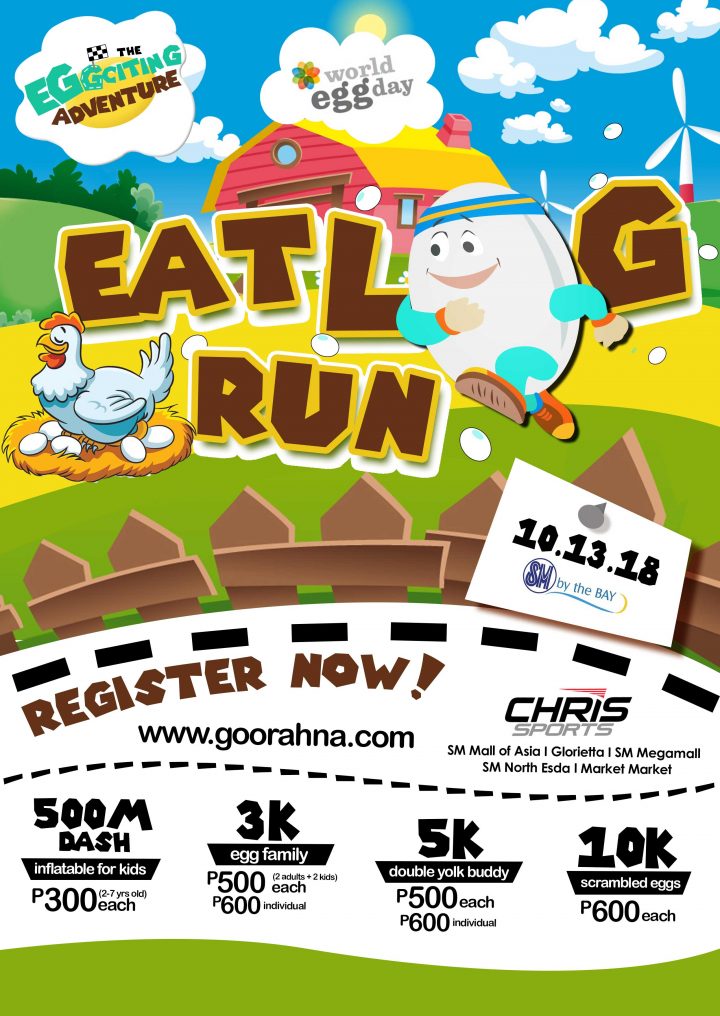 Every second week of October is the annual celebration of the World Egg Day. The Philippines has been joining the celebration every year through an advocacy run – Eggciting Adventure Family Fun Run. T
he Philippine Egg Board Association, Philippine Association of Breeders and Layers Inc. Together with our friends from Sarimanok Poultry Feeds through The Good Egg advocacy, DSM, and other sponsors have been supporting "an egg a day is okay" campaign, which has been duly recognized by the International Egg Commission's World Egg Day, a global organization that represents the egg industry.
This year, the Philippines joins the rest of the world in this celebration via Eggciting Adventure's "Eatlog Run". This run aims to include eating an egg a day as part of one's healthy diet. Happening on October 13, 2018, at SM By The Bay, SM Mall of Asia Complex in Pasay City, the third installment of this race will offer new activities to excite the participants.
Other than its eating an egg a day advocacy, the Eatlog Run is a run for a cause, which aims at fighting hunger and malnutrition in the country. The proceeds of the advocacy run will go to the following organizations: Save the Children's Fight against Malnutrition Program and Armed Forces of the Philippines Educational Benefit System Office (AFPEBSO).
EGGciting Adventure's Eatlog Run
October 13, 2018
SM By the Bay, SM Mall of Asia
500M|3K|5K|10K
Organizer: Aldenver Events
Get Updates – Click Here
Registration Fees:
10K Single Sunny Side Up – P600
5K Solo – P600
5K Double Yolk Buddy – P 500 each
3K Solo – P600
3K Eggy Family of 4 – P500
500meters EGGFlatables for Kids (For 2-8 years old)- P300
– Inclusive of Tech Shirt, Medal, and Loot Bags
Registration Venues:
1. Online – Click Here
2. In-store:
– Chris Sports branches (starting August 20) in SM Mall of Asia, SM Megamall, SM North Edsa, Market Market, and SM BF
– Aldenver Office in Paranaque
Note: PICK UP OF RACEKITS Starting Sept. 30
For More Information:
Veronica Ramos 09278484533
[email protected]
Sophia Llegado 0905-3341834
[email protected]
Gas Olonan 0905-3324934
917-3905