Many of us work hard to get promoted in our jobs. We put in countless hours just to finish a task, work on weekends for a big presentation, and go the extra mile to get the right kinds of connections for our businesses. But what if you have finally become a big boss in your company or maybe even a famous name in your industry? With a multitude of responsibilities that comes with it, will you still have time to be more than your career?
Norman Pascual, one of the most influential names in Philippine triathlon, and Nicole Villarojo, an executive in a top multinational company, are two individuals who have certainly proved themselves in their industries. For most, their status is what you can say #CareerGoals. Yet despite coming from different career backgrounds, Coach Norman and Nicole is a power couple who still constantly makes way to be more than their careers through their shared love for traveling, triathlon racing, and of course, each other.
More Than A Coach

With a coaching highlight of "transforming couch potatoes to triathletes and Ironman finishers", Coach Norman is one of the country's pioneering and top triathlon coach. As an ITU (International Triathlon Union) Level 1 and 2 certified instructor, Coach Norman is the one you'd go to if you want to be "a hero from a zero" in triathlon.
"I find more fulfillment in teaching beginners…"
Despite his qualification to train pro athletes, he still chose to stick with teaching beginners. Coach Norman said that it is this challenge of teaching and coaching someone to learn from scratch how to swim or bike that he likes most about coaching. "I find more fulfillment in teaching beginners na tipong very unlike talaga mag-triathlon", said Coach in our interview.
What sets Coach Norman apart from the many triathlon coaches in the country is how he managed to use his years of experience and "kalog" and friendly personality in encouraging and guiding beginners to finish their first triathlon. In fact, the CoachNorman Triathlon University is one of the fastest-growing triathlon coaching group in the country that continuously produces competitive athletes.
With his success and fame as a triathlon coach, there isn't much surprise why he has been chosen to be the PH ambassador for several athletic apparels and shoes.
More Than An Executive

Nicole, on the other hand, is quite an established executive and one of the most prominent girl bosses in the Philippines. In her 20s, Nicole has managed to handle multiple brands as the Country Marketing Manager for Brand operations in a top FMCG multinational company. At only 30 years old, she is now the global manager of the same company. In fact, her excellence in management has been recognized when she became an awardee of the 2016 Mansmith YMMA Brand Management award.
"Work-life balance is never something that a company will impose. It's a choice that you need to make for yourself"
Nicole is a firm-believer that work-life balance is a choice and is in fact, possible. "When I started working, I always felt that 'I'm a good employee when I put in the hours to do all the work and it never ends" said Nicole in our interview. But things changed when she started to train for triathlon. "I was dancing ballet for a really long time and I tried to make a comeback at some point" said the former ballerina who suffered from an Anterior Cruciate Ligament (ACL) injury in her mid-20s. But Nicole was determined to return to an active lifestyle so she decided to try out swimming, a sport that is softer on her joints and allows her to recover from her injury. Soon enough, she started running and not long after, with the help and extra push of Coach Norman, she decided to train for a triathlon.
From working overtime every day, Nicole soon learned to manage her time more efficiently to give way for her triathlon training – "With triathlon, I'm forced to come at a decent time because I come from training in the morning, and then I have to go home early because I have to sleep early". She has managed to become a successful and efficient executive while training for triathlon. Soon enough, she got promoted to her current position as a global brand manager while training as an age-group triathlete.
Pursuing Passion Outside Their Careers
Nicole is admittedly very much into traveling and she wasn't ready to give this passion up, not for her heavy work schedule and not even for triathlon. On the other hand, even a famous triathlon coach like Coach Norman, was starting to have moments where he feels that "nakakasawa din mag-triathlon". Through their different dilemmas, an interesting solution showed itself – joining races while traveling in different countries.
On their own, Nicole and Norman have already accomplished great things, yet together, the couple goes out of their way to really live life to the fullest. So as soon as Nicole gained enough confidence in her skills as a triathlete, she decided to sign up for an Ironman 70.3 in Australia. This was her first race together with Coach Norman abroad and the beginning of their series of race-cations (joining races during vacations).
They have joined Ironman 70.3 races in Cairns, Sydney, Peru, and Cebu. They have also run the Berlin marathon together – aiming to finish all six major global marathons. In fact, they've already planned their racecations schedule for 2018, which includes Nicole's first full Ironman in Western Australia, 4 days of running in Florida, Ironman New Zealand in March, Ironman Finland in June, and Ironman Canada the month after.
What Keeps Them Going?
When asked how they juggle keeping up with their busy lifestyle, rigorous training in triathlon, and maintaining a healthy relationship, their answer can be summed up by two simple things often overlooked in training: sleeping well and eating healthy.
As a certified ITU coach, Coach Norman puts emphasis that getting 8 hours of sleep is crucial in training. He recommends sleeping by 9 to 9:30 and waking up at 5 to 6 in the morning for better performance in training and recovery. Similarly, Nicole follows getting an adequate amount of sleep as she knows that this is crucial to be always at the top of her game in the corporate world and in training. They also recognize that to be able to sustain their active lifestyle, healthier food choices need to be done.
"If may long workouts, I know If I eat something not necessarily healthy because I feel sluggish" –Nicole Villarojo
For a power couple who is always living more than their careers, proper nutrition is key to have strength and vitality to be more. Anlene is a perfect complement to their active lifestyles as it is more than just milk; it strengthens bones, joints, and muscles. With Anlene, Coach Norman and Nicole are able to push themselves to be more than a coach and more than an executive.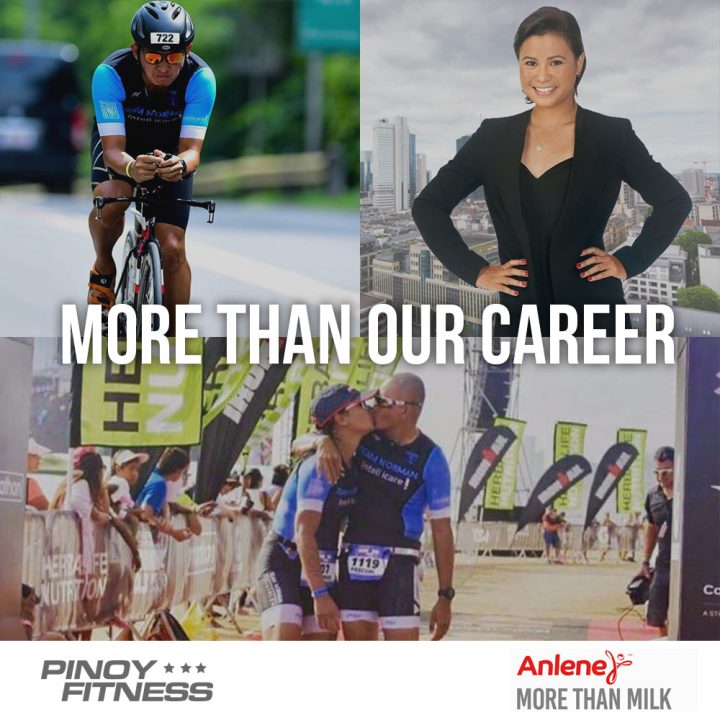 The story of Coach Norman and Nicole is a good reminder that making the most of our lives- pursuing our passion and exploring places- can be a priority. More than the distance, literally and figuratively, this power couple has proved that we should not be limited to our careers and that we should aspire to be the best person we can be.