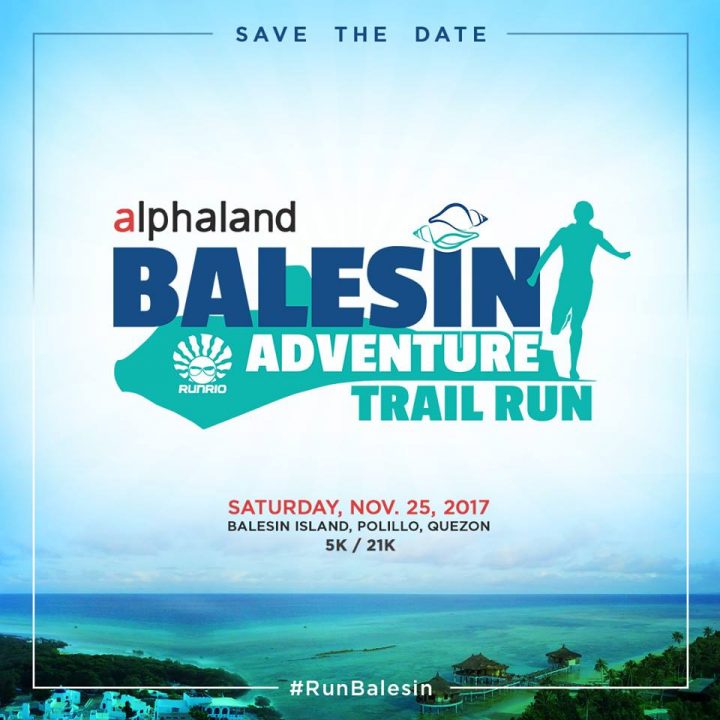 RUNRIO together with Alphaland brings you the Balesin Adventure Trail Run. Save the date and #RunBalesin this coming November 25, 2017, Saturday. Stay tuned for more details!
This event will be open for non-members.
Balesin Adventure Trail Run
November 25, 2017
Balesin Island, Polillo, Quezon
5K|21K
Organizer: RunRio
Registration Fees:
Quad Occupancy Villa – P19,600/person
Tripple Occupancy Villa – P22,400/person
Double Occupancy Villa – P28,000/person
Single Occupancy Villa – P44,800/person
Your ​registration ​for ​the ​Balesin ​Adventure ​Trail ​Run ​includes ​flights ​per pax to ​and ​from ​Balesin Island Club and, ​3-day/2-night ​accommodation from November 24 to 26, 2017 ​in ​one ​of ​Balesin's luxurious villas. Each ​villa ​can ​accommodate ​up ​to ​four ​(4) ​persons. ​
Each ​registration ​session ​will ​let ​you ​register ​up ​to ​four ​(4) ​persons ​in ​a ​villa. ​To ​book ​for ​more ​participants, ​please ​start ​a ​new ​registration.
Registration ​for ​the ​trail ​run ​(choice ​of ​5KM ​or ​21KM) ​is ​FREE ​of ​CHARGE. There will also be fun activities for the whole family, and special offers at Aegle Wellness Center for participants.
Registration Venues:
1. Online – Click Here
For More Information:
Visit – https://www.runrio.com/