Watch Video: https://youtu.be/6BvC_DFLzRs
The Philippine Athletics Team is upbeat in its last stretch of preparation for the upcoming 2017 Southeast Asian Games in Kuala Lumpur bouyed by several of its team members' successive remarkable performances in recent international competitions, the most notable of which is the 1 gold – 1 silver – 1 bronze feat in the recent Asian Athletics Championships in India.
Middle of this year, select sprinters, hurdlers and jumpers of the team went to the training camp of the Hong Kong Sports Institute for about a month of intensive training. The team's distance runners and throwers, meanwhile, headed to the PSC training camp in Baguio to complete their rigorous skills and technical preparation. Over the course of the team's participation in several international competitions – Hong Kong Intercity, Thailand Open, and Malaysian Pre-SEA Games Open – Team PH Athletics amassed a total of 16 golds, 11 silvers, and 8 bronzes. Of the medals won, 3 set new RP records – Patrick Unso 13.91s in 110m hurdles, Ernest John Obiena 5.61m in pole vault, and the men's 4x100m relay team with 39.96s.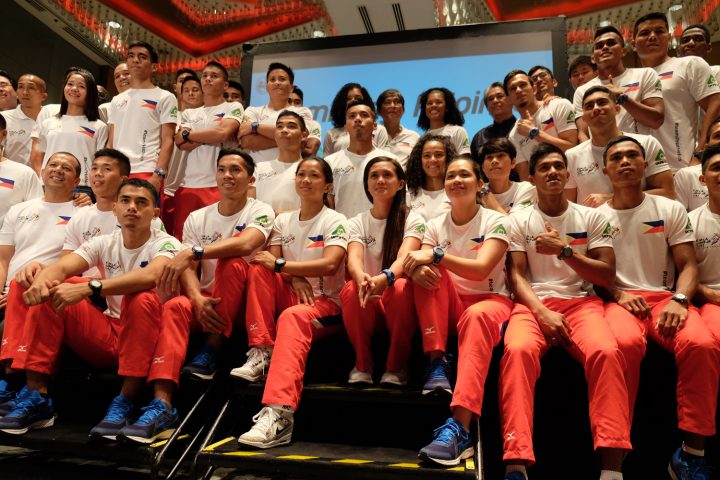 Team PH Athletics will be represented by 38 athletes in the forthcoming SEA Games:
Women
Eloiza Luzon (4x100m, 4x400m)
Emliy Jean Obiena (pole vault)
Evalyn Palabrica (javelin throw)
Katherine Khay Santos (long jump, 4x100m, 4x400m)
Kayla Richardson (200m, 4x100m, 4x400m)
Kyla Richardson (4x100m, 4x400m)
Marestella Torres-Sunang (long jump)
Mary Joy Tabal (marathon)
Narcissa Atienza (heptathlon)
Rhea Joy Sumalpong (discuss throw)
Riezel Buenaventura (pole vault)
Rosie Villarito (javelin throw)
Zion Rose Corrales Nelson (100m, 400m, 4x100m, 4x400m)
Men
Anfernee Lopena (100m, 4x100m)
Archand Christian Bagsit (200m, 4x100m, 4x400m)
Aries Toledo (decathlon, 4x400m)
Arniel Ferrera (hammer throw)
Christopher Ulboc (3000m steeplechase)
Clinton Bautista (110m hurdles)
Edgardo Alejan Jr. (400m, 4x400m)
Elbren Neri (1500m)
Eric Shauwn Cray (100m, 400m hurdles, 4x100m, 4x400m)
Ernest John Obiena (pole vault)
Francis Medina (400m hurdles)
Immuel Camino (3000m steeplechase)
Janry Ubas (long jump)
Jeson Agravante (marathon)
Kenny Gonzales (javelin throw)
Manuel Lasangue (high jump)
Marco Vilog (800m)
Mark Harry Diones (triple jump, 4x100m)
Melvin Calano (javelin throw)
Mervin Guarte (800m, 1500m)
Michael del Prado (4x400m)
Ronne Malipay (triple jump)
Patrick Unso (110m hurdles, 4x100m)
Trenten Beram (200m, 4x100m, 4x400m)
Tyler Ruiz (long jump)
All national athletics coaches, including American consultant coach Rohsaan Griffin, will fly in to the Malaysian capital to oversee their respective wards. The national athletics coaching staff is comprised by head coaches Dario de Rosas and Sean Guevara, sprints and hurdles coaches Jojo Posadas and Jeoffrey Chua, distance running coaches John Lozada and Rene Herrera, jumps coach Joebert Delicano, javelin throw coach Danilo Fresnido, and pole vault coach Emerson Obiena. PATAFA Secretary General Reynato Unso will head the delegation, while PATAFA Marketing Communications Director Edward Kho comes in as team manager.
Athletics chief Philip Juico, meanwhile, is upbeat about the chances of the Philippines in the upcoming biennial games. "We are hoping to equal or surpass our medal harvest from the 2015 Singapore SEA Games. God willing and with the right strategy and discipline, we can do it.", Juico added.
The Philippines finished 4th place overall in athletics at the Singapore edition of the biennial games in 2015 behind Thailand, Vietnam, and Indonesia, respectively, by bagging 5 golds, 7 silvers, and 9 bronzes.
The SEA Games buildup of the national athletics team is supported by the Philippine Sports Commission, and in part by the Ayala Corporation, UCPB Gen, and Cherrylume Corrugated Sheets and in cooperation with Soleus, L TimeStudio, and Marriott Hotel Manila.