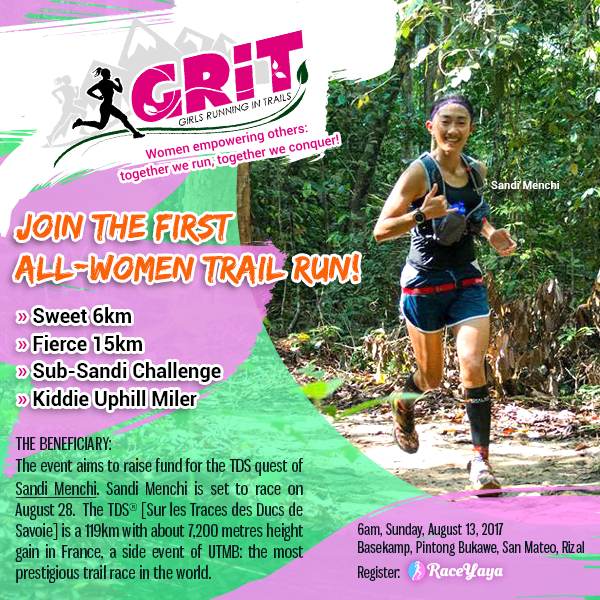 GRiT is about "Women empowering others: together we run, together we conquer!
GRiT will launch the first ever all-women trail run event. This pioneering event is set to take off at 6am on August 13, 2017 at the Basekamp, Pintong Bukawe, San Mateo, Rizal. Participants will be running in the rough, rugged, and scenic trails of Rizal while enjoying the camaraderie of fellow women runners. While this event is mostly for female runners, males are encouraged to participate by showing support for fellow runners celebrating the power of females.
The event also aims to raise funds for Sandi Menchi's upcoming race in TDS, France.
GRIT All Women Trail Run
August 13, 2017
Basekamp, San Matel Rizal
15K|6K|Kiddie
Organizer: RaceYaya
Registration Fees:
Fierce 15k – P800
Sweet 6K – P600
Sub-Sandi Challenge – P600
Kiddie Uphill Miler – P250
Volunteer – FREE
– Inclusive of a Race Bib, Gifts from Sponsors, Race Singlet
– Kiddie Uphill Miler gets a Race Bib and a Special Token
Race Details:
Fierce 15K: This race is open to all women or any individual who wants to celebrate their femininity. The race will take them from Basekamp to the unexplored trails around Pintong Bukawe. Climb mountains, cross rivers, get dirty, show your GRiT.
Sweet 6K: This race is open to all women or any individual who wants to celebrate their femininity. The race will take runners inside the manicured bike trails of Basekamp. Enjoy the varying terrain while overlooking mountain ranges that surround the Basekamp in this short trail run, start showing your GRiT.
Sub-Sandi Challenge: This race is open to all men who want to run with Sandi. Beat Sandi in a 6K race and win special tokens. Whether your goal is to beat Sandi, run beside her or just be able to support her by joining the run, this race is for you, support GRiT.
Kiddie Uphill Miler: This race is open to all kids ages 2-13. Run from ¼ to 2 miles and get special freebies for finishing your first trail miler.
Registration Venues:
1. Online – RaceYaya.com
THE BENEFICIARY
The event aims to raise funds for GRiT ambassador, Sandi Menchi in her quest to represent the Philippines in one of the toughest ultra marathon mountain races in Europe, the TDS. Sur les Traces des Ducs de Savoie or TDS is a 119km with about 7,200 metres height gain in France. Sandi is the first Filipina who has a big chance of grabbing a top spot in this prestigious world mountain race.
Sandi has the will and capacity to fly our flag on the world stage. In preparation for her big race on August 28, 2017, Sandi will need every support and help that can elevate the Filipino dream to the highest peaks.
Support GRiT: An all-women trail run and help Sandi!