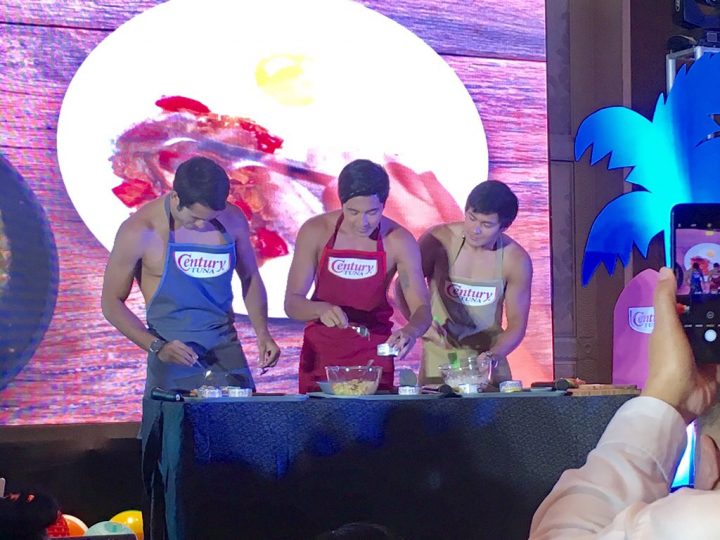 Century Tuna Introduces New Fitness Brand Ambassadors
Last Wednesday, April 19, we got the chance to attend Century Tuna's 'My Recipe to Sexy' press conference where the brand introduced its now very own ambassadors namely Gerald Anderson, Matteo Guidicelli, and Paulo Avelino to the media.
The event was filled with journalist from all over the metro who were anticipating the presence of Anderson, Guidicelli and Avelino. Indeed, these ambassadors did not fail to please the crowd as they brought down the heat in Makati Shangri La, where the event took place. Despite the heavy rains that day, these celebrities reminded everyone in attendance that summer is still alive and kicking after they were asked to strip off their shirts showing their hot fresh summer bodies.
Century Tuna mentioned that bringing these three celebrities together meant garnering the latest faces and hot bods specifically in the Industry today that spell out fun and fitness through their 'My Recipe to Sexy' campaign. Each celebrity also got to mention their very own favorite Century Tuna recipe, one that helps them build their healthy bodies especially now, this summer. Anderson mentioned that Tuna Silog is his favorite while Tuna Pancit Canton for Avelino and Tuna Egg Salad Sandwich for Guidicelli—where all of which are nutritious, delicious and very easy to prepare.
Like their ambassadors, Century Tuna as a whole is all around and flexible. It can be a recipe for various dishes which helps every cook or even you get creative with your meals. As the scorching summer heat continues to attack the country, these sexy actors are maintaining their sexy bodies with their very own versatile Century Tuna recipes especially with their busy schedules every day.
You can catch Century Tuna's 'My Recipe to Sexy' commercial air on primetime TV featuring these hot cooks. It's not too late yet to find your recipe to sexy!