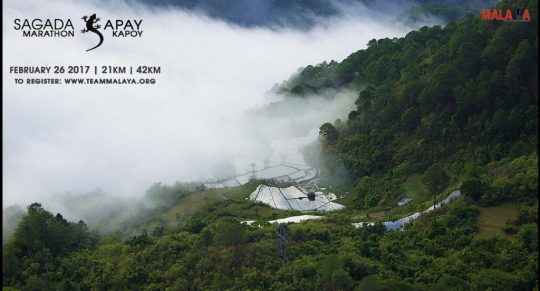 The ili (native village) of Sagada, a town nestled in the rugged Cordillera ranges of Northern Luzon some 1500 meters above sea level, is haven to the adventurous and the wanderer. The municipality boasts of caves, limestone cliffs, rice terraces, waterfalls, and beautiful sunrises among others— breathtaking and captivating to both the seasoned traveler and the young adventurer.
It will definitely be a friend and foe to the runner who braves its slopes and mountainscapes on a cold February.
THE EVENT
Sagada Marathon is the first stop to our Cordillera Series (MountainTrailRun Edition).
Sagada Mountain Marathon
February 26, 2017 @ 5AM
Sagada, Mt. Province, Philippines
21K|42K
Organizer: Team Malaya
Registration Fees:
21k – P1,500
42k – P2,500
Inclusions:
1. Personalized BIB
2. Certificate
3. Orientation Snacks
4. Post Run Meal
5. Finishers Medal (21k Finishers)
6. Finisher's Shirt – short sleeves (21K Finishers)
7. Finisher's Shirt – (42K Finishers)
8. Finisher's Buckle (42K Finishers)
9. Finisher's Cap for Top Finishers
10.Finishers Hoodie for Top Finishers
Registration Venues:
TO REGISTER JUST PAY YOUR REG FEE AT:
– Stephen Lopez Felices
– BPI acct # 8126 1062 94
and send copy or your deposit slip at [email protected] or PM at https://www.facebook.com/teammalaya.org/
Please indicate your name, event your joining, shirt size and category
Getting There:
Sagada can be reached from the west side (via Baguio City/Benguet) or the east side (via Bontoc or Banaue). From Manila, travel cost is almost the same for all three routes:
1. Manila—Baguio—Sagada
2. Manila–Banaue—Sagada
3. Manila—Bontoc—Sagada
Accommodations:
For accommodation reference you may check this out: https://goo.gl/E9QOUA
Proposed Itinerary and Schedule:
Feb 24 – Departure from Manila via Baguio/Banaue/Bontoc (10-12-hour trip)
Feb 25 – Arrival in Sagada, check-in at accommodation, rest, claiming of kits, route familiarization, dinner and socials, orientation
Gun Start and Assembly Time:
Feb 25, 2016
Assembly 4:30 AM
Gunstart 5:00 AM
Awarding 12:00 NN
For More Details:
Facebook Event: https://www.facebook.com/events/365074823824954/
Email: teammalaya[at]teammalaya.org
Fanpage: facebook.com/teammalaya.org