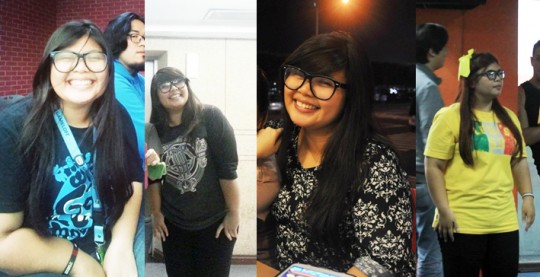 ButterToast – Running became my Ultimate Therapy
By: ButterToast
I was never really into fitness. I was 210lbs. Weak and un-healthy.
Ever since I was a kid the phrase "getting fit" was never in my vocabulary. When I was a teenager, all I did was to study, eat and watch my favorite movies, just like any other girl in the neighborhood. I never considered getting into shape or be active in sports due to my inborn disability.
What disability you may ask?
I was born with my left arm being shorter than my right. It's weaker, more like a big chunk of jelly limb attached in my left shoulder. It is somehow numb to a certain point and it becomes very painful once the numbness disappears. It can still do some minimal movements and I can only raise it up to my shoulders. My family and I did our best to find the right treatment but I eventually decided to embrace on what I have and continue with my life.
Due to this, I never bothered to find a good sport for me because most sports requires a lot of arm movement. That was I thought. So I simply continued on with my sedentary lifestyle. Fast forward my teenage years, I suddenly find myself becoming an adult.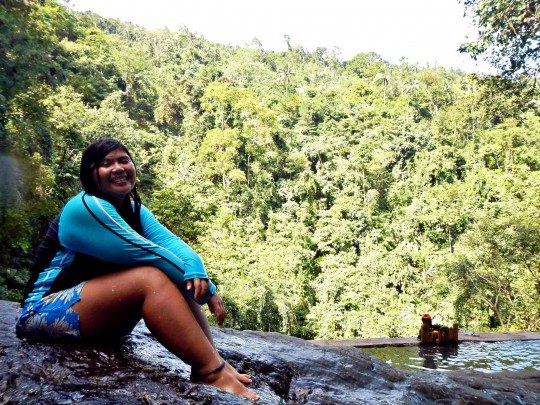 One day I went to the mall to buy some new jeans for work. I asked the sales lady to get me a Large size which is located in the "PLUS SIZE" section, to my surprise the Large size didn't fit me anymore and I already fit on an XXL size.
I was shocked, I couldn't believe it at first, I can't stop thinking about it, then when I got home I took all my clothes off and look at myself in the mirror for the longest time of my life.
And there I was, standing in front of the mirror feeling sorry for myself.
As I stare at myself in the mirror, I started thinking about my life, how alone, scared and depressed I have become, ever-since the day my mom passed away. She was my only buddy, my best friend, a shoulder to lean on, and I lost her because of a heart attack.
I cried for countless nights until one day I snapped! I realized that I lost the one who should be motivating me, I lost the one that I needed the most, I lost myself. So at that moment, I decided to do something about it.
I can still remember I Googled the words "sports using no hands", weird right? I know, but I did that, but guessed what, Google showed me images of people running. Minimal arm movement and all I need to do was to use my legs, I can do this!
Later on I bought myself a 700 pesos running shoes, a jersey shirt, regular girl scout socks and a pair of dry fit shorts which I got from a market near our place.
My tatay would usually walk around MOA at 5-7AM, so I decided to tag along, At that time I was never really running, not even close to jogging. All I ever did was "wogging", it's a combination of somehow slow and fast walk as my tatay would call it. I continued "wogging" for several time and was actually happy that I was sweating a lot, it's a start!
Then one day I told my office-mates about my new "sport", and they happily invited me to join their running circle.
The running circle was composed of people in the office that would run twice a week at Ayala Triangle Gardens (ATG). By that time, I can't even complete a loop at ATG, all I did was run inside the park 2 – 3 times and tell myself that I was already pretty good.
My goal at that time was to run 3 loops around ATG, and one day, I did. Then I remembered that I immediately stop after my 3rd round, took a deep breath and I was smiling like crazy. I remember telling this to myself…
"Ang galing mo di ba? Nagawa mo. Sabi sayo eh. Makakaya mo." And I was jumping like a kid and was laughing so loud I didn't care if anybody would see me. I cherished that precious moment of achieving my first ever goal.
The Turning Point
To my excitement, I found an advertising flyer banner promoting the National Geographic Run 2015. I got to take a picture and went home thinking and looking at the photo.
I kept on asking myself…
Kaya mo ba? Gusto mo subukan?
The day after, without any hesitation I registered my first ever run, 5KM, at the National Geographic Run 2015 in SM MOA.
Then I started training for it, I started to run longer than 3 loops in ATG, started jogging in our place and even downloaded a running app for running to record my distance. Then one day, as I was trying my best to hit the 5km mark, I suddenly passed out. Yup, I truly did, luckily I was not injured or anything, I was still able to get back up and went home.
I was a bit scared and bothered at first, but a sense of relief kicked in when I saw my phone… I was able to run 5.3KM. I told myself I can do it!
I told myself I can do it… I can do a 5km run. The feeling before was like running for a 42km marathon. I was really nervous and didn't even have a nice sleep the night before the race. As I can remember I only had 4 hours of sleep because of my nervousness.
Race day came, I was there at the starting line wearing a white shirt, and on top of it was my black singlet, my rubber shoes and a pair of new socks which cost 50 pesos. No fancy gear, just me and my race bib.
To my hype and happiness after finishing the race, the only picture I got was this: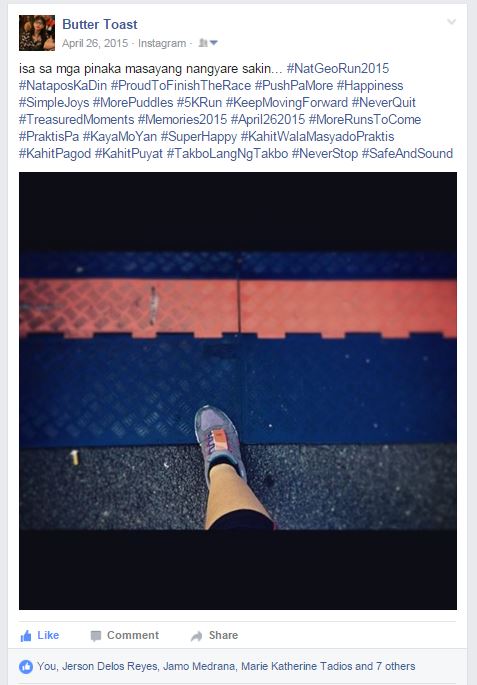 The caption tells it all. It was indeed one of the happiest moments of my life. The funny thing about it was I didn't even know you have to cross the orange line to record your time. I just took the picture before crossing it to remind me that one day I will be looking back at it and know how far I was from that small step.
After this, I bought myself a better pair of running shoes and joined a few more races, as long as I run it was enough for me. No PR's, no teammates, no other fancy running gears, just a pair of good running shoes and pure fun.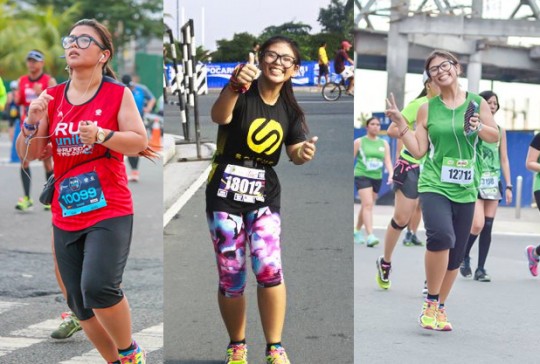 I got so hooked up in joining races that I eventually register myself to a race as long as I have the spare money. Continued on running every night and eventually turned out to be one of the regular runners at ATG.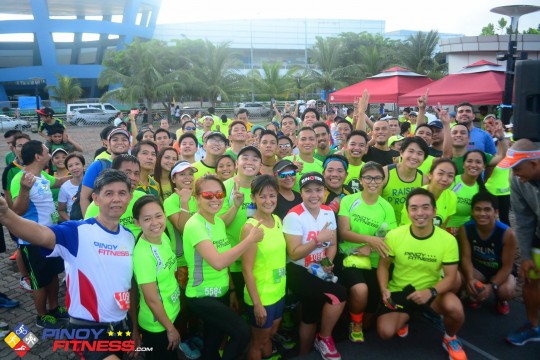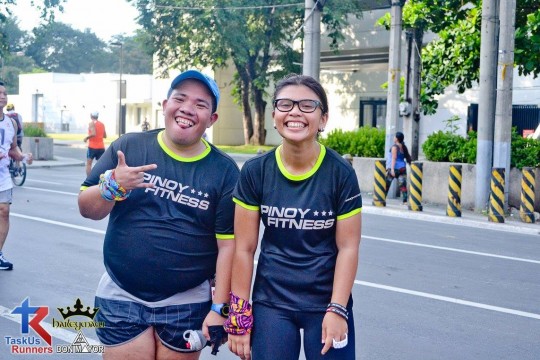 I got to meet new friends along the way in the running community including my first ever running buddy, AaronMan. I remember one guy asked me for my time on my 10KM runs and told me that I can probably already do a half-marathon.
So I did, I signed up for the Sofitel Half Marathon in 2015, and believed that I can do it and that "as long as I laced up my shoes and I run, I am a runner" I kept on telling myself that before the race day came.
I remember at that time I still have little knowledge about running, I ended up so tired and I was on the race route finding some water because I was so thirsty and the sun was already up… to my tiredness I remember pouring a cup of Gatorade instead of water to myself. HAHAHA it was one of the most memorable races during my journey.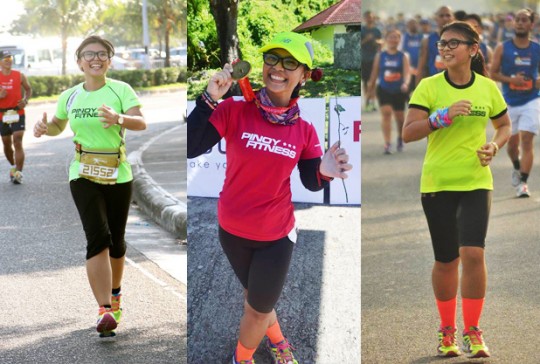 (I always wore my Pinoy Fitness Shirt, at that time I believe that it was my lucky racing shirt and that if you wear one you belong in the running community, parang ang mamaw mo tingnan kasi halos lahat naka Pinoy Fitness)
Fast forward to my running journey and there I was… a seasonal runner in some fun runs.
Ever since I started to run a half marathon I always ended up registering for more and even plan it months before the run. I did my own research on proper running and healthy eating, started to invest on a good pair of shoes and I was all set to run for more.
I still encounter a lot of bumps along the way, due to the disability of my left arm which I found out that if I use it a bit further from its limitation it would get stuck and I cannot move or straighten it anymore. It also varies on the temperature of my body and how my sleeping position would be the night before a run.
The good thing about it was ever since I started running I felt that it helped a lot in terms of allowing my arms to somehow feel normal again. It felt like I can still make use of it and try to adapt it in my daily routines or trainings.
Even though it's painful, I still joined a lot of races in less than a year of running and eventually increased my mileage.
There I was the "ButterToast" was known in the running community as the runner who always smiles and looks so cheerful during runs. Nobody notices that behind those cheerful smiles and long runs, is a person who endures the pain with bravery and happiness.
Whenever I got tired at work, felt a little depressed and some heartache here and there…
I always find myself doing some light jogging at ATG. Running became my quiet time, the one that cured my loneliness and the missing thing that made me feel complete again. And even though I felt a lot of pain during my runs, it made me realize a whole lot of aspects in life. It made me feel that through hardships I can bare the pain, through happiness there will always be despair.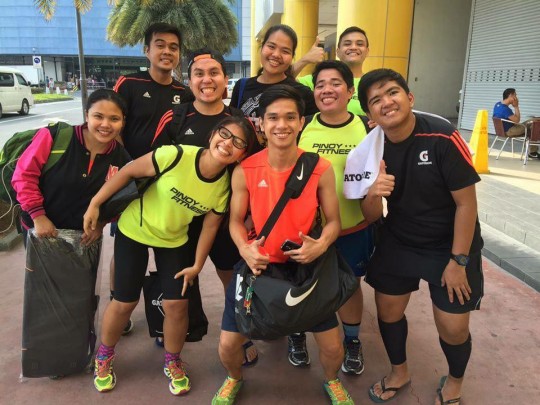 But despite of everything…
I was happy.
I was happy even if I got a bruised shoulder, an injured knee, and pushed myself to exhaustion.
I was happy letting myself be under the sun and have weird tan lines that look like compression socks.
I was happy even if I use some of my money to register at a race instead of buying a new pair of jeans or eat at my favorite restaurants.
I was happy sweating like crazy even if all I get at the end of the race is a mesh bag, a few pieces of pain killers and a bottle of cold water.
I was really happy because it's the only fulfillment in my life that I can be proud of and tell myself… "Uy, ang galing mo ngayon ah… bukas ulit?"
I 'am not a fast runner or a slow runner but as long as I have the will to start, I will never be afraid to embrace the pain.
No matter what happens I will never back down even though bailing out is just around the corner.
Today, I still joined a lot of races including out of town races and from running 5k's to a full marathon.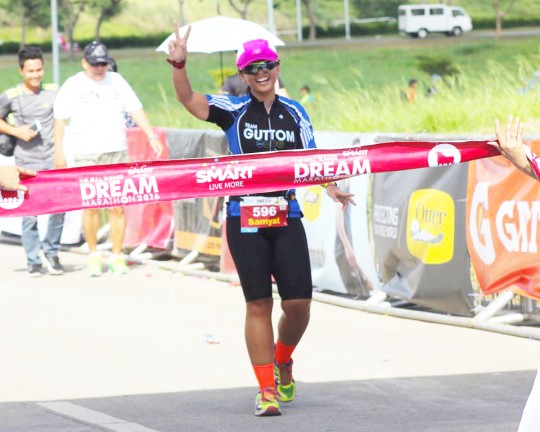 "As long as I laced up my shoes and I run… I am a runner."
I wasted a lot of time in my life finding the right motivation to start moving again. And I finally found it, it was through running that I learned to be dedicated again and appreciate life that I wasted a long time ago. –END
–
Want us to share your Story?? Submit it – Click -> Share Your Story!
For Instant Updates – Follow US!
https://www.facebook.com/pinoyfitness
https://www.twitter.com/pinoyfitness
https://www.instagram.com/pinoyfitness
PF Online Community -> https://members.pinoyfitness.com
PF Online Shop -> https://shop.pinoyfitness.com
Like this Post!? Share it to your friends!