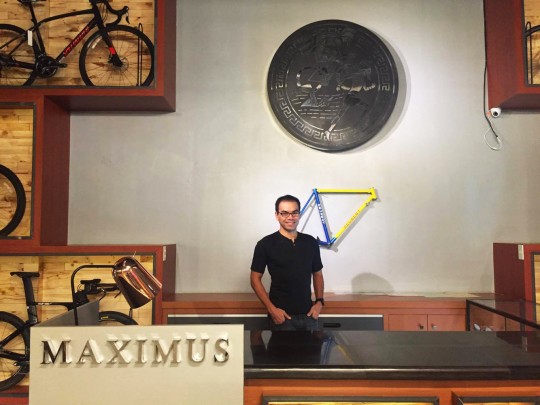 Maximus Athlete's Shop Cafe: Great Bikes, Excellent Coffee
After months of research and looking around, you've decided to get the bike of your dreams. It's an exciting moment – you can even call it a milestone – that you won't forget in a long while.
Top triathlon coach Andy Leuterio wants you to enjoy the experience to the fullest. He and wife Sheryll has opened Maximus Athlete's Shop Cafe, a store which combines two of Coach Andy's passions: great bikes and excellent coffee.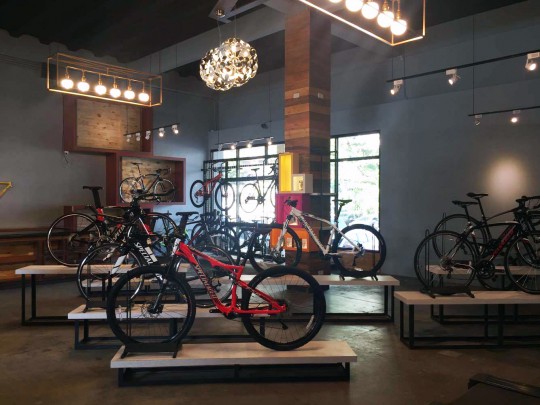 Changing the way you see bike stores
Coach Andy says he came from an era where bike store were just small corner shops and buyers had to go out of their way to source good parts and accessories.
But the bike retailing concept, he explains, has evolved in the last five years.
"The first one to really raise the game was the Specialized Concept Store in Pasong Tamo, Makati," says Coach Andy, who's also a PR consultant and brand ambassador for one of the biggest names in road, triathlon, and mountain bikes.
When he was given the opportunity to become a Specialized reseller, he grabbed the chance to realize his long-time dream of opening his own bike shop. And having found a great location, Maximus (named after their 6 year-old son) was born.
Apart from Specialized, the store carries top of the line brands such as Lynskey (considered as the Rolls-Royce of bikes), Newton Running, Oakley, Garmin, Polar, and Brooks, with more brands coming in within the next few months.
At 280 square meters, Maximus is spacious. It has a VIP lounge at the mezzanine level, a full-service bike spa, and a bike fitting studio. Coach Andy, a Level 2 Certified Body Geometry Fit Specialist, will ensure that your bike's position is tailored to your body, which is scientifically proven to improve power, endurance, and comfort during rides.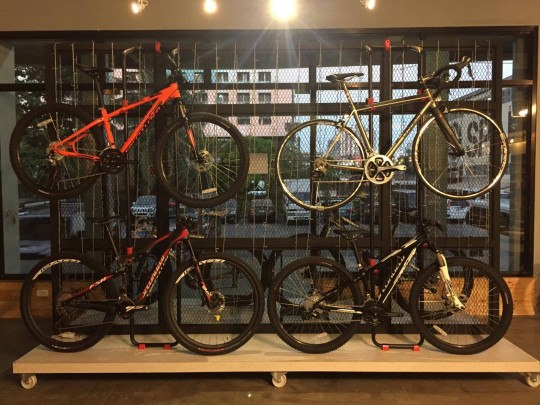 Unlike in other stores, each bike has its own pedestal, and the set-up is enhanced by soft accent lighting. Clients can fully appreciate each bike's specs and they could actually picture how it looks like on the road.  Maximus has also steered clear of a bike store's traditionally masculine feel. Sheryll added fun design elements to give the place a distinct personality, encouraging clients to linger and relax. These elements also make Maximus a cool venue for team meetings, workshops, press conferences, and other special events.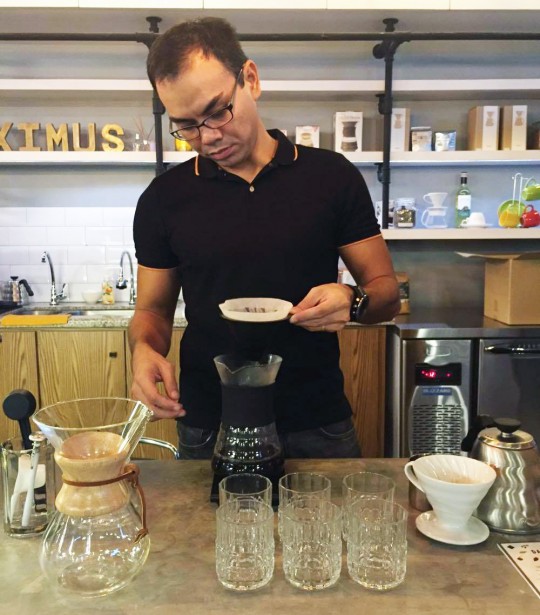 And nothing's more relaxing than an excellent cup of coffee
Being familiar with the challenges of managing a bike store, Coach Andy wanted to make bike shopping even more interesting.
"I said to myself that if I'm going to do this (open a bike store), I'm going to make it really special."
Inspired by cycling cafes in Europe and in the United States, the Leuterios partnered with EDSA Beverage Design Group to familiarize themselves with the art of crafting great coffee and set up a cafe within the store.
The cafe was a perfect addition, says Coach Andy, as most athletes can't start their day without a caffeine boost.
And even if you're not an athlete, you'll definitely enjoy their signature single origin blends. Single origin coffee means the beans are sourced from a single location, like a farm or country, and these have a distinct flavor profile.  Coffee connoisseurs can choose from Ethiopia, which has very fruity, citrusy notes; Brazil, which has chocolate undertones; or the best-selling Spartacus, which has strong and rich finish.  All of these are best enjoyed with the cafe's delicious selection of pastas, sandwiches, and pastries.
"We're taking bike retailing to a different level," says Coach Andy.
Maximus Athlete's Shop Cafe is in the Sparta Sports and Recreational Training Arena compound at 126 Pioneer Street, Mandaluyong. It's open from 11am to 8pm, Monday to Friday and 8am to 8pm on Saturday.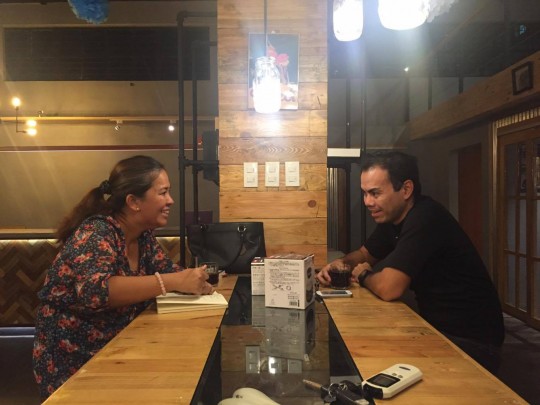 For Instant Updates – Follow US!
https://www.facebook.com/pinoyfitness
https://www.twitter.com/pinoyfitness
https://www.instagram.com/pinoyfitness
PF Online Community -> https://members.pinoyfitness.com
PF Online Shop -> https://shop.pinoyfitness.com
Like this Post!? Share it to your friends!