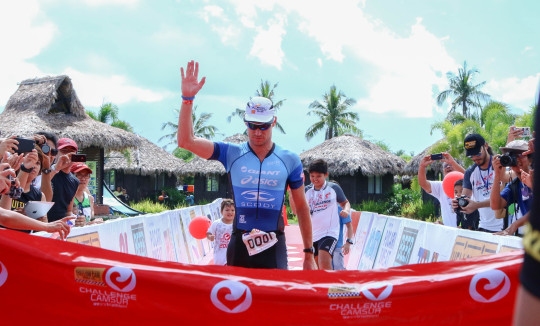 Kahlefeldt, Braendli top the inaugural Yellow Cab Challenge CamSur
Australian Brad Kahlefeldt and Swiss Simone Braendli endured the scorching heat of the sun to emerged at the top of the podium in the inaugural Yellow Cab Challenge CamSur last Sunday, June 14.
The Australian Olympian snatched his first Yellow Cab Challenge Philippines title in Pro Men's field after clocking in at 3:56:33, while her female counterpart took home the Pro Women's field championship after a recorded time of 4:17:42.
"I'm a little bit sick for a couple of days, but I felt pretty good today. It was so hard and it was a true test! I think it's one of the hardest races I've done in my 20 years as a professional athlete," said Kahlefeldt.
"The warmth of the people kept me going! There were bands, cheerleading, and just kids shouting something, it was just really motivating. It is family spirit—it's kinda easy going but still competitive. Of course, it's also like that in other races but it feels a little bit more family here," said Braendli who is a first-time participant in a Challenge race and is also the fourth over-all finisher.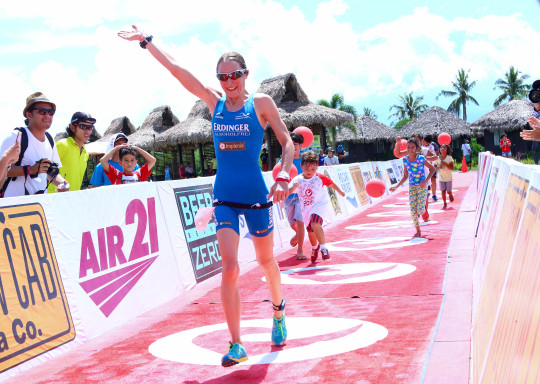 Like Braendli, Kahlefeldt also said that the support from the residents, especially the children cheering for them, made the race a lot more fun.
"[The experience is] unbelievable! It is one of the best races, certainly, in the world. When you passed in schools, people go crazy for you and it was just an awesome race out there," Kahlefeldt added who also thanked CamSur Governor Migz Villafuerte and former governor LRay Villafuerte for all the efforts they made. "Thank you very much for a great race and I absolutely loved it even though it is certainly one of the hottest races I've ever done. You, Filipinos, are just unbelievable!"
Finishing almost a minute behind Kahlefeldt is New Zealander Mike Phillips who clocked 3:57:35. The young triathlete, who also finished second in the 2nd Challenge Taiwan 2015, is relatively new in the Pro field.
"Brad is running like a mad man! I don't know how he did it but he held on so it was awesome! It was really a tough day, really hard," Phillips said who was neck and neck with Kahlefeldt almost all throughout the race.
Despite having some trouble after the bike course, Czech Radka Vodikova maintained her position in the race, finishing second in her category with a time of 4:30:41.
"The last 10 kilometers in the run felt so hard and so hot, I just kept moving and I didn't know what I'm doing, really," said Vodikova who recently got engaged with Challenge CamSur champion Kahlefeldt. "The people were unbelievable—there were thousands of kids everywhere,"
At third place in men's pro category is Australian Mitchell Kibby who clocked in after a time of 4:13:25, while 2014 Challenge Philippines champion Matt Burton (4:31:17) and 2015 Challenge PH Subic-Bataan third placer Mitch Robins (4:46:11) who are both Australians landed fourth and fifth place, respectively.
Australian Jessica Fleming also bagged the third prize in the Pro Women's field with a recorded time of 4:32:57. Trailing behind are Australian Renee Baker (4:36:16), Filipina Monica Torres (4:50:25), and Thai Carole Fuchs (5:02:44).
Meanwhile, Filipino Augusto Benedicto finished strong after clocking in at 4:33:27. He bagged the gold prize in the Southeast Asian Elite category, while also finishing 12th over-all and ahead of some Pro triathletes.
Among the finishers is Thai Recording superstar Navin Yavapolkul or also known as Navin Tar who finished fourth in the 35-39 age group category after a recorded time of 5:14:53.
The athletes braved a 1.9km swim, 90km bike, and 21km run race course that is one of the fastest in the world and well-organized both at the same time. Racers swam in the man-made Lago Del Rey lake, traversed the flat land of the province, and ran through the different schools and barangays where locals of different ages cheering for them.
This year's race showcased almost a thousand athletes in different fields from different countries, who include notable triathlon personalities locally and internationally. Two of the three races—Junior Challenge and TriChallenge Sprint took place at the CamSur Watersports Complex last June 13.
The race will be broadcast in almost 82 global markets that will show that the Philippines is one of the most in-demand lifestyle and sporting destination.
For more details, visit the Yellow Cab Challenge CamSur website at https://challengecamsur.com. Get social with the Challenge Philippines Family and get instant access to live coverage of all Challenge Family races on the go. – ADV
For Instant Updates – Follow US!
https://www.facebook.com/pinoyfitness
https://www.twitter.com/pinoyfitness
https://www.instagram.com/pinoyfitness
PF Online Community -> https://members.pinoyfitness.com
PF Online Shop -> https://shop.pinoyfitness.com
Like this Post!? Share it to your friends!