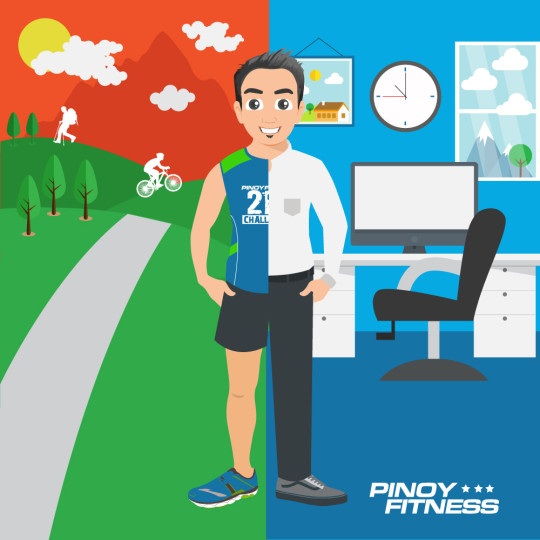 7 things an Entrepreneur can learn from a Marathoner
by: Jeff Lo
I have always been a corporate guy, as an IT/Tech person most of my life, I know absolutely nothing about how to start a business until Pinoy Fitness came along, then 2 Years ago I made a commitment to work for Pinoy Fitness full time.
Looking back on where we are now, I can say that the learnings I got from running a marathon as well as training for a triathlon helped me a lot in my entrepreneurial journey.
To those who are thinking of the same path, here are 6 things I learned.
1. On Setting Goals – training for a marathon is no joke, you can't just wake up one day and decide I want to run a marathon, depending on your fitness level, you need at least 3-6 months to prepare yourself for the race.
Much like working on your business, you need to first set a clear goal and define a SMART timeline, you can't just jump in and expect everything to work smoothly.
2. Pushing Through – there will be good days, and bad days, training is unpredictable, a lot of things can happen along the way, an injury, increased work loads, getting sick, all of which can hinder you in achieving your goal. You learn to keep your eyes on the target, push forward and make adjustments along the way.
Going into the entrepreneurial path can be a bumpy ride, you might even find yourself skipping lunch just to save on cash, but much like training for a marathon, you learn to push through those tough times.
3. Have a Game Plan – some might get by and finish a marathon just running as much as they can, but it's best if you have a training plan to begin with to help you prepare for the distance and reduce possible injuries.
A plan, much like in business, serves like a clear path to you to follow to eventually lead to your success.
4. Invest in Equipment – buying the wrong type or shoes, wrong training gear, lack or inadequate vitamins and recovery nutrition can lead to injury or training fatigue, learning how to take care of yourself and investing on proper training equipment and nutrition can be a key factor for success or failure.
In Business, you also need to invest in the right tools and equipment to optimize or improve your business operations, skimping on the right tools can lead to your downfall.
5. Get a Coach – you're paying for experience. A coach can help make sure you don't fall and commit the same mistakes others do, push you when you're about to give up, remind you on why you're doing this in the first place, and to cheer for you once you cross that finish line.
When I entered into this business, I practically entered into a domain I have none or little knowledge about. I was fortunate enough to have found a business coach to guide be though the process, from business registrations, tax payments, business planning to hiring.
If you have access to someone who's already an entrepreneur, go ask them, they can provide valuable insights and the proper mindset that can help you in your business. If you still need some help, you can also contact my friends company here.
6. Track and Analyze your Performance – Everytime I cross the finishline, I would sync download the date from my sports watch and check my performance, I'll review my heart rate, pace, intervals and analyze where I'm doing well and where I can improve on.
In business it's also important to put metrics, something that can measure success and performance, it can be your sales, website traffic, or as simple as Facebook likes. By experience, there is some unforeseen power when you measure something, try it.
7. Visualize Success – We do this all the time, imagine yourself sprinting toward the finish line can provide enough motivation to justify all this hard work.
Same in business, visualize what you want to achieve in 3 years, 5 years or even 10 years, use that as a motivational force to keep you going.
It's not easy to run a business, but like a marathon, for those people who are brave enough to even try, will find the rewards are worth all the sacrifice.
Hope the tips are helpful!
For Instant Updates – Follow US!
https://www.facebook.com/pinoyfitness
https://www.twitter.com/pinoyfitness
https://www.instagram.com/pinoyfitness
PF Online Community -> https://members.pinoyfitness.com
PF Online Shop -> https://shop.pinoyfitness.com
Like this Post!? Share it to your friends!