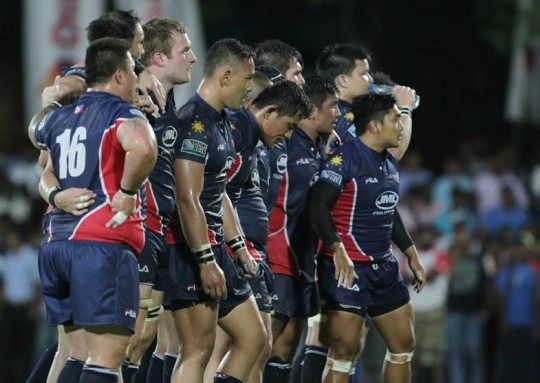 This coming May, the Philippines prepares itself to host one of the most significant sporting events in Asia. The 2015 Asian Rugby Championships (ARC) will be held at the Philippine Sports Stadium in Bulacan on May 6 and 9, and the Philippine Volcanoes will be playing for national pride in front of their countrymen.
Formerly known as the Asian Five Nations tournament, the 2015 Asian Rugby Championships will feature four of the best rugby-playing nations in Asia under the auspices of the Asian Rugby Football Union's (ARFU) Division I. These are the Philippines, Sri Lanka, Kazakhstan, and Singapore.
For the Philippines to win the bid to host the ARC, the Philippine Rugby Football Union (PRFU) had to show that it could handle the logistics of the event as well as provide the raucous enthusiasm that fans worldwide have shown for rugby. "We really wanted to secure that homecourt advantage," notes Jake Letts, scrum-half for the Volcanoes. "That means we'll have the home crowd, we're more used to conditions here, and it's easier for us to go from place to place."
Since beginning participation in international rugby competition in 2008, the Philippine Volcanoes have steadily climbed the world rugby rankings. Beginning in Division IV, the Volcanoes rose to Division III, then Division II, and Division I in consecutive years. This is proof positive that the Philippines is a rising rugby nation.
According to Matt Cullen, former coach of the Volcanoes and current director of the PRFU, thanks to the support of the Philippine Sports Commission (PSC) and Philippine Olympic Committee (POC), the PRFU has tried to spread the love for the sport outside Metro Manila. "We've been reaching kids in Cebu, Davao, and Bacolod," he says. "So we hope that the ARC draws even more fans to support the Volcanoes."
2015 will be a critical year for the Volcanoes as they will be participating in the Southeast Asian Games will be held in June in Singapore and they will be playing in qualifying matches for the 2016 Olympic Games in Brazil. The team therefore wants to drum up support and start their year on the right foot with the coming Asian Rugby Championships.
Since opening in 2014, the Philippine Sports Stadium in Ciudad de Victoria, Bulacan can hold 25,000 people and the Volcanoes are hopeful that the stands will be packed with flag-waving, rugby-loving Filipinos. "We want to show our countrymen and the rest of the world that the Volcanoes are ready for global competition," says Letts. "We're really looking forward to showing everyone how Filipinos play rugby at the ARC."
For Instant Updates – Follow US!
https://www.facebook.com/pinoyfitness
https://www.twitter.com/pinoyfitness
https://www.instagram.com/pinoyfitness
PF Online Community -> https://members.pinoyfitness.com
PF Online Shop -> https://shop.pinoyfitness.com
Like this Post!? Share it to your friends!