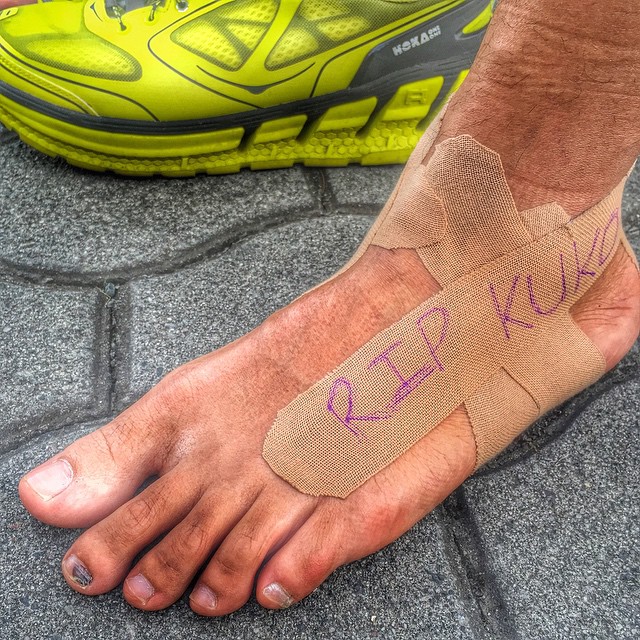 If you've a runner, chances are you have experienced getting black toenails (aka "Patay na Kuko") or "runner's toe" after one of your runs. It's really very common to runners, specially those who train for long-distances so there is nothing to worry about. I got my fair share of this when my big toe accidentally got hit on a rock in a trail run in Pico de Loro, took 8 months for it to grow back.
Besides hitting your toes on a rock, most reason for getting one is constant rubbing of your toe against the front of your shoe, so the longer you run, the more chances of this to happen, specially if you're pushing beyond your distance limit. But there are ways to prevent this, here's some tips based on experience, advice and read that might help.
Tip 1: Buy the correct shoe size. The basic rule is that there should be at least one thumbnail allowance between the tip of your longest toe to the end of the shoe. If you're still unsure what to buy, visit any RUNNR Stores in BHS, Trinoma or Alabang and let the store experts help you pick out the right shoe size for you.
Tip 2: Trim your Toenails. The longer your nails, the more chances it's rub your toe against the shoe.
Tip 3: Wear Dri-fit Socks. Not cotton ones, keeping your feet and toes dry during your run can reduce slippage.
Tip 4: Get custom Insoles: In cases where you feel your feet is slipping with your current shoe insole, you can try replacing then with custom insoles like SPENCO.
Already got black toenails? Best it to leave it alone, the pain usually subsides after a few days. The damaged part of the nail will gradually be pushed off, and new nail will replace it. In cases where "namatay yung buong kuko", best is to wait till the entire nail falls off, and don't worry, it will grow back in a couple of months.
That's it! Good luck guys! Also remember, that getting your first "patay na kuko" could also be a sign that you are pushing your training to a higher level, and to this I salute you!