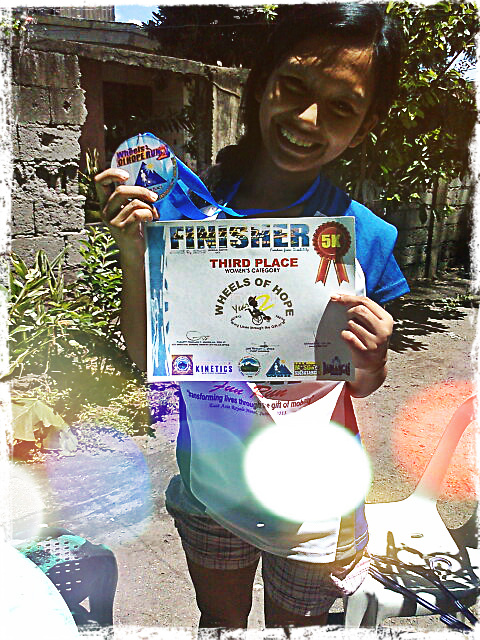 From an Asthma Girl to a Runner
By Maria Carolene Y. Fajardo
Running – this is my daily routine in going to school every time I don't have any allowance due to what we called "out of budget" or, shall we say, my parents do not have enough resources to support us in that aspect. My name is Maria Carolene Yee Fajardo, 4th year working student, taking up Bachelor of Science in Business Administration Major in Management at Notre Dame of Dadiangas University. Yes, I am a working student, which is why I need to be on school before 7:30 am. Therefore, waking up late would be a great threat to me.
Anyways, that was just an introduction. The real body of this story is lying within the next few paragraphs. And it is far more different from what I am doing in the present times.
When I was still young, my twin and me had asthma. It lies within my father's bloodline. That's why it was no doubt heritable. During our elementary days, running was a big "no-no" to my mother. This is because we might had "asthma attacks" that will costs them to spend a big amount of money to buy "nebules" to stop the said attacks. But since I am the kind of child who would spend time playing after a day's hard work to impress my teachers and most especially my mom, I would go for it. However, I had limits. That is when I'm starting to catch my breath… that is where the joy stops.
It lasted for many years until it was my own frustration. I really wanted to join varsity teams before, but my mother would not allow me. She would just tell me, "baka mahilo ka lang sa gitna ng daan" and she would add that I can't do it. I know it's risky, but I wanted to enjoy myself. After that conversation, I stopped asking her about it.
In those years, running was not the only insecurity that I had. It was also appreciation and approval. I experienced a lot of rejection in those days. I tried my best to fit in to group of people but they just have their own standards. Not to mention how my mom pressures us before. She would always compare us to others.
So, I grew up not having enough confidence. Although I had friends who understands me, still I prefer being alone because I know that I wouldn't fit in with them. They are intelligent, pretty, and admirable. Me, I was just the "lampayot" girl, who had an asthma, who was not a consistent honor, and who was not pretty and admirable and who was not confident enough to pursue something.
However, when I was in 4th year high school, my classmate (a tennis varsity), told me that if I started to run a whole field every P.E. class, I would get better. I didn't believed her at first, but I eventually tried it. It was effective! After that, I continue to run during PE class and years passed when I felt better. I had very few asthma attacks until, I don't even recognized that I don't have asthma for a long time.
This made me realized that I now have the opportunity to run and continue my passion. However, during that time, we experienced storms in life that caused our family to be broken. Yes, including the dreams we had, had been forgotten because of bitterness and hatred. However, (to make the story short) as years also passed, we learned to just accept things as they were and just move on while we still can.
Now, I'm still a working student. Striving hard to achieve my own goals and forgetting my own passion. However, Last year, I was invited to join the Milo marathon just for fun. Even though I was having second thoughts, I still joined anyway. In the day of the run, I was of great shock since it was really my first time to join. But after the race itself, I remembered my past and my dream. As I saw the top 10 runners on the stage receiving their medals, I realized something. I want to run. Run, to the point that I had no limits. Run, like there's no tomorrow. And continue running while I still can.
Then, it hit me. I realized that nothing could ever stop you from pursuing your own passion/dream in life. Not even tough circumstances, not even your present life situation; no, not even one can stop you. It is your own choice.
So, even when I don't have allowance, I tend to walk my way to school and on my way home as my way of warming up. HAHA… Even though I still had insecurities and frustrations, I continue to fight. As my teacher once said, "Believe in yourself."
So, when I had the chance to join a fun run, I would go for it. Recently, I joined the Wheels of Hope Run Year 2 last June 9, 2013. At first, I was really tense. But when the fun run started, I just continue to run while I still can. Unsure of what's to come, I still strive to do my best and believe in myself that I can do it. And a miracle happened, I made it to the top 3!!! At that moment, I was completely overwhelmed and felt self fulfillment. I was totally blown away!
Presently, I still run. Even though trials come my way, I still continue to run. It is because, "I can do all things through Christ who strengthens me." Phil. 4:13 — END
–
Want us to share your Story?? Submit it – Click -> Share Your Story!
For Instant Updates – Follow US!
https://www.facebook.com/pinoyfitness
https://www.twitter.com/pinoyfitness
https://www.instagram.com/pinoyfitness
Like this Post!? Share it to your friends!