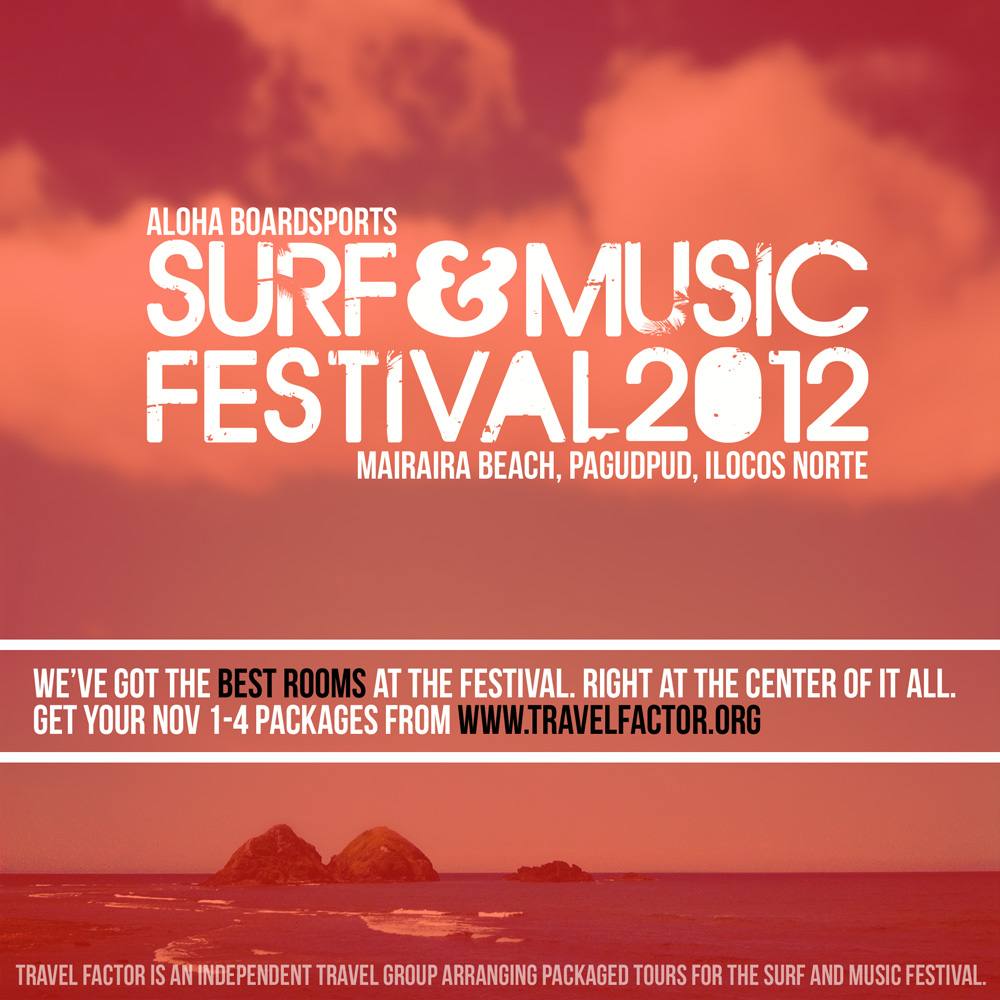 Aloha Boardsports & the Provincial Government of Ilocos Norte presents
SURF & MUSIC FESTIVAL 2012
Mairaira Beach, Pagudpud, Ilocos Norte
If you thought last year was awesome, check out this year's SURF & MUSIC FESTIVAL 2012! It's gonna be massive!
Featuring the performances of: Likkle Mai, Wolfgang, Pedicab, Imago, Tropical Depression, Razorback, Coffee Break Island, Up Dharma Down, Radioactive Sago Project, Sandwich, 6 Cycle Mind, Hijo, Sinosikat, Taken By Cars, Indio I, Spy, Milagros Dancehall Collective, Kaya Green Band, Kalayo, Franco, Urbandub, Pupil and more!
TRAVEL FACTOR PACKAGES:
PACKAGE RATE:
MAIRAIRA BEACH
Stay right at the heart of the festival! Mairaira Beach is where it's gonna be. Also known as the Blue Lagoon, this enchanting cove will be the playground for the SURF & MUSIC FESTIVAL 2012. Register early because slots are limited! The next available rooms are 18Km away!
PREMIUM AIRCON: P7,500 per person (MANY SLOTS AVAILABLE)
PREMIUM FAN: P7,200 per person (FULLY BOOKED)
The best rooms at the festival. If you're seeking a little more comfort and you've got some cash to burn, then these rooms are best for you. Early paying registrants get free breakfast! Contact us at the Travel Factor HQ for more info.
REGULAR AIRCON: P6,500 per person (8 SLOTS)
REGULAR FAN: P6,300 per person (FULLY BOOKED)
Your average kinda rooms. Not too shabby and not too chic, if you're just looking for a place to crash then it doesn't get better than this.
ADVENTURE AIRCON: P5,800 per person (FULLY BOOKED)
ADVENTURE FAN: P5,400 per person (FULLY BOOKED)
On a tight budget? Who needs really nice rooms when you're just gonna sleep in them anyway?! Stay in these rooms and be able to claim that you know adventure.
PACKAGE INCLUSIONS:
4 Days 3 Nights Accommodation (Group Sharing)
Roundtrip Aircon Transportation (Manila – Pagudpud – Manila)
Surf & Music Festival 2012 Concert Pass (valid for the whole event)
Ilocos Tours
Travel Factor Limited Edition Shirt
Travel Factor ID & Bagtag
Travel Factor Wristband
Travel Insurance
Not Included:
Meals
Local Transportation During Free Time
Surfing Lessons
Other Festival Activities
ITINERARY:
Day 0, Oct 31, 2012
09:00 PM Assembly Time at Manila
10:00 PM Estimated Time of Departure to Ilocos
Day 1, Nov 1, 2012
Morning Arrival in Vigan
Free time for Breakfast
Free time to tour: Crisologo Street, Plaza Salcedo
Late Morning Tour: St. Paul's Cathedral and Bell Tower
Travel to Pagudpud
Afternoon Arrival at Mairaira Beach, Pagudpud
Check-in at Respective Hotels/Resorts/Inns
Overnight at Mairaira Beach
Day 2, Nov 2, 2012
Day Tour: Kapurpurawan Rock, Bangui Windmills, Cape Bojeador Lighthouse, Bantay Abot, Patapat Viaduct, Kabigan Falls
Overnight at Mairaira
Day 3, Nov 3, 2012
Free Time
Overnight at Mairaira
Day 4, Nov 4, 2012
10:30 AM Check-out
11:00 AM Departure to Manila
Dinner stopover along the way
11:00 PM Arrival at Manila
DISCLAIMER:
Travel Factor (TF) is an independent travel group organizing packaged tours for the Surf & Music Festival 2012 (SMF2012). TF is not an organizer of the SMF2012. Thus, TF will not be liable for any loss and damages arising from the SMF2012 and its activities.
BOOKING AND RESERVATION GUIDELINES:
* Please read SMF 2012 Terms and Conditions.
* No regform, No reservation. To reserve, please fill-out registration form, send to [email protected] Subject: SURF & MUSIC FESTIVAL 2012 – .
* Then you will receive thru email account details where to deposit payment (BPI). For group reservations, please send your registration forms in one file & email.
* Everyone is required to download and submit registration form
* Please register only if you are 100% sure you are joining. And if after registering you need to back-out, please have the courtesy to notify us properly thru email.
* Full payment must be settled within the agreed timeframe. Should you need extension, please coordinate with Travel Factor.
* Non-refundable but transferable to other person. Travel Factor must be notified asap or at least 8 working days before the trip. In this case, the "proxy" must fill-out and submit registration form.
* The payments made to us are only refundable if we cancel due to weather issues or fortuitous events.
* Upon payment, you will receive a copy of complete guidelines, including things to bring, itinerary, reminders, etc…
FOR INQUIRIES/COMMENTS/SUGGESTIONS:
Email your concerns to [email protected] with your name and contact number
Subject: SURF & MUSIC FESTIVAL 2012 – Inquiry
or contact TEAM TF +632-7465119, +63917-8475341, +63917-8475342
DOWNLOAD REGISTRATION FORM – Click Here
For Instant Updates – Follow US!
https://www.facebook.com/pinoyfitness
https://www.twitter.com/pinoyfitness
Like this Post!? Share it to your friends!