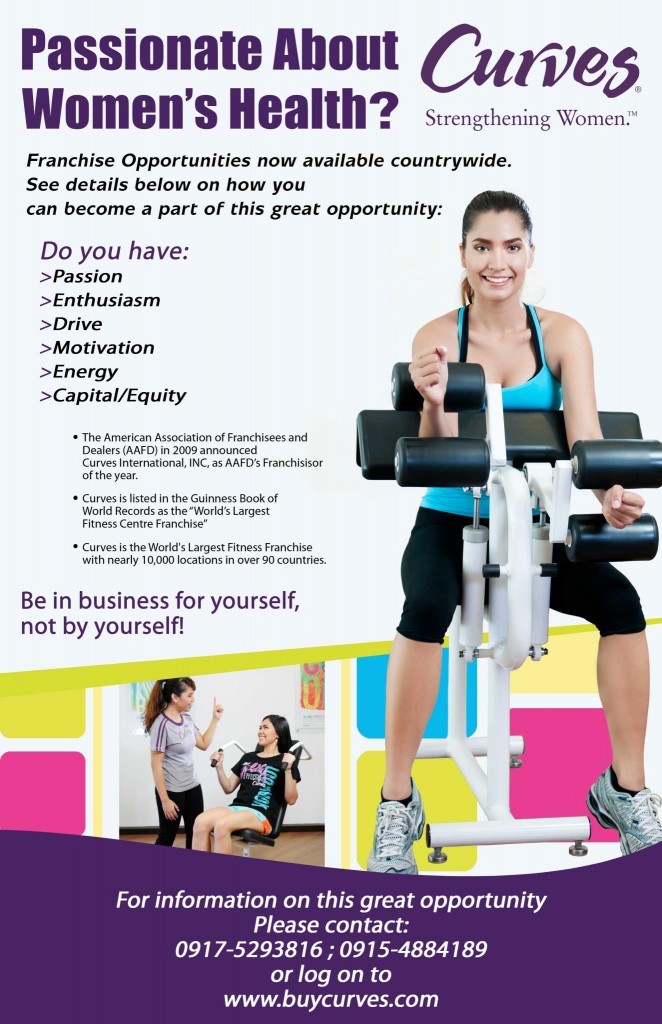 CURVES, The World's # 1 Fitness Franchise, Now open for franchising in the Philippines!
"No makeup, No men, and No mirrors."
The unofficial motto of Curves may sound simple, but since the first womenonly gym was opened in Harlingen, Texas in 1992, it has grown by leaps and bounds.
Just look at the figures: 10,000 clubs in over 90 countries serving more than four million (4M) members. What took McDonald's 25 years, and Subway 26 years to do — that is, open 7,000 locations — Curves did in just less than a decade.
One accolade after another came Curves' way:
• The fastest-growing franchise in history
• The world's largest fitness franchise
• No. 1 fitness franchise
• New York Times bestseller (Curves, Permanent Results without Permanent Dieting.)
What is CURVES all about, and what does it stand for?
Curves is about fitness, health, and moving away from disease; gaining strength and losing weight; reaching your goals in a community of support and encouragement; and strengthening Women.
With its scientifically proven exercise and diet programs, Curves is the only "one-stop shop" where women can lose weight, gain muscle strength, aerobic capacity, and raise metabolism for good.
The innovative 30-minute fitness concept – which works every major muscle group — combines strength training and sustains cardiovascular activity through safe and effective hydraulic resistance.
Curves also have a revolutionary diet program that's scientifically based and has been proven in numerous and ongoing university research studies, to raise metabolism and end the need for perpetual dieting.
The club proved to be an overnight success, as it gave women a supportive and comfortable atmosphere in which to work out.
"We know that we tapped into a market that isn't being served by traditional gyms and that we could help millions of women. However, we know we couldn't do it alone. We need to find passionate people who are interested in helping the women in their communities and teach them how to run Curves" say Curves founders, Gary and Diane Heavin.
And the good news is, CURVES, The World's # 1 Fitness Franchise, is now open for franchising in the Philippines! Curves Philippines has been operating in a single site franchise in Serendra, Bonifacio Global City for the past 3
years. It has a dedicated and well-trained team of staff that is passionate about the business, the clients and the health and fitness industry as a whole.
With the success of this branch, the shareholders have acquired the master franchise and now opening its doors to franchisees that would like to be a part of the Curves phenomenon that continues to take the world by storm!
Interested parties may contact Curves Philippines at +63917-5293816, +63915-4884189 or log-on to www.buycurves.com.
For Instant Updates – Follow US!
https://www.facebook.com/pinoyfitness
https://www.twitter.com/pinoyfitness
Like this Post!? Share it to your friends!