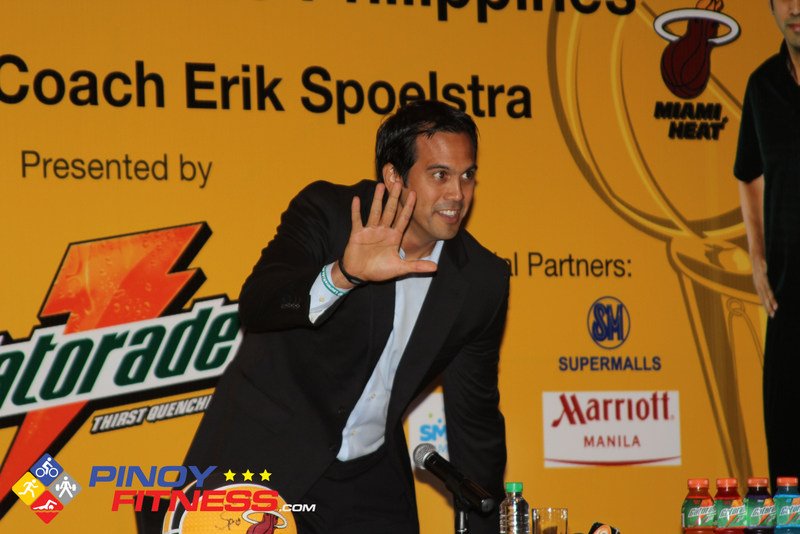 Dreaming big in the game of life
When you ask young basketball enthusiasts these days, most of them will most likely say that playing professional basketball in the world's most popular league is THE definition of 'living the dream'. Basketball fans who also play the sport would always choose to be on the court –running, shooting, and sweating it out to make the win.
But it takes another kind of basketball fan to choose to be on the sidelines of the court, to lead an entire team to greatness.
This is where Filipino-American Coach Erik Spoelstra stands out. He is the first Asian-American head coach in the history of the four major American sports leagues and the first to win a championship in his first four seasons.
Spoelstra grew up with a father who was closely involved in the world of professional basketball in the USA, which exposed him to the sport at a young age. In his youth, he would constantly watch his favorite basketball team and even dream of playing with them one day. Despite this dream though, he decided to take another path.
"I think at some point, in high school or college, I realized that I won't be able to play professional basketball, and I developed a passion to get into coaching. I didn't care at what level, either in high school or in college. At that time, I just knew I wanted to make it into a career," beamed Spoelstra.
Knowing what he wanted and striving to realize that dream, he worked his way with perseverance and eventually landed an internship working for a professional basketball team. It has been a blessing for him ever since. Working for the past 17 years under the tutelage of the great Pat Riley was a huge contribution to who he is now, both as a person and as head coach.
Despite differences in their personalities, Spoelstra tries to embody everything he has learned from his mentor—a personality characterized by motivation, discipline and both mental and physical toughness. Today, in his sleek black suit and with a commanding stance, Spoelstra displays an image of credibility, respect, and strength. It is, without a doubt, a manifestation of dreams achieved and becoming the person that he wanted to be.
"One of the most important things I've learned in being the leader of this team is that you have to be able to show strength especially when it's needed…and be an example to the team and the players. This is especially true when we're going through some tough times and my players are confident that they can depend on me for strength and guidance throughout the game and for the whole season. Similarly, the game of basketball can teach so many of life's most important lessons — the value of teamwork; the value of discipline; the importance of sacrifice, and playing for something bigger than yourself. This, in a nutshell, is the game of basketball and the game of life," continued Spoelstra.
Smart Communications, the country's leading wireless services provider, understands this very well as the company likewise believes in the same philosophy.
"Coach Spoelstra's achievements on and off the court is really inspiring. Getting him to be Smart Infinity's new international brand ambassador is a true testament of our continuing passion to always strive to become the best that you can be. Achieving success after all, whether it be in sports or in life, is the ultimate goal of everyone," said Noel Lorenzana, EVP and Head of Wireless Consumer Division, Smart Communications Inc.
Undeniably, Coach Eric Spoelstra embodies the person who has aspired big and achieved it beyond expectations. With all of his successes, it goes without saying that his streak of accomplishments is not about to end just yet.
As he very aptly put it, "Dream big. There's a great world out there and dreams can and do happen. It just requires somebody courageous enough to think out of the box, believe and know that anything and everything is possible."
Check out this Video!
For Instant Updates – Follow US!
https://www.facebook.com/pinoyfitness
https://www.twitter.com/pinoyfitness
Like this Post!? Share it to your friends!