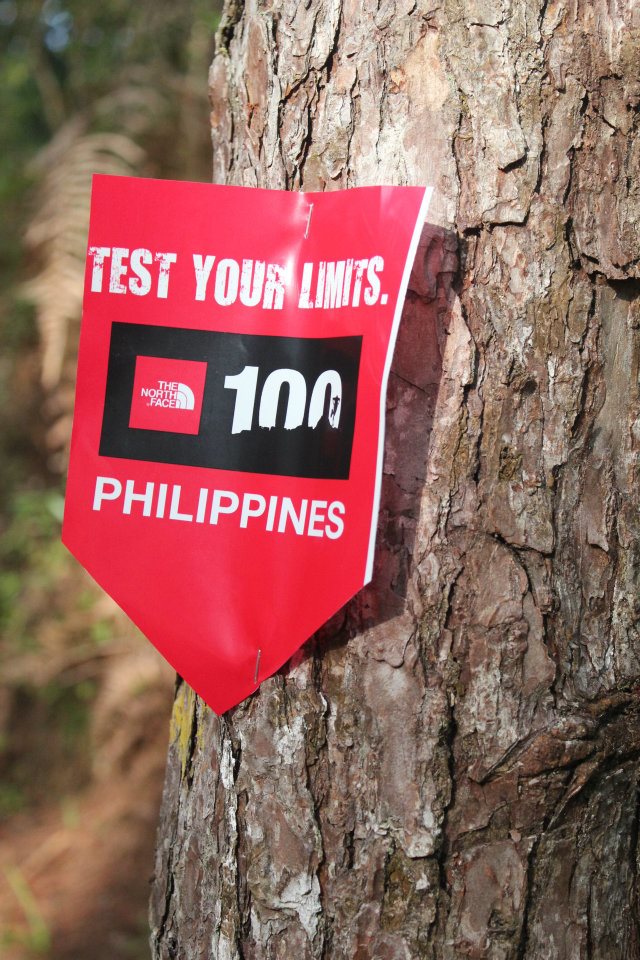 Breaking All Boundaries — TNF100 Baguio 2012 event review
Words by: Ms_Mars
Photo Credits: Ms_Mars, Princess Que, Celso Callo and Doc Rod
The last time The North Face Phils (TNF) held its 100K trail run challenge in Baguio was in 2010. Two years later, TNF's hardcore trail and ultra runners were back to conquer the tougher and technical rugged terrains of Benguet province. What the organizer's has tagged as the ultimate running challenge.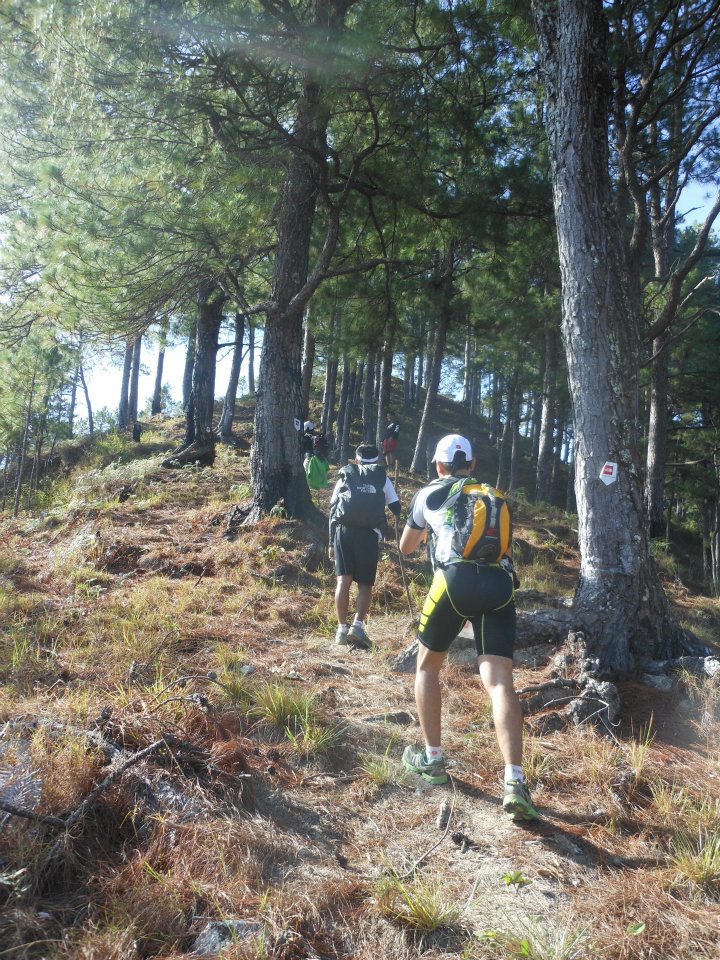 Day 1- April 20, 2012 – 9AM assembly/departure at ROX-BHS. Two hired Genesis buses picked up the runner-participants,media group, Rescue 8 medical team and Primer Grp/TNF back office personell. Everyone was revved up and eagerly excited for the 6-hour or so northbound long trip. Next stop Luisita, Tarlac for lunch. Our two big groups went to Jollibee and Max's Resto for this mandatory stop. While waiting for our orders, exchanged run event stories with Primer Group's Ian Belleza, Jay,Bien Avelino, program host Vanessa, TNF's Francis, Aries of R.O.X. with fellow media folks from Phil Daily Inquirer's Ms. Ning Lalicon and Kuya Cio Francisco who are also regulars in running. The next stop we found ourselves into was at La Union which meant we were very near our destination — City of Pines!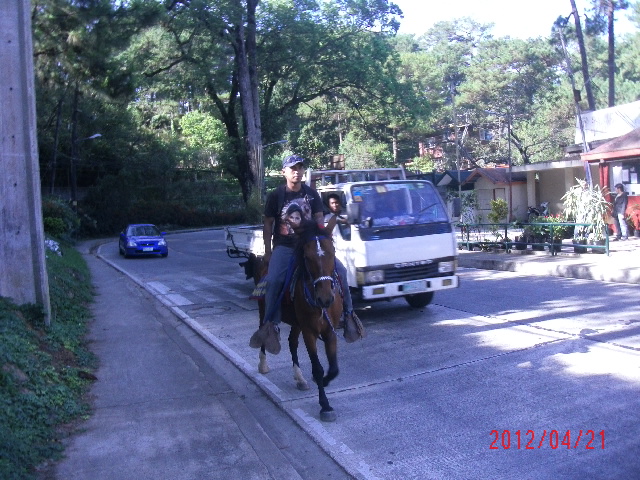 A 3PM Briefing was held at ROX, Camp John Hay which we already missed for we were welcomed by Benguet's afternoon sea of fog around 5:25PM. Zig-zagging our way to the city, we reached TNF's Base Camp at 5:46PM. Hello Baguio City! Began mingling with more runners – individuals and runner friends from other teams. Thrilled to have made new friends and acquaintances. The other volunteer rescue and first aid team have pitched their tents a day before the premises of ROX. Foreign trail runners from Canada, US, Hongkong and Spain candidly conversed with their local counterparts. Race Briefing for the second batch of arrivees was at 7PM led by Race Director Neville Manaois. Race maps were distributed as an integral guide.
Neville emphasized that TNF this year was more strict in the mandatory gears required for all ultra runners which included, hydration pack, food, headlight,cellphone, jacket,reflectors and a whistle. If an item is not met, the runner will be enforced to produce the lacking require.
The briefing was short and concise to give ultra runners early time to call it in and face the big day tomorrow. Non-runners and guests were treated to a mini-concert led by pop band DejaVu. Finally met up with Primer's Marketing Assoc Shaira Lugtu who was my constant textmate for event-related matters. Our hosts treated us media group for a Yellow Cab dinner before calling it a day.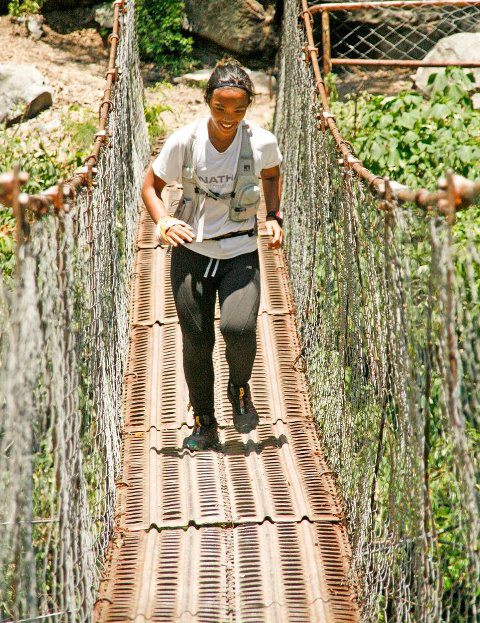 Day 2- April 21, 2012 – Send off 50K and 100K trail-runners. Assembly 2AM at TNF Base Camp. These tough categories were the major highlights of this year's highland trail adventure. Marshalls, First Aiders and rescue team volunteers have already been deployed at their respective Aid Stations. Pre-gunstart gears inspection went smoothly. Mandatory equipments were checked. Trail King Iker Karrera was spotted inspecting his gears for his latest quest together with other ultramarathoners and well-known trail runners Thumbie Remigio, Keshia Fule, Wilnar Iglesia, Coach Ige Lopez and Mia Constantino who were among the favorites to do well. Local and international media reps were as eager what was about to unfold.
Noticed there was a group of "senior ultra runners" who got interviewed and made lots of photo ops. Program hosts Allen and Vanessa's adrenaline in hosting were at high energy mode and kept the spirits revved prior to letting go of 100K runners. Wished our friends good luck and a safe run. A mandatory photo op of the frontline elites took place few minutes before countdown to 3AM gunstart. At exactly 3AM, the gun was fired and 160 plus 100K ultra trail runners made their way to their routes and were expected to return safe within the 30hours cutoff time or by 9AM the following day.
There was a multi stage/kilometer cut-off to ensure the safety of the participants: 50KM mark – Kennon Rd @14hrs from the start of the race; 75KM mark – Sto.Tomas [email protected] from start of the race and 100KM – Camp John Hay @30hrs from start of the race. Participants who failed to reach the cut off times were transported back to start/finish line or declared DNF.
The remaining batch for the 50K got sent off at exactly 4AM and were expected to cross the finish line after 18hrs or by 10PM. Managed to do a 5K jog from our hotel all the way to SM City Baguio and Session Road. Met several joggers along the highway. The day progressed. We hoped and prayed that all trail runners are safe and sound despite being exposed to all kinds of elements. Returning to base camp by 5PM, was informed that the first 100K finisher had crossed the finish line at 3:27PM or after 12:27:19 hours in the person of Iker Karrera! Very fitting title as the Trail King Legend. And it was such an amazing fast time! More good news the first male 50K ultra runner Dino Mantilez checked in after 6:225:28 hours and first female50K finisher Merychelle Morales at 8:05:56 hours. German runner Julia Boetiger crossed the tape a few hours later at 9:27PM or after 18:27:17 and was declared top 1 female 100K finisher. When asked by a volunteer first-aider during one of her mandatory stops her comment about the route, Julia exclaimed smiling that the trail route was crazy and may not do it again (here in the Phils).
Day 3- April 22, 2012 – Send off 22K and 11K. Assembly 4AM. This was my first half marathon trail distance and was very excited how it would turn out. There were more runners from these two categories. There were trickles of 100K finishers crossing the finish line which made them out and awake for more than 24hrs! Caught up and congratulated good friend 8th 50K female finisher Mariel Flores of Nathan who clocked 12:47:45 and was proud of her first ultra performance. Sprains and hypothermia were the common medical concerns for some 50K and 100K runners according to Mike Odiongan, one of the volunteer first aiders from Rescue 8 Team.
Gunstart for the 22K went off at 5:30AM and 6AM. The early morning Baguio chill was bearable and condusive. My fellow runners were eager to hit the trail part and dashed off so fast into the pine-filled woods. Good thing a visiting runner friend ran along who motivated and paced yours truly. For trail newbies, the first 5KM were a combination of gradual and deep ascents and descents. The path was sometimes wide but most of the time narrow. I had to do lots of sideways run in order for not to trip and roll over the edge of a ridge especially when coming across returning runners! Seriously, that's how dangerous the topography was. My batchmates made it so quick to the first 22K U-turn spot less than an hour. My semi-trail training in Manila slowly paid off.
Halfway thru the run, a fellow runner needed first aid help when she tripped and had both knees wounded. Thanks to my handy Hygienix and its alcohol content was able to help put the bleeding under control. Expect accidents like this to happen on trail runs. A fire hydrant up in the mountains? Yes, that was the most amazing discovery I've encountered and it's out there in case of forest fires. (knock on wood and God forbid!) Before entering the Horse Trail, I too had a few cuts on my fingers caused by vine-clinging and holding on to pine tree barks. Thought those barks were harmless. Before obtaining the 2nd U-turn point wrist band after 12KM, runners had to endure a very steep concrete road downhill. As they say, what goes down, must climb back up! Think of it as the best way to work on our quads. So I did the backward walk on my way up that steep road ascend. Similar to Nathan Ridge? And it worked!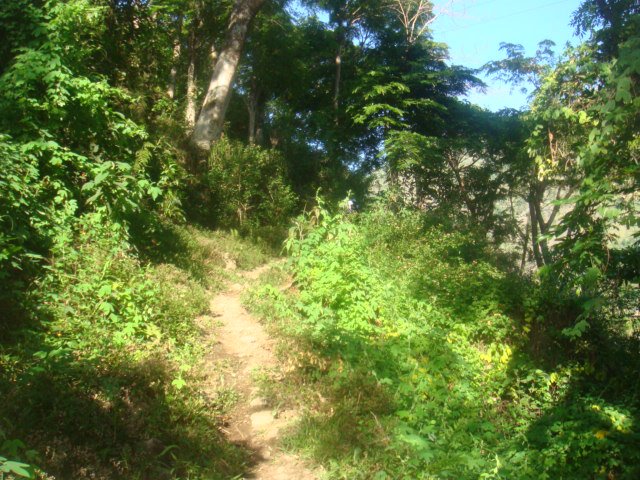 Two hours later, thankful made the second turn-around, hydrated and took the similar path back. Has proven that the higher the elevation, oxygen becomes thinner and it becomes difficult to breathe. First-hand experience of what Romy Garduce feels everytime he conquers a world-renowned summit. Wanted to shout at the top of my lungs that I was Queen of the trail and finding myself thousands of feet above sea level. The rest of the distance was an all-terrain run and during recovery periods trudged on all kinds of rocks, boulders, dry and moist soil and lots of protruding roots. One wrong step could cause severe ankle sprain. So the trick was to run alongside those roots to avoid tripping. Counted 3-4 hydration stations along the way. Most marshalls had partner tents in their territories and if not for the TNF flaglettes attached to trees and some bushes, one could easily get lost in the thick woods. My running partner reminded me to inhale the most fresh air I can take in while savoring and enjoying the spectacular view of the rest of Baguio's mountain ranges en route to the finish line. Water and a 100Plus energy drink were handed to all finishers. Claimed my official debut trail run certificate and planned on framing it.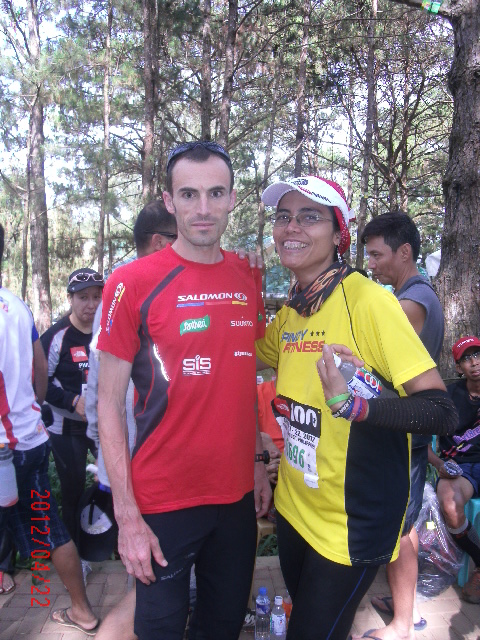 Surprisingly, it was a shortened 22K and 11K distance according to the GPS watches of some runner friends who got disappointed and short-changed. Last minute modifications were done to the route due to technical and safety concerns by the Organizers which was noted during Awarding Ceremonies. Caught up with Trail King Iker Karrera and Edu Martinell (4th placer 22K) in between photo ops. Karrera didn't encounter any major issues with his 100K quest except for small cuts and scratches which were nothing to him. He looks forward to setting another record in his next Philippine trail challenge.
Female 50K 3rd placer Mia Constantino shares, "TNF Baguio's 50Km route was composed of a very technical and challenging trail. Despite having finished an ultra trail race with a longer distance, this year's TNF100 50km trail route challenged my trail running skills, especially with all the uphills and downhills on varied terrain. For the 50Km distance, the loose soil/rocks on the trails (especially from the Cabuyao to Camp 6 area and vice versa) was the most challenging part of the route. It was composed of a single trail track (with switchbacks) that made especially the downhills very tough. It demanded a lot of focus and planning while running down (and up) that route."
Constantino was honored having shared the trail with Karrera, "It was a great opportunity getting to meet a trail running legend (who finished the UTMB with a podium finish!) and sharing the trails with him during the TNF race. I would guess the biggest challenge Iker faced during the TNF100 run was the heat, which was very far from the weather he experiences in most of his trail races. But I look up to him and his strengths and skills as a trail runner who can adjust to any condition and still manage to finish top." Her next challenge is in June for the Merrell Trail Run.
Top representatives from Primer Group, the Department of Tourism, The North Face and the Municipality of Baguio were present to award cash prizes and various sponsor tokens to all top male and female finishers of all 4 distances. Shortly after the awarding, all 50K and 100K finishers were feted to the much-awaited boodle brunch!They all deserved it. A wooden Igorot inside a barrell was their very notable souvenir of the gruelling adventure.
Before heading back,TNF runners and participants made sure they trooped the Pasalubong Center at the Baguio City Market, some gimmick and resto joints of Session Road, plus quick sidetrips to the rest of Baguio's favorite attractions.
Most of the runners who got DNF'ed, swore they will train harder and return to TNF100 next year to settle some unfinished business. Overheard some 22K finishers are going to start to prepare now hoping to level up to 50K. And whatever the other's plan may be, ultramarathon trail running is defnitely not for the faint-hearted and must be taken seriously. More importantly any TNF100 challenge is certainly not your piece of cake!
Congratulations to all !
Special THANKS to Shaira, Ian and Bien of Primer Group and to Pinoy Fitness for the chance to cover this exciting event.