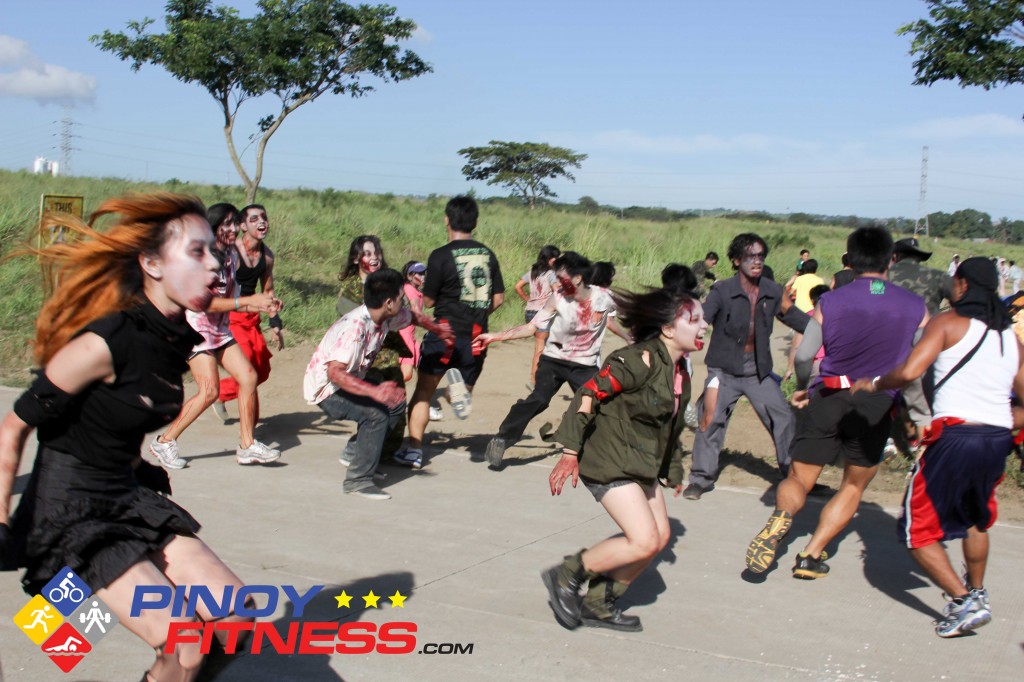 More Fun Running with Zombies — Outbreak Manila Review
Words by: Ms_Mars
Photos: Ms_Mars, Pinoyfitness, Arvin Valenzuela
Who would have thought a zombie outbreak could ever happen in the middle of summer and besides, we just had Halloween not long ago. Our love for the macabre, the bloody gore just never ends. Making it more of a challenge in terms of travel, the event was to be staged out of town in bustling Nuvali at Sta.Rosa, Laguna.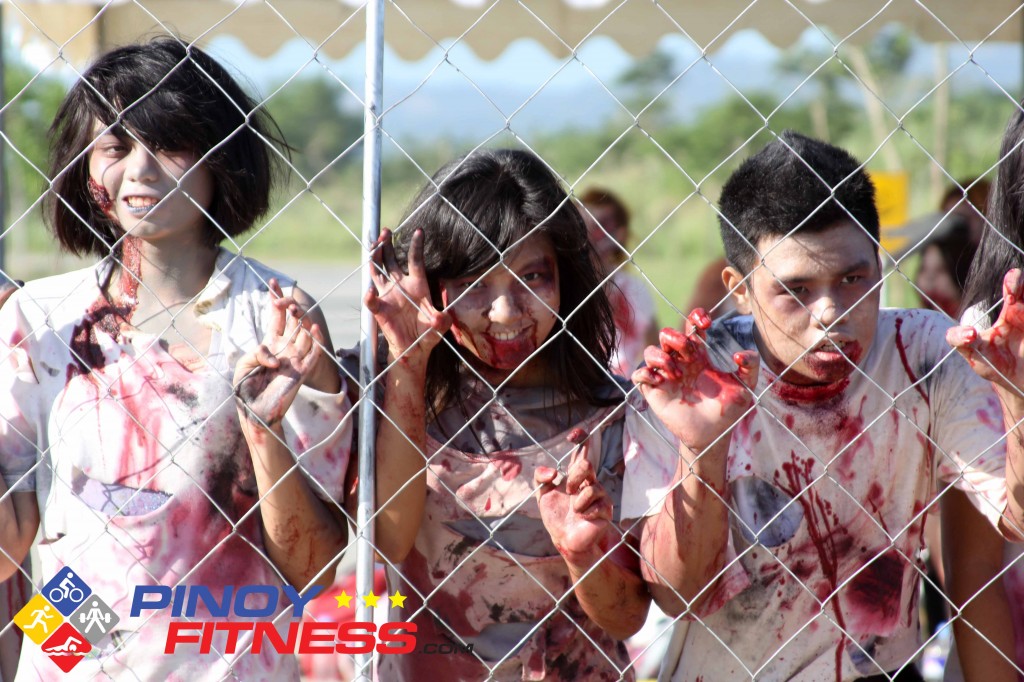 When Outbreak Manila was calendared at the PF site a few months ago, it immediately tickled my fancy. The organizers even scheduled an orientation day to all volunteer zombies. Happy to learn we had a few PF friends who took the zombie challenge after Mr. PF opened the invite to the Pinoyfitness group. A few days before Z-Day, was advised to participate as runner-media. Cool!
Night before the event, packed my stuff and commuted to Nuvali before midnight and arrived onsite Saturday 1AM. Thank God the Sta.Rosa tricycles are avail 24hrs! Should have been awarded the Early Bird Female Runner. Upon entering the activity area, was greeted by a simple make-shift Starling Line column and the technical department doing onstage sound checks. And it wasn't just a simple stage but it looked like a rock concert stage with proper lighting effects!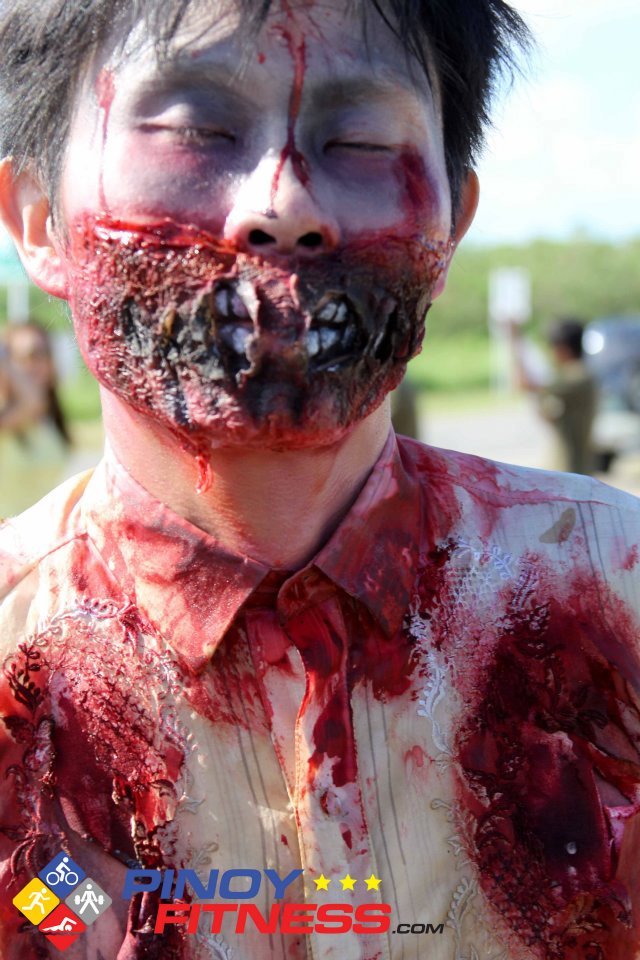 Majority of the 200 actor-zombies have already checked in hours earlier to have their ghoulish make overs done by at least 14 artists from the MDA (MakeUp Design Academy) headed by Carmen Reyes. Some actor-zombies were requested to come at a later time. According to organizer Angelo Cruz of Re-Create Events, "They did an awesome job! There were a bunch of prosthetics used, like a bulging eye, scarred up cheek, and even a broken bone protruding from the knee." Got really excited how they all would look like once in the field.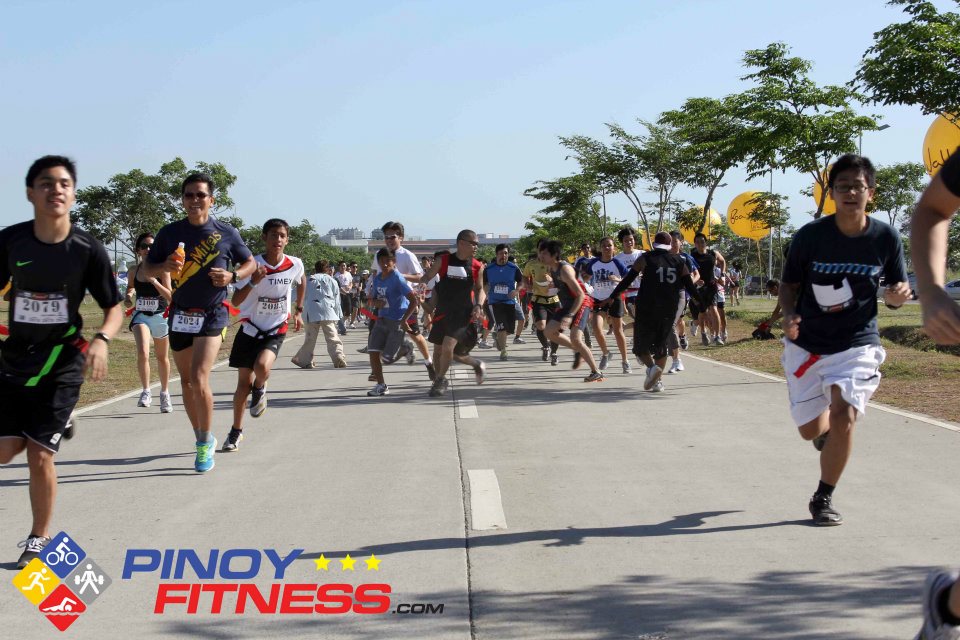 Twenty-five waves trooped the site that April 14, 2012 Saturday weekend and each wave was composed of at least 200 runners. Registration tents were put up and labelled accordingly. The life flags and bib numbers were distributed upon surrender of registration receipts. By 4AM, participants slowly trickled in mostly in small and big "barkada" groups . The process was orderly and there was even a Solutions Tent for concerns that may arise.
Wave 1 was scheduled at 5:30AM with an interval of 15minutes per wave. All waves should be done by 11:30AM before the sun became too punishing. There was a 5minute briefing delivered by the energetic Briefing Master Brian Sy as he reiterated the rules&regulations of the game. Imagine doing the same lines twenty-five times? What a trooper he really was, clad in his military outfit! The hardest part was sharing the rules with event endorser Jake Cuenca for 1 or 2 briefings because he got star- struck! In between briefings, runners were provided with generous sunblock lotions and samplings of a new energy drink brand to help boost performance and to withstand the whole 5K tough trail-road adventure ahead.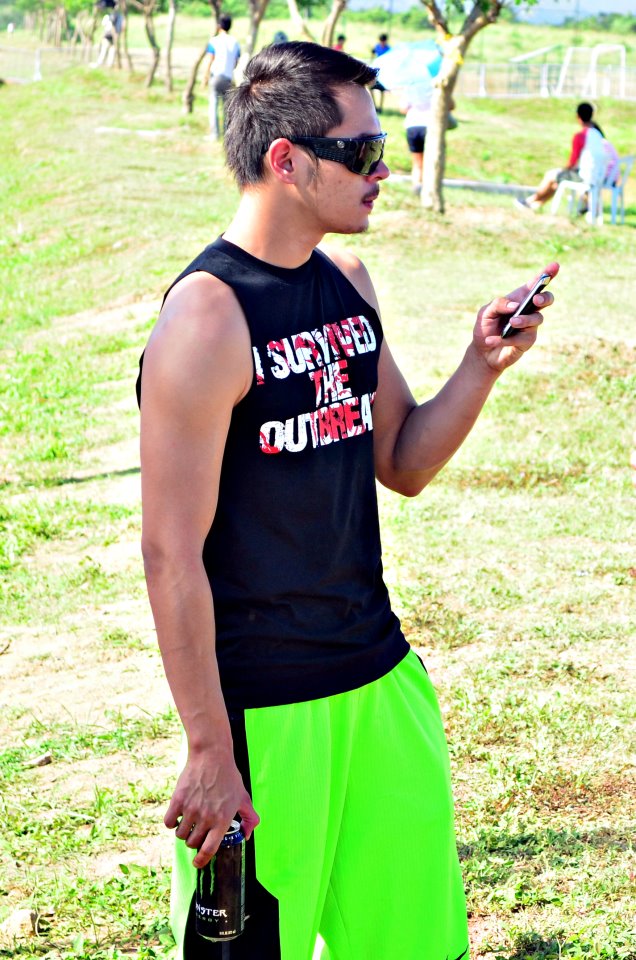 Angelo and his team wanted Outbreak Manila to be more fun so at their FB page and website, encouraged the runners to run in costumes. With a reminder that they should also be able to still run and dodge out zombies. And how awesome and entertaining it was seeing the response and the efforts put in by these 5,000 zombie thrill seekers. Had amusing time seeing our fave characters SpiderMan, Justice League, Goku, Ronald McDonald, Sailor Moon, Green Lantern and even Plants & Zombies among others come to life! A friend from a running team even dressed himself as a running cop.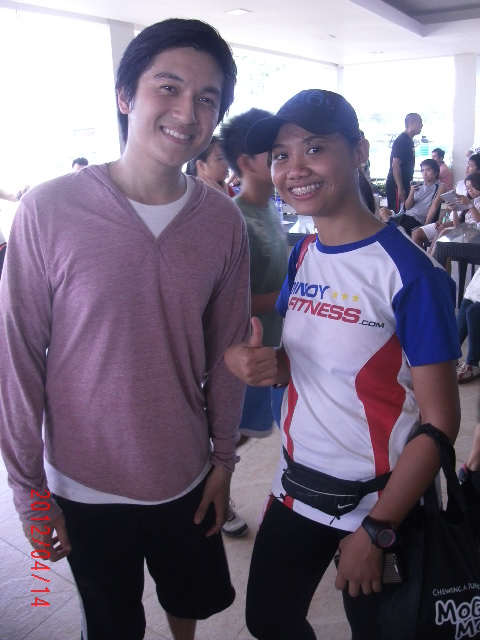 Since yours truly was part of the media group, I wasn't sure what answer to give when asked by runner-friends which wave I belonged to. My survival partner and fellow PF, Goldy, suggested we try joining Wave 10 so by 8AM have had the scare of our lives! Perhaps the smallest wave released was Wave 1 where they became the experimental batch who first braved the freakin' zombie horde. Watching the runners released wave by wave, we slowly got a picture of what lay ahead as the survivor runners recounted what strategies they used to be able to come out alive at least with a life flag still intact. To our surprise, there were finisher medals to the Top 40 runners of each wave.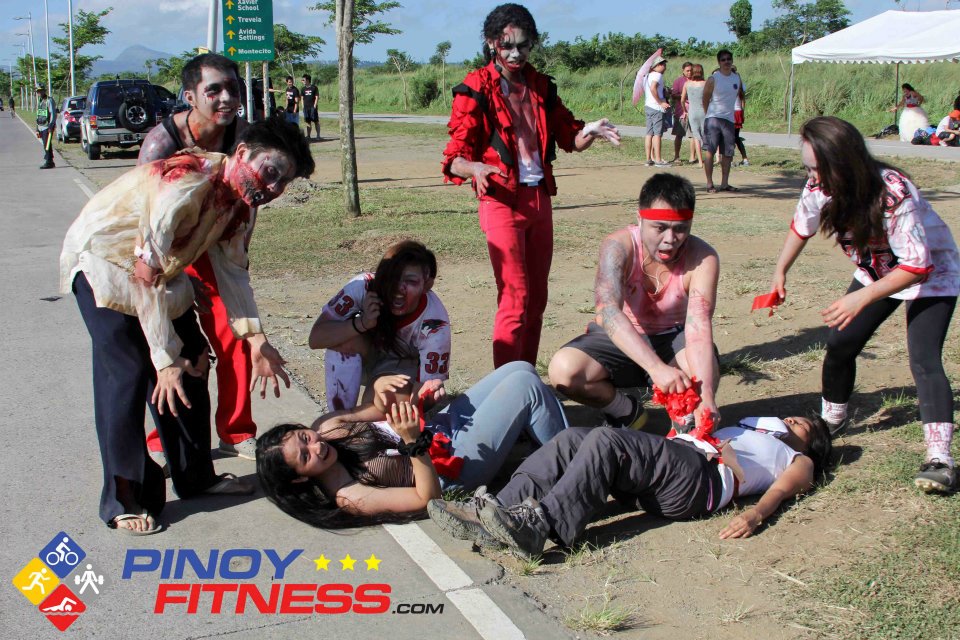 Less than a hundred meters away from the starting line, a couple of brain-eating zombies were already in position to grab our flags and gave a good scare which made the runners scream at the top of their lungs early on. Just before making a turn and entering the field, more zombie troops charged and participants scampered for cover while screaming and we began to strategize how to stay alive and protect our flags .
The mini Cooper was a great attraction and relief since it offered a bonus white life flag to anyone who could get near it which I bravely did after dodging a couple of zombie guards.Then came the 1-foot high ground crawling chicken wire obstacle where runners had to get down soil dirty but after passing thru it, another bonus white flag rewarded us. The Web Obstacle gave us runners the chance to relax a bit while a couple of kinder zombies just watched us enter and exit their territory.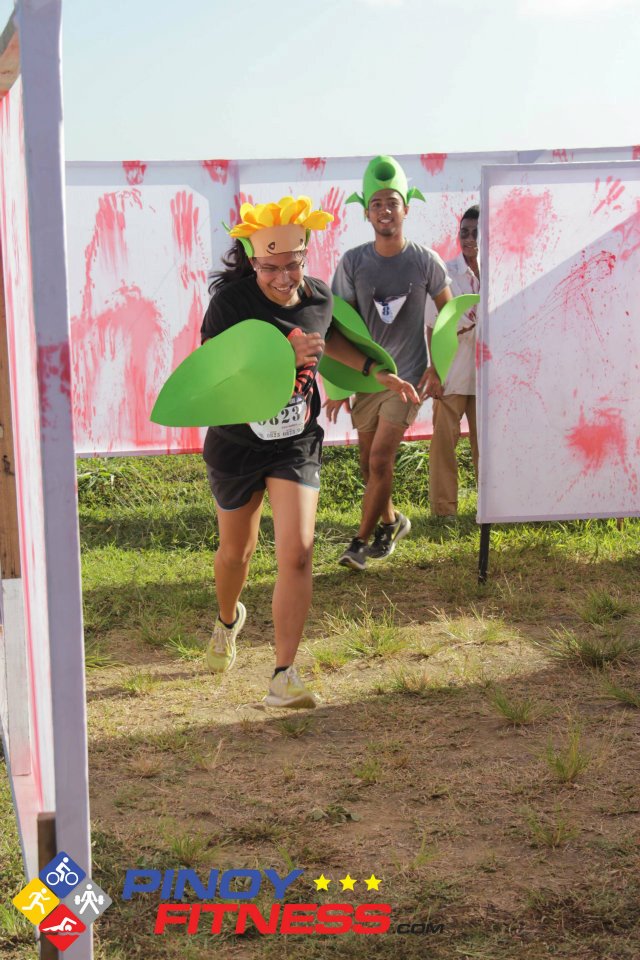 Angelo recalled, "The design of the obstacles came from our supplier. But the concept behind them is from our company, Re-Create Events. And coming up with them was quite funny. We all just sat down and said, "I want a Takeshi Castle style maze." And of course, with the amount of people saying that they want to be zombies, we gave them the "walking dead" obstacle."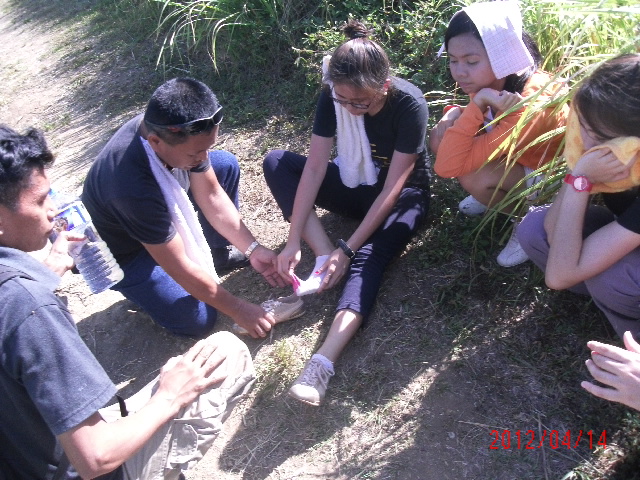 Encountering minor accidents was inevitable in an event this big. Medics and an ambulance were in sight to the rescue of participants who needed it. Passed by a runner who was being bandaged for a sprained ankle. Not far away, a medic was attending to a wounded knee. Safety was a big challenge for Outbreak Manila. Mitch Cruz (brother to Angelo) emphasized, "We knew that there would be injuries along the way (zombies are chasing your brain, for crying out loud). Cuts and bruises will inevitably happen but we wanted to make sure nothing major would happen. We had to carefully plan the route and increase the number of marshals. Moreover, our marshals were all taught first aid. We really didn't scrimp on manpower."
There were three hydration stations all throughout the route. A five kilometer road-trail could take longer than one could expect especially if one has to go through a very snakey uphill and downhill path guided by a yellow tape which will make you realize you could be lost or just running around in circles hearing more screams from the midst while trying to be alert for unexpected scare from well-hidden zombies who have perfectly blended themselves from the bushes under hot weather condition while trying to capture all these ghouly moments and having zombie-docu ops along the way with my handy camera. Couldn't resist posing with my pop idol Michael Jackson in zombie-mode. All 200 zombie horde became instant celebs and got all the video/photo-ops from runners, media and spectators.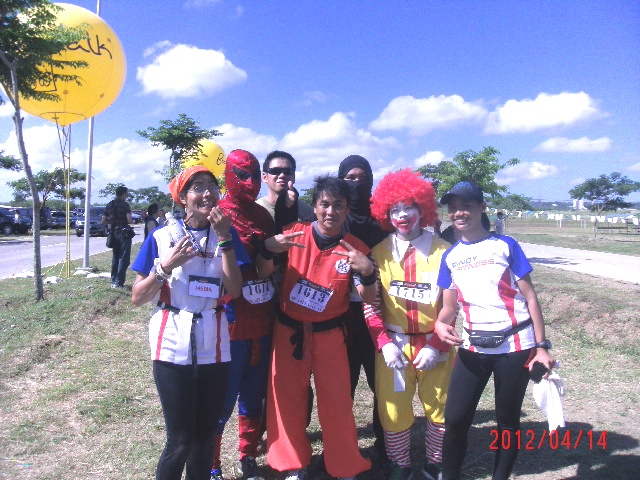 It was a miracle seeing the path to the highway again and smelling finish line was almost near after braving the route for more than an hour. The zombie horde just won't give up and still gave their best scary distractions and grabbed remaining flags as runners sprinted their way towards redemption. There was a lane for Alive and Dead finishers. Thank God an energy drink welcomed us back for re-hydration. I remember downing 2 consecutive bottles! Everyone took home loot bags containing the finisher shirt and other freebies from sponsors and sought shelter, at the base camp and nearby club house while having post-event breakfast. There was even a mobile shower on stand-by for participants who wanted to freshen up. Prizes were given to the Best in Costume and the Top 3 male and female finishers.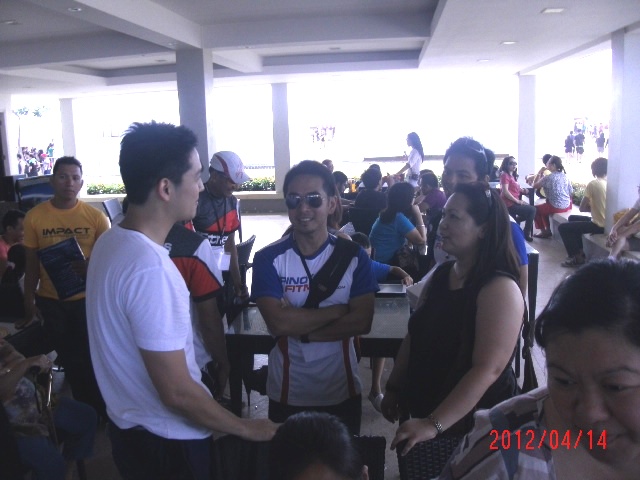 Following the huge success of Outbreak Manila, people are clamoring for more. That is why a second installment is now in the brew. "The hardest part was getting company partners for this event. Not a lot of companies paid attention to us at the start when we said we are looking into organizing a run with zombies. But once we got our marketing started, it all fell into place," recalls Angelo.
Mitch was quick to add, "Outbreak Manila was all about good clean fun. The zombies were our way of bringing the kids out of people again. Seeing the result of the first Outbreak, I'm so happy to see that myself and Angelo have 5,000+ new playmates," he fondly concludes.
Because of that, we are now bracing ourselves for OutbreakManila Part 2!
Special THANKS to Angelo Cruz and Deb Victa of Re-Create Events, Mrs. Annie Cruz, Mitch and Nina Cruz, Judy Cruz-Malabanan and to Pinoyfitness for the chance to cover this event.