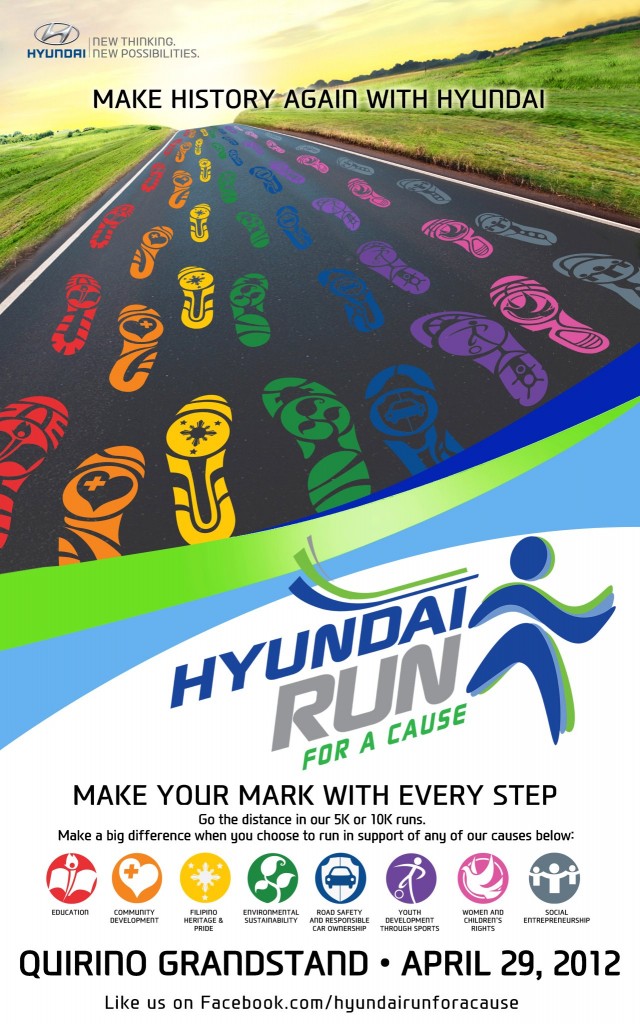 Nowadays, 'running for a cause' has become a cliché that is seldom taken seriously by even hardcore cause-oriented runners. This is probably because most of today's runs-for-a-cause come with registration fees that are sometimes a bit too high. On top of that, only a small part of the registration fee actually goes to the supposed beneficiary. This is why sometimes, runners would rather show their support through other means instead of registering and shelling out hard-earned money from their pockets. At least, that's the usual scenario.
But who would have thought that such scenario can be changed through a free run that still gives importance to the usual 'causes' which are also promoted by other runs that require fees? Who would have thought that supporting certain advocacies through a fun run does not have to cost the runners anything?
No one but Hyundai Asia Resources, Inc., apparently. Yes, it's the name that comes with your Starex, your Tucson, your Accent, and many more.
They've done it once last year and they were successful. The fun run was received well by runners because for many, this was the true "run-for-a-cause". Even though it was free, it was still geared towards promoting and helping certain advocacies that the company believes in. Through this RUN (Responsibility, Unity, and Nation building), the company wanted to give a concrete contribution to the enhancement of the lives of Filipinos "by championing environment protection, community development, and economic growth."
This year, they're coming back not only to give us – the runners – another free run but to continue promoting the firm's social commitment to nation building. Yes, it's still free but this time around, more emphasis is given to the 'causes' that Hyundai wants to support and promote. For this year, Hyundai opted to give support to more 'causes' and advocacies on top of what they have previously supported and in addition to the company's move towards promoting "corporate social responsibility."
The advocacies and causes for this year's RUN include:
1. Education
2. Community Development
3. Filipino Heritage and Pride
4. Environmental Sustainability
5. Road Safety and Responsible car ownership
6. Youth Development through Sports
7. Women and Children's Health
8. Social Entrepreneurship
To make sure that their goals and mission are achieved, they have chosen foundations that share their advocacy and "which have had a consistent track record" in the corresponding 'cause'. By redesigning the RUN to accommodate more 'causes', and as aptly explained by one of their representatives, Hyundai wants to emphasize that it is "partnering with you (runners) in your own advocacy."
It is Hyundai's hope that "activities like this RUN will inspire and generate a change in business mindsets: shifting from just going for the bottomline of an excellent sales performance to fostering a genuine spirit of social entrepreneurship, a culture of caring and sharing that actually boosts business growth and performance." At the end of the day, Hyundai hopes to "create a new generation of thought leaders who will take on the challenge of fostering good corporate citizenship on a wider scale and shaping a culture of genuine caring and cooperation for social and economic development."
For those who are registered, so what are YOU running for? Whatever you choose, Hyundai is giving you the perfect opportunity to help. Through your participation, Hyundai will see to it that your advocacy is given attention.
Words by: PhilipBF